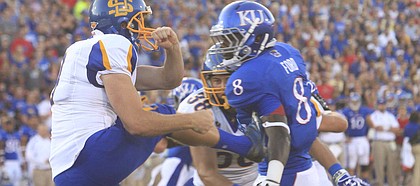 Though Kansas University receiver Josh Ford was happy with his blocked punt in Saturday's 31-17 victory over South Dakota State, he says it's not his best one.
Not even close.
Last year, while at Arizona Western CC, Ford says his best special-teams play came against New Mexico Military Institute on Oct. 8.
"You know, in front of the punter, there's always three big dudes?" Ford said. "I was coming straight up the middle."
When one of the personal protectors started to block Ford high, the receiver decided to dive over him.
Ford was somersaulted in mid-air, but he also stuck a hand out to block the punt ... which was scooped up by a teammate for a touchdown.
"I was scared as hell to do it, but my coach in practice kept telling me, 'Man, you might have to go over these dudes. They're really big guys,'" Ford said. "I was like, 'I'm not about to kill myself.'
"But I just didn't even think about it, and it just happened."
Though Ford was recruited to KU as a receiver, he certainly came with the reputation of a punt blocker as well.
Ford said he first discovered the talent in high school when, after being added to the unit, he blocked six punts in one practice.
"I don't even think I had a backup," Ford said with a laugh. "It was like, 'You're here regardless. You're going to block the punt.'"
After watching film of Ford, who blocked seven punts his senior year at Coolidge High in Washington, D.C., coaches at Arizona Western started him on the punt-block team during his first practice as a freshman.
Though Ford was a backup receiver during his first game at Arizona Western, he still was able to block a punt.
Now, his KU career has started the same way.
"To me, I take it as just as good of a reward as it would be as making a game-winning catch, a game-winning touchdown if I were to be playing receiver," Ford said. "It's still a game-changing play, regardless of what position you're in."
Ford says one of the key for him is paying attention to the long snapper. Just before a punt, the snapper typically raises his hands high before releasing the ball, and Ford tries to time his rush accordingly.
The receiver started working with the first unit on special teams during the third day of practices at KU.
"On his recruiting trip, I think he told me he has eight blocked punts in junior college, so he made sure I knew that," KU special teams coordinator Clint Bowen said with a smile. "He actually is pretty good at it. We've got him in a role that allows him some freedom."
Ford's block in the second quarter Saturday came from off the left edge.
"I think I got a good fit on the wing who was blocking me," Ford said. "He only got one hand on me, (and I) ripped through it."
Because the snap was wide, SDSU punter Ethan Sawyer was forced to move a step closer to Ford.
That also changed Ford's angle to the football.
"In practice, we work on the aiming points: where (the punter) would kick the ball from," Ford said. "I was going there, and I got off low, so my eyes didn't come up until a little bit late.
"When I realized he was a little bit left of where he usually is, I kind of went past him a little bit."
Ford was still able to reach back with his left arm to block the punt. He also has developed a bruise this week near his left ribcage, most likely left from Sawyer's kicking foot.
After scooping up the ball, Ford was denied a touchdown by two SDSU players, who tackled him at the SDSU seven-yard line.
Bowen was pumped after the deflection.
"When I ran to the sideline, he was just cheering me on," Ford said. "I can't say exactly what he said on tape, but it was great."
KU's two blocked punts Saturday were more than the Jayhawks have had in the last three seasons combined. KU blocked one punt last year and failed to block a kick or punt in both 2009 and 2010.
During a team meeting on Sunday, KU coach Charlie Weis told his players that when teams block two punts in a game, they win 80 percent of the time.
"He's been coaching for 33 years, and he's been at the highest level," Ford said. "Anything he says about football and statistics, I have no choice but to believe."
• A previous version of this story has been updated.