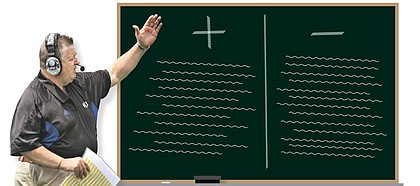 With Game 1 of the Charlie Weis era in the books, we can pull back the curtain and learn more about how the new football coach at Kansas University evaluates his team's performance.
"It's basically a plus or minuses that average up to a percentage," said Weis of his grading procedure. "You get one in the run game, one in the pass game and you get one collectively to see what your efficiency in the game was individually."
The Jayhawks, of course, won their season opener last Saturday against South Dakota State. And in the days since, Weis has been pretty open with his opinion of the game, explaining that there were plenty of good signs and just as many areas that needed attention. That was on the surface, though. Where it really counted, after hours of film work and rewinding, things took on a little different look.

"When you have the clicker in your hand, it's easy to nitpick because you can see every little thing," Weis said.
The postgame breakdown works like this: Each KU position coach grades the individuals in his group. Some go into greater detail than others and some spend more time explaining the grades. But none are as critical as Weis.
"Every once in a while, I'll look at somebody's grade and I'll say, 'Man, I wish I woulda had you when I was in class,'" said Weis referring to the kindness shown by his assistants.
While they may disagree slightly on a player's performance, KU's coaches say players take criticism much better after victories than defeats.
"Oh, it's not even close," Weis said. "You can't wait for them to come in. They're feeling really good, they got to eat with their parents and all their friends and everyone's saying 'Good game,' and then you tell 'em how bad they stink. Trust me, you knock 'em back off their pedestal really quick."
Weis cuts right to the chase on the Sundays after victories.
"I take the offense and I make a good-play/bad-play tape," he said. "Every game I'll watch about 20 plays, 10 good ones and 10 bad ones. After a win, I always show the bad ones first. I say, 'Yeah, you think you're good, well let's watch this pile of crap.'"
It's just the opposite after losses.
"Everyone's telling you how bad you were, so let's look at these 10 plays from the game. 'Remember this one? Remember this one,'" said Weis, altering his voice to deliver a more compassionate tone. "After a loss, you show 'em the good plays to bring 'em back to 'OK, it's not as bad as it all seems.'"
Quarterback Dayne Crist is the one KU player who does not get special treatment. For better or worse, Crist sees it all on Sundays, and Weis said that was by design.
"Dayne, he gets the whole kit and caboodle," Weis said. "The first thing he gets is every play in the game. Then he gets it broken down into good plays in the run, good plays in the pass, bad plays in the run, bad plays in the pass, and, yes, (he) can get a minus (grade) on a running play, even though you're just handing it off. Because if you don't carry out your fake, it's a minus."
Weis made sure to point out he thought Crist did a lot right during the opener. And many were things that could not be coached or taught.
"My biggest concerns with him going into the game were: Is he gonna be scared, because it's been a long time since he played. Is he gonna be looking at the rush? And if things don't go great, is he gonna be composed?" Weis said. "He hit the trifecta with me. In those three, he came through with flying colors. I can correct the other things."
Asked to divulge Crist's performance grade from Week 1, Weis chose instead to summarize it.
"No one gets graded harder than the quarterback," said Weis, who shared no specific grades. "His parents would not have been happy if he had brought that grade home."
Added Crist: "I know I can play much better than I did on Saturday. ... I'm just as hard on myself."
Run, run, run
During last week's 54-29 loss to UCLA, the Rice defense surrendered 343 yards on the ground, but Weis does not necessarily think the Jayhawks are in for an easy day because of it.
"Most of it was big plays," said Weis, who noted that the Bruins scored on three separate TD runs of 70 yards or longer. "Now they all count as part of the average, but I think you have to look at the whole body."
Although Weis said one of his team's strengths is its running backs, he also did not think that last week's showing meant that Tony Pierson or Taylor Cox were in for huge games Saturday when KU plays host to Rice at 2:30 p.m. at Memorial Stadium.
"I don't think you can just count on the fact that we're gonna get Tony in the open field like that," Weis said. "Sign me up if you can promise me that that's what's gonna end up happening. ... We're gonna have to make sure we play physical up front in order to get to that to happen."
Kickoff correction?
One of the units Weis was displeased with during last week's victory was KU's kickoff team. Not only did kicker Ron Doherty struggle to get the ball deep, but the coverage also failed to limit the Jackrabbits' starting field position.
Because of that Weis said newcomers Nick Prolago and Austin Barone would get extra reps in practice this week to see if they might be able to handle the team's kickoff duties a little better.
"Barone's done a better job kicking field goals and Prolago has done a better job kicking off," Weis said. "So what we'll do this week is give these guys a legitimate look to see if we can't take that part of the kicking game away from (Doherty). But I'm gonna have to see evidence that it's not gonna be a detraction from what we do."
Special teams captain
So far, the Jayhawks have worked with three captains, but back when Dayne Crist, Tanner Hawkinson and Toben Opurum were named captains, Weis indicated that there would be a fourth captain each week of the season.
The fourth guy, Weis said, would be the player who performed the best in special teams the previous week. Weis and Co. have not picked that guy yet, but it's coming.
"We'll vote as a staff," Weis said. "If you were asking me off the top of my head who the two guys were that would be top contenders, Jake Love had three tackles on special teams and Josh Ford had a lot of production on special teams."
Weis said the vote would come later in the week and he would vote last.