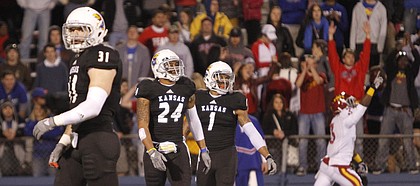 Photo Gallery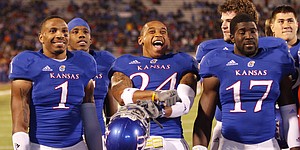 KU football v. Iowa State
Images from Saturday's game against Iowa State at Memorial Stadium.
Podcast
Press Conferences & Post-Game Interviews
Kansas football coach Charlie Weis talks after his team's 51-23 loss to Iowa State on Nov. 17, 2012.
Box score
A couple of back-up quarterbacks played big roles in Iowa State's 51-23 beatdown of the Kansas University football team on Saturday night at Memorial Stadium in front of an inspired crowd of 41,608.
Unfortunately for the home team, it looked as if ISU third-stringer Sam Richardson would be the clear-cut starter if he played for the Jayhawks, who saw head coach Charlie Weis juggle starter Michael Cummings and former starter Dayne Crist in and out of the huddle all night.
Richardson, who had not thrown a pass all season, took over for Cyclones' starter Steele Jantz on ISU's second possession and completed 23 of 27 passes for 250 yards and four touchdowns. Just in case it was unclear whether he was the best quarterback Saturday, Richardson also added 43 yards and a touchdown on the ground while leading the Cyclones (6-5 overall, 3-5 Big 12) to 548 yards of total offense, making them the third straight team to top 500 yards against the KU defense.
"He wasn't even listed in the two-deep," said KU coach Charlie Weis, admitting he was somewhat of surprised to see Richardson under center. "So, no I didn't give much thought to it. Maybe I should've."
To be fair, Weis was not the only one caught off guard by Richardson's role in this one. The 6-foot-2, 207-pound red-shirt freshman from Winter Park, Fla., said after the game that he had no idea he would play.
After an opening sequence that saw the Jayhawks (1-10, 0-8) and Cyclones trade mistakes, the teams then began to trade leads. Iowa State went up 3-0 on its second drive of the game, and KU responded with a Taylor Cox touchdown run to go up 7-3. ISU answered that to go up 10-7, and KU hit right back when sophomore tailback Tony Pierson (73 yards rushing, 37 receiving and two touchdowns) opened the second quarter with an electric 55-yard touchdown run to give KU a 14-10 lead.
That's about the time the Jayhawks lost touch, as ISU ripped off four straight touchdowns in the next 10 minutes to take a commanding 38-14 lead.
Albert Gary's 11-yard touchdown reception from Richardson gave the Cyclones a 17-14 lead, and Richardson added two more TD passes and a one-yard touchdown run during the knockout stretch. Iowa State's 38 first-half points matched their season-high for an entire game.
"We got out of rhythm, and they got right into rhythm," senior receiver Kale Pick said. "I never thought we were out of it until late in the fourth, but once I kind of realized it, it was just kind of a hopeless feeling. Kind of like you're in quicksand, and you can't get out of it. It was a bad feeling, and it was just tough that it had to end like that."
Senior safety Bradley McDougald agreed: "It was a 20-yard gain here, a 15-yard gain there and then they came back and got a third-and-short, and it just seems like things weren't working for us."
While Iowa State's offense was clicking, the ISU defense may have been playing even better. After the Pierson run, KU gained just 19 yards on its next four possessions. Of course, two of those four drives ended with dropped passes on third down and another stalled because of a KU fumble.
"When you're playing the game we're playing, at this state, you just can't let that happen," Weis said.
The KU offense showed signs of life on the final drive of the first half when former starter Dayne Crist took over at quarterback and marched the Jayhawks to three points. Crist, who had been in on a few plays earlier in the game, zipped passes all over the field, looking confident and competent like the player many believed he was before the season began. Crist finished 9-of-20 passing for 156 yards and a touchdown. Although using Crist to throw the ball down the field was Weis' plan heading into the week, he did not anticipate using him that much.
"I thought the game would be in the 20s," said Weis, adding that KU's 25 pass attempts were about 10 more than he would have liked. "If we're throwing it that much, that's not a good thing."
Cummings started the second half, but the Jayhawks' opening drive stalled. Crist was back out there for the next possession, but any dreams of the former Notre Dame QB capping his KU career with a comeback for the ages disappeared with an incomplete pass on third and five and an interception on fourth and five with 5:40 to play in the third quarter.
"We were living very dangerously already at halftime," Weis said. "Because it was gonna take a perfect half for us to have a chance."
The second half was far from perfect, and instead of partying on the field after their first conference victory in three seasons, Weis and the Jayhawks once again sang the alma mater to a mostly empty student section.
The only thing that kept the Memorial Stadium bleachers from being empty in the game's final quarter were the hundreds of vocal ISU fans who made themselves at home in Lawrence while watching their team become bowl eligible for the third time in head coach Paul Rhoads' four seasons at ISU.
"I'm very surprised," said senior Toben Opurum when asked about the outcome. "That is not the way that we had this night planned. We did a poor job of executing what was asked of us."
Added McDougald: "A lot of the blame should go to the defense. We had a terrible time stopping them, and there's so many senior defensive guys that we have. It just hurts to go out that way, to see them have to go through that for our last time in Memorial Stadium."