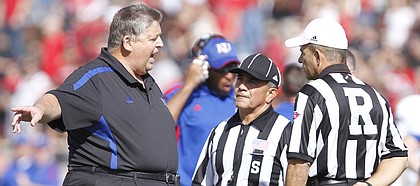 Photo Gallery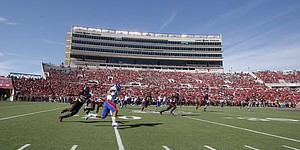 KU football v. Texas Tech
Images from Saturday's game against Texas Tech at Jones AT&T Stadium in Lubbock, Texas.
Podcast
Press Conferences & Post-Game Interviews
KU coach Charlie Weis talks after his team's 41-34 double-overtime loss to Texas Tech on Nov. 10, 2012.
Box score
Lubbock, Texas — In 240 B.C., Greek astronomer Eratosthenes calculated the earth's circumference, providing the first so-called proof that the earth is round.
Obviously, Eratosthenes never stood in the middle of the northwest Texas expanse of land that since 1890 has been known as Lubbock. Had he done so, Eratosthenes would have realized that regardless of what his instruments told him, the world is not round. It is flat.
This I discovered after flying into Lubbock on Saturday morning. You could see for miles and miles and miles in every direction, but two things you could not see, no matter how hard you tried, no matter how many times you squinted.
First, you could not see a change in elevation.
Second, you could not see any way Kansas University's football team could make a game of it against 25th-ranked Texas Tech.
The Red Raiders have so much more tangible motivation. Each victory means a more prestigious bowl game. Kansas long ago dropped out of bowl contention.
Texas Tech brought the nation's fourth-ranked passing offense into the day against a defense that doesn't rush the passer very well and lacks speed in the secondary, a flaw exposed during Tyler Patmon's long, long Saturday afternoon in Lubbock.
Kansas still hasn't thrown a touchdown pass to a wide receiver, removing on nearly every down the mystery as to whether it will pass or run.
Tech has bigger, faster players on offense, bigger, faster, more agile players on defense.
Kansas brought a 20-game losing streak in games played outside of Lawrence into the game and took a 21-game streak out of it, but this one felt so much different from most of those.
The Red Raiders (7-3) defeated Kansas, 41-34, in two overtimes, in a game more entertaining than any the Jayhawks have played since the fourth-quarter comeback at home two seasons ago against Colorado.
How did an undermanned Kansas push Tech beyond regulation?
The Jayhawks came ready to play and Kansas head coach/offensive coordinator Charlie Weis, known throughout his NFL career as a quarterback guru, found the right play-calling rhythm to aid Tony Pierson (202 yards) and James Sims (127 yards) in leading a running game that compiled 390 yards.
Weis has made some questionable decisions in his first season at Kansas. He stayed too long with Notre Dame transfer Dayne Crist at quarterback when it was obvious to most of the rest of the free world that a change needed to be made. He passed too often in a loss to Rice, which didn't stand a chance of slowing KU's running game. The decision on a ridiculous fake field goal in Waco, Texas, should not have been left in the hands of anybody but the head coach.
A quicker decision on Crist and an earlier switch to a run-dominated offense, and Kansas easily could be 3-7 instead of 1-9. But a broader look at how this disappointing season is unfolding bodes well for better times lying ahead when better talent is developed.
Weis, even when making questionable moves and mounting losses, clearly knows how to motivate his players in a way that keeps them playing hard for him, keeps them believing they can play with anybody. This week, he trimmed the travel roster to 54 players, which undoubtedly infuriated the players not brought on the trip and brushed some of those who made the trip the wrong way. But it didn't keep them from overachieving against a ranked team and almost winning. The change-up worked.
Weis seems to have a feel for how to sound the right note to keep the players from packing it in, for making them believe they are better football players than their physical tools would suggest.
After the second near miss (Texas being the first) to a ranked team in three weeks, Weis went off script again.
"The locker room is as disappointed as it's ever been," Weis said during his post-game interview. "The difference is, I've had a conversation with the coaches about let's not wait until tomorrow to start picking these players up. Usually, you let them sulk for 24 hours. Not today. I told the coaches that before we even get on the bus, I want to make sure these guys know it's time to go. We were extremely motivated in this game. And I think we'll be even more motivated for next Saturday."
A 6 p.m. kickoff against Iowa State (5-5, 2-5) awaits, a home game, a winnable game, a game Weis will have his players ready to play. It's the most important quality a coach can bring to the job. Weis brings it.