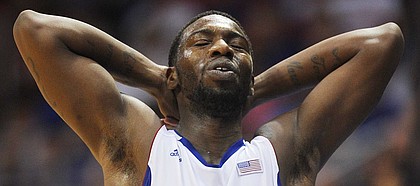 Elijah Johnson had as many fouls (five) as points and assists combined (five) in Kansas University's 74-55 season-opening victory over Southeast Missouri State on Friday night in Allen Fieldhouse.
"He was just out there ... didn't make a shot, didn't get in the flow," KU coach Bill Self said, without a trace of alarm, after the Las Vegas senior's debut as starting point guard at KU.
"Foul trouble kept him from getting in the flow," Self added of Johnson, who was a starting combo guard last season, running the point on occasion to spell four-year starter Tyshawn Taylor.
The 6-foot-4, 195-pound Johnson hit one of five shots (0-for-4 from three) and two of two free throws while dishing one assist against no turnovers in 22 foul-plagued minutes. He also grabbed three boards.
Are the Jayhawks concerned about Johnson's line?
"Not at all," senior center Jeff Withey said. "When he was in the game, I think he did a good job controlling the tempo. He's still getting used to that position, being the point guard. He just needs to not foul. It's definitely correctable."
Johnson did fulfill his leadership responsibilities admirably. He spoke to back-up point Naadir Tharpe after picking up his fourth foul with 12:10 left and KU up by just six points. With the game's outcome still in question, he told Tharpe to embrace the opportunity to "run the team and control it."
Tharpe responded and helped the Jayhawks re-build the lead to 13 points by the time Johnson returned to the court with 5:23 to play. Johnson ultimately fouled out with 4:04 left and KU up by 17.
"I feel we were much more ready today than we were the last exhibition game," Tharpe said.
The 5-11 sophomore from Worcester, Mass., scored a career-high 10 points off 4-of-11 shooting (1-for-6 from three) with two assists against two turnovers in 28 minutes.
"I felt we were lackadaisical, all of us (in a 62-50 victory over Washburn). We came out with great energy," Tharpe added of Friday's opener. "We didn't knock down shots, but that happens in basketball. We just move onto the next game."
KU will meet Michigan State at 6 p.m. (Central time) Tuesday in the Georgia Dome (71,000 seating capacity for football, 26,000 for basketball). It is part of the second-annual Champions Classic doubleheader. Kentucky will meet Duke in the late game. A year ago, Kentucky tripped KU, 75-65, and Duke downed Michigan State, 74-69, in the Classic in New York.
Next year, KU will play Duke and MSU will meet Kentucky in Chicago.
The Spartans are 0-1 following Friday's 66-62 loss to UConn.
MSU guard Keith Appling scored 17 points and sophomore guard/forward Branden Dawson 15, both off 7-of-17 shooting. Freshman guard Gary Harris had 11 off 4-for-13 shooting.
"We are going to play against real guys real soon, and those guys think that this piece of meat may be the last piece of meat on earth, and they play like it. So, if we don't play like it, we will get our butts handed to us," Self said.