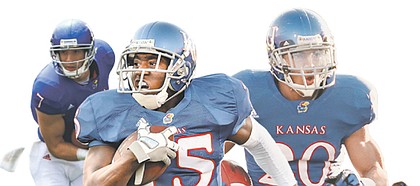 By his own admission, Kansas University football coach Charlie Weis understands he has a long way to go before reaching the point of complete comfort with his new team.
Still, in just a few months and 15 spring practices, Weis was able to make plenty of headway and arrive at a couple of concrete conclusions.
"I'd say of all the positions on the team, the position that there's been the most competition has been wide receiver," Weis said.
That should come as little surprise, for a couple of reasons. First, it's tied with the offensive line for the team's largest position. As of Wednesday, KU's official roster showed 11 players at both positions. Beyond that, because KU's offense struggled last season, no receiver was able to establish himself as the go-to guy, and there are plenty of wideouts with good measureables who could break out under new leadership.
"There's a whole bunch of players," Weis said of his receiving corps. "A whole bunch of guys who have ability, too."
Weis is not the only member of the KU football team excited about the prospects for KU's receivers. Quarterback Dayne Crist, who saw plenty of talent come through Notre Dame during his four seasons in South Bend, Ind., said this spring that the guys he throws to at Kansas were on par with his former Fighting Irish teammates.
"Absolutely," Crist said. "I've been very happy with the progress that the receivers have made, and I think there's great depth at the position."
That depth, though packed with unproven players, is front-loaded with experience. Seniors D.J. Beshears, Daymond Patterson and Kale Pick all have plenty of playing time on their resumes, and those three seemed to separate themselves from the rest of the pack just a little this spring.
"There are several guys out there with a lot more experience playing, and that shows up on the practice field," receivers coach Rob Ianello said. "But they're all freshmen in our offense. And I'm coaching them all as freshmen."
Asked what it takes to stand out in Weis' offense, Ianello rattled off a laundry list of factors.
"There's a lot of variables," Ianello said. "Knowing what to do is obviously very important. We're just looking for guys to develop into complete players. Complete players know what to do, complete players play physical, they block, they make hard catches, they are really committed to being good technicians and running routes."
Added Crist: "Tons of guys have been making plays out there. Every day we're looking at a receiver and saying, 'Hey, his stock's rising.'"
One guy whose stock fell this week is sophomore Justin McCay, a transfer from Oklahoma who on Wednesday learned that his request for a hardship waiver had been denied by the NCAA for a second time. Had the NCAA granted the waiver, McCay would have been able to play immediately instead of sitting out a year. Instead, McCay will join BYU transfer and potential KU quarterback of the future Jake Heaps in sitting out the 2012 season. Though disappointing, that should give Heaps and McCay a chance to develop great chemistry.
McCay's absence from this year's lineup also gives several other KU receivers an easier chance to break into the top tier. Guys like Christian Matthews, JaCorey Shepherd and Chris Omigie each has logged meaningful playing time in the past. One wildcard in the bunch figures to be incoming junior-college transfer Josh Ford. Ford, 6-foot-4, 195 pounds, comes to KU from Arizona Western CC, and he comes with high praise from his future head coach.
"Another guy that excited me a lot was Josh Ford," Weis said on signing day in February. "A tall guy that runs fast and makes a ton of catches and has a lot of production. He is a big target. The quarterbacks were really excited when they saw him on his visit, and they weren't alone."
With all of those options and playing time limited, one might think KU's receivers are a cut-throat group of me-first players. Not true.
"Right when I transitioned to wide receiver, I realized how talented our group is," Pick said. "We have guys that can run, we have guys that are strong. We have a combination of skills that makes our group really special. We have a lot of kids who can play, and I think we'll be able to show that in the fall."