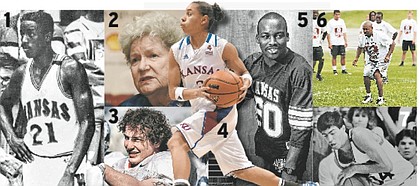 The question regarding what makes an athlete underrated brings different answers from different people.
For some, it can refer to a player who contributed a lot but was lost in the shadows of bigger names. For others, it can refer to a player who achieved a certain degree of notoriety but never got the full credit he or she deserved. And for others, it can refer to players whom people rarely talk about, athletes who achieve greatness behind the veil of near anonymity.
Many of the names on the lists below won championships, went pro or remain talked about to this day. But, at least for our staff, all of the following athletes were underrated in one way or another.
Matt Tait
Bill Whittemore — In my mind, he is, without question, the most underrated QB in KU history. Had Whittemore not come first, Mark Mangino may never have had the opportunity to recruit Todd Reesing. Beyond that, Whittemore often is credited for kick-starting KU's resurgence under Mangino and is one of the most down-to-earth dudes you'll ever meet.
Kevin Pritchard — The former KU point guard never really received much fanfare, but he played a huge role on KU's 1988 national championship team and provided stability, scoring and leadership on Roy Williams' first couple of KU teams.
Isaac Byrd — An incredible athlete with blazing speed and great natural instincts. Those traits not only helped make Byrd a threat on the gridiron, but also from his spot in center field with the KU baseball team. Drafted out of high school by the San Diego Padres (and again after his junior year of college by the St. Louis Cardinals), Byrd turned down the offer to play pro baseball and, four years later, was drafted in the sixth round of the NFL Draft by the Tennessee Titans. He played six seasons in the NFL and was in the starting lineup for Super Bowl XXXIV. At KU, he earned MVP honors on both squads and was a first-team All-Big 8 pick in baseball and a second-team All-Big 8 selection in football.
Chris Harris — Let's see, as a true freshman, Harris started on an Orange Bowl championship team and, after his college career ended, he became a starter in the Denver Broncos' secondary as a rookie. During each of the seasons in between, many people thought Harris was nothing more than a decent player. Turns out Harris' freshman year was more indicative of the likable defensive back's true talent.
Andrew Hartsock
Mark Williams — Quick history lesson: Back in 1994, Asheiki Preston was KU's staring QB. He was hurt, and, after being told Preston was out for the season, coach Glen Mason yanked Williams' red shirt. Preston quickly returned, and Williams hardly played the rest of the year. Then in 1995, Williams completed 61.7 percent of his passes for 1,957 yards — in a running offense — and led KU to a 10-2 year. There's no telling what this guy would have done in two full seasons.
June Henley — He wasn't KU's best running back, but he still holds the school records for career (823) and season (302) rushing attempts, season (17) and career (41) rushing TDs and, oh yeah, career rushing yards (3,841).
Ron Warner — I remember the knocks on Warner, primarily that he wasn't great against the run, but off the corner he was a beast. He might have been a one-trick pony, but at that one trick — making life difficult for opposing quarterbacks — he was one of the best. His 14.5 sacks in 1997 are still the school record.
Mario Kinsey — OK, I know the critics might accuse me of smoking some of the substance Kinsey was busted for possession of in the offseason, but Kinsey was talented enough to earn the starting quarterback job as a freshman and land a walk-on invitation from then-coach Roy Williams to the men's basketball team. He never did much in either sport (though his 1,215 passing yards as a red-shirt freshman in 2001 wasn't too shabby), but he obviously was a wicked athlete. After departing KU, Kinsey went on to play hoops at two other colleges and had a short career in the American Basketball Association.
Tom Keegan
Jim Bausch — A relative novice to the decathlon, he won the Olympic gold medal in the event in 1932, was a two-time All-American in football and also lettered in basketball.
Bob Allison — If you're scratching your head saying, "The NASCAR legend went to Kansas, and isn't he known as Bobby, not Bob?" you're proof of the extent of just how underrated the former Jayhawks slugger remains. Allison, who died in 1995 at the age of 60, was American League Rookie of the Year in 1959 and was an All-Star that year and in 1963 and 1964. OPS (on-base plus slugging) rates as the single most revealing statistic for a hitter, and Allison led the American League in it in '63 and ranked in the top 10 five times. He ranked in the top 10 in home runs in eight of his 13 seasons. At Kansas, Allison also played fullback for the football team.
Angel Goodrich — Anyone who hasn't seen this basketball magician play needs to do so during her senior year or live to regret it forever. She deserves to play in front of huge crowds every night.
Marilynn Smith — One of the original 13 LPGA tour players in 1950, Smith won 21 LPGA tournaments, including two majors, and finished in the top 10 on the money list nine times. As a teenager, she won three consecutive state amateur championships.
Jesse Newell
Xavier Henry — He is often lumped with Josh Selby as a one-and-done disappointment, but the truth is, Henry was spectacular offensively in his one year and gets overlooked because of the Northern Iowa loss.
Eric Chenowith — Most KU fans were so focused on what Chenowith wasn't that they didn't appreciate what he was: a top-five rebounder and a top-three shot-blocker in KU history.
Wayne Simien — Simien's senior season in 2005 was one the best offensive seasons for a KU player in the last decade, but he's not often mentioned with the greats because of a short NBA career and missed final shot against Bucknell.
Gabe Toomey — I loved watching Gabe Toomey's aggressiveness on the KU football team, but injuries and perhaps some misuse of him by the KU football coaching staff shut down his KU career too soon.
Gary Bedore
Scott Huffman — Olympic track pole vaulter whose Huffman Roll revolutionized the sport. An outgoing guy, Huffman should have received even more publicity than he did during his KU days.
Milt Newton — Was very important piece of the 1988 national title team.
Michael Center — Great tennis player and coach.
Willie Pless — Linebacker got some attention, but was lost in the shuffle a bit in the CFL, where he was one of the league's all-time greats.