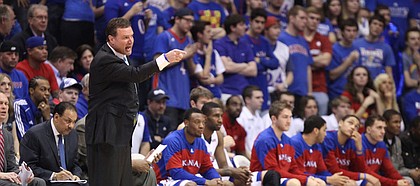 Kansas University basketball coach Bill Self took some hard hacks in the softball batting cages twice last week at Clinton Lake Sports Complex.
His sole purpose was to practice for tonight's All-Star Celebrity softball game at Kauffman Stadium in Kansas City, Mo., not to release any pent-up aggression over recent claims that an Overland Park man allegedly supplied marijuana to multiple players from his 2010-11 Jayhawk hoops team.
"Obviously, it bothers me. I'm the captain of the ship. Anytime something happens on your watch, it's very bothersome," Self said in a Saturday-morning interview with the Journal-World.

He was making his first public comments on an assistant U.S. attorney's assertion that Samuel Villeareal III distributed pot to unnamed KU players. The claim was made during a June 18 detention hearing for Villeareal, who is one of numerous defendants charged June 11 with a scheme to distribute more than 2,000 pounds of marijuana in Johnson and Douglas counties.
"On the flip side, I'm not going to rush to judgment on anything at all," Self quickly added. "I know this for a fact: We've got great kids in our program. We've had great kids in our program. The kids have represented themselves to my knowledge in a way that would be good for the university, and they all graduate. I am disappointed that anything could be said negatively about our program, but I'm not going to run and hide from it. I'm not going to rush to judgment, either. The only thing I could do now is basically allow the process to play out."
Villeareal, whose alleged tie to the KU players hit the media on June 29, returns to court for a hearing on July 30.
"I have no idea what the process will be. Trust me, nobody is on my time schedule," Self said. "The only thing I positively know about the situation is what I've read like everybody else.
"I have known about it one week now. We investigated it and looked into it as much as we can. I feel I have a better understanding, but still yet I can't and won't comment any further on it due to the fact it would not be in the best interests of anybody."
Self would not comment to the J-W on specific aspects of this case, such as allegations that KU's players visited with Villeareal, who was allegedly sitting behind the bench at a game at KC's Sprint Center.
Self said he had not spoken with any federal investigators about the matter. He has spoken to the team.
"Certainly I've addressed it. It will continue to be addressed. It's not something where it's the first time they've heard something like this. We address it all the time," Self said, of reminding the players it is against the law and against KU rules to use marijuana.
KU's internal drug-testing policy requires all freshman or new transfer student-athletes to take a drug test "within a reasonable amount of time" after arriving on campus. All teams that qualify for postseason play also may be subject to testing. The university also conducts unannounced, random testing during the year, according to the policy. Athletes who test positive are required to undergo counseling and are subjected to more frequent testing. The policy does not call for suspension from game competition until after a third positive test.
"All athletic programs have safeguards not only to prevent, but to detect and assist in some of society's problems or some of society's issues that we deal with," Self said.
He stressed: "I want to make the point: I know the quality of kids in our program. The fact is these are not good kids, these are great kids. They are working their butt off (this summer). They are young. I can't wait to start practicing and see how guys react to Europe (trip to Switzerland and Paris for four games in August). The thing about it is I certainly won't be commenting on this any further, other than the fact this will be a fun team to coach."
Softball tonight: Self will participate in today's All-Star Legends & Celebrity Softball Game, set for approximately 7:30 p.m. at Kauffman Stadium. The game will be contested after the Futures Game, which starts at 4 p.m.
"I made contact, but I'm not exactly a power hitter like I used to be," Self said of his recent work in the batting cages. "I just hope I get out on the field a little bit. I can't play third because (George) Brett is there. I can't play short because Ernie Banks is there. I can't play center because Bo (Jackson) is there. I can't pitch because Jenny Finch is there. I can't catch because (Mike) Piazza is there. There may not enough spots for me to play, but it should be fun."
The softball game will be televised by ESPN approximately 9:30 p.m. Monday, following the State Farm Home Run Derby, which begins at 7 p.m.
Elijah back in action: Elijah Johnson, who had arthroscopic surgery on his left knee in mid-April, will practice Monday.
"We'll break him in slowly," Self said, indicating the senior guard probably wouldn't take part in pick-up games or scrimmage situations immediately.
Ty's deal: Tyshawn Taylor's first NBA contract with the Brooklyn Nets is expected to pay him the rookie minimum of $473,604 next season, the New York Post reports. Details of the contract (length and amount of money), which was signed Friday, were not disclosed by the team.
Frankamp in final: Future KU guard Conner Frankamp scored 13 points off 3-of-9 shooting (1-of-4 threes) to help the U.S. defeat Spain, 95-66, in the semifinals of the Under 17 World Championship on Saturday in Kaunas, Lithuania. He had three rebounds, an assist and turnover in 22 minutes. The U.S. (7-0) will meet Australia (6-1) in today's 12:30 p.m. final. It is available online via FIBATV.com.
l
Sasha in Olympics: Former KU center Sasha Kaun will compete in the 2012 Olympics. Kaun's Russian National team defeated Nigeria, 85-77, in Saturday's Olympic Qualifying semifinals. Top three finishing teams in the 12-team tourney advance to the Olympics. Kaun had 11 points in the spot-clinching victory.