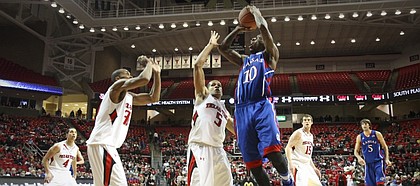 Podcast
Press Conferences & Post-Game Interviews
Kansas coach Bill Self talks to reporters following the Jayhawks' 81-46 victory over Texas Tech on Jan. 11, 2012, in ...
KU vs. Texas Tech
Lubbock, Texas — Texas Tech coach Billy Gillispie was able to summarize Wednesday's 81-46 Big 12 basketball loss to Kansas University pretty well in the first five words of his news conference.
"Just a real good whipping," the first-year coach said.
After leading 18-17 with 5:42 to go in the first half, the Red Raiders started to come unraveled right after 6-foot-6 freshman Terran Petteway picked up an intentional foul and ejection at the 5:01 mark following contact with KU guard Conner Teahan.
Gillispie said he didn't wait for an explanation from the officials.
"I really wasn't in the mood to be listening to it," Gillispie said. "They called it, and we suffer the consequences, whatever it is."
Following that foul, KU ended the half on a 15-2 run to take a 35-20 halftime lead.
"I think we might have focused too much on the technical instead of just playing our game," Texas Tech sophomore Jaye Crockett said. " ... You can't just dwell on that one thing."
Losing focus was far from the only problem for the Red Raiders, who scored their fewest points since a 66-45 loss to Kansas State on March 7, 2007.
"Very, very few times did we execute plays," Gillispie said, "or make the right pass on time, on target."
Gillispie's game plan offensively centered around trying to get the ball inside, whether by driving or passing.
It didn't work. The coach was frustrated that his team couldn't establish any interior presence, as his two starting forwards — Robert Lewandowski and Jordan Tolbert — combined for six points on 3-for-10 shooting with five turnovers.
The two came in averaging a combined 22.4 points per game.
"They basically play the same defensive rules that we play," Tolbert said. "They just play harder than us."
The loss was the Red Raiders' 17th-straight against a ranked opponent. Gillispie fell to 1-3 all-time against Self.
"Give all the credit to Kansas," Gillispie said. "They've got a really nice team and were able to do whatever they wanted to on both ends of the court. We didn't give them any opposition at all."
Gillispie also left impressed by KU junior forward Thomas Robinson. After posting just five points in the first half, Robinson finished with 19 points and 12 rebounds in just 19 minutes.
"We did a really good job on him early," Gillispie said. "But they just kept with it for 40 minutes, and that's a lesson our guys need to learn. They didn't start out very well in the game, but they just kept on, kept on, kept on executing with discipline and guarding with discipline. And over time, if you do that, you're probably going to be very effective."