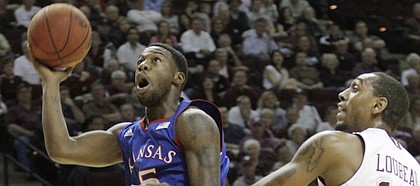 Podcast
Press Conferences & Post-Game Interviews
Kansas coach Bill Self talks to reporters following the Jayhawks' 66-58 victory over Texas A&M on Feb. 22, 2012.
KU vs. Texas A&M
College Station, Texas — Kansas University's basketball team put itself in position to claim at least a tie for its eighth-straight Big 12 championship Saturday at home against Missouri.
So why wasn't ninth-year coach Bill Self smiling after Wednesday's 66-58 victory over Texas A&M; in Reed Arena?
Let him disclose the many reasons:
"We played awful down the stretch. Basically, to put them in position to win that game is beyond belief," Self said after a game-high lead of 21 points (47-26 with 13:30 to play) dipped to four points with 2:08 left (57-53), with 1:30 left (60-56) and with :40.2 left (62-58).
"We were making basketball plays experienced guys should never make. When you make plays you know nobody wants you to make and it doesn't bother you, that's a bad sign for a basketball team. It didn't seem it bothered us much tonight. Bad shots shouldn't lead to bad attitudes," Self grumbled.
Self was dismayed with the performance of national Player of the Year candidate Thomas Robinson, who scored 10 points off 3-of-10 shooting with 13 rebounds in 28 minutes.
Robinson picked up a technical foul for shoving A&M;'s Ray Turner with 40.2 seconds left with KU up, 62-56. It happened to be Robinson's fifth foul, meaning he was headed to the bench leaving his teammates trying to hold on without his presence.
"Inexcusable," Self said of Robinson's technical foul. "As bad a play as I've seen."
Turner hit two free throws to cut the gap to 62-58.
"He was never engaged in the whole game," Self said of Robinson. "It was not totally a surprise (he was whistled for the technical)."
Why was the big man so frustrated?
"They did a good job pushing him out. It was physical in the post. He was never engaged in the game," Self said.
KU junior guard Elijah Johnson, who scored 18 points the first half in helping KU build a 31-21 lead and finished with 21, bricked two free throws at :39.1, keeping KU's lead at a narrow four points.
Jeff Withey (11 points, seven boards in 28 minutes) rebounded a Zach Kinsley miss of a three and was fouled at :27.2. His two free throws gave KU a 64-58 lead, finally helping steady the ship. After an Elston Turner miss, Withey again was fouled and concluded the scoring with two more free throws at :12.
"Obviously, we didn't make free throws except for Jeff. He made two big ones," Self said.
Another big bucket came from senior guard Tyshawn Taylor, who hit a driving layup and foul shot at 1:57, boosting the 57-53 lead to seven points. It was KU's first basket in a long seven-minute stretch. It came early in the shot clock on a set play.
"He can get in the paint and get his own shot. He needs to start getting shots for his teammates," Self said of Taylor, who had 12 points and four assists against two turnovers.
"He is as good as anybody in the country getting his shoulders past people. We ran a fake ball screen, told him to turn the corner. He turned the corner. That was a big play. They'd gotten it to four, and we were able to get it to five, six. The pressure was on, but not like it would have been if they got another stop and basket."
Self was miffed Taylor picked up his fourth foul with 7:56 left.
"How do you reach when you have three (fouls) and you know how valuable you are to our team? That was a bad play. He made a couple big plays when he got back in," Self said of Taylor.
Self was puzzled by the meltdown at the end.
He said the squad sensed an opportunity Tuesday when Missouri lost to Kansas State, giving KU (23-5 overall, 13-2 Big 12) a half-game lead over Mizzou in the standings entering the A&M; game. KU needed to beat A&M; to give the Jayhawks a full-game lead and chance of clinching at least a tie with a win Saturday.
"The way I tried to sell it (A&M; game) to our guys was, we caught a break," Self said. "Not that often in sports or life you get one handed to you, but you have to make sure you take advantage of a break. When we play well, our energy is great, and we are unselfish. I thought our thoughts were not unselfish tonight."
A&M;, which was led by Khris Middleton's 23 points, fell to 13-14 overall and 4-11 in the league.
"If you'd tell me before the game we'd win by eight, I'd be ecstatic," Self said, "but we were up by 21 with 10 left. It's a win. We leave happy we won, but I'm not leaving here feeling great. I don't think anybody in our locker room is."