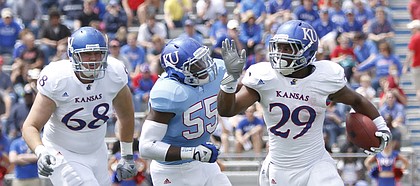 The uncertainty surrounding suspended running back James Sims' future with the Jayhawks became a little clearer Tuesday.
Asked how Sims had responded to being slapped with a three-game suspension following an offseason DUI arrest, Kansas University coach Charlie Weis dished out some pretty serious praise.
"Right now, if I had to pick the most complete running back on our team, I would pick James," Weis said of the junior tailback. "I think he responded pretty well. James is way better than I thought he was. He just unfortunately can't play right now."
Weis was not the only Jayhawk to applaud Sims' progress. Running backs coach Reggie Mitchell said Sims was a much better back today than he was at the end of the 2011 season, and teammates Brandon Bourbon and Tony Pierson said they had great respect for their teammate who now weighs around 195 pounds after playing nearly 15 pounds heavier during his first two seasons.
"He has improved," Bourbon said. "Even since we started practice, these past five, six days."
Added Pierson: "It seems like he's not even paying attention to not playing the first three games. James lost a few pounds, so now he's lighter and faster. He really worked on that in the offseason. He's much faster."
Still, Weis gushed the most.
"People told me he couldn't run outside. They were wrong; he can," Weis said. "People told me he doesn't have another gear. He does. It might be because he is down 10 pounds. It might be because he's in great shape. But I'm a big fan of James now. He has a lot of natural running ability, and he's not afraid to pick up the blitz."
As for what will happen when Sims returns for Week 4?
"When he's back, he's back," Weis said. "And when he's earned the right to play, he'll play. I'd be very surprised when we go to (Northern) Illinois the fourth week if James isn't on the field."