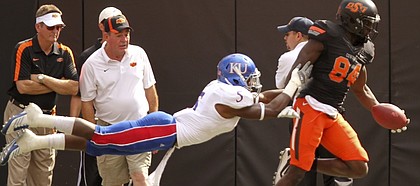 KU vs. Oklahoma State
Podcast
Press Conferences & Post-Game Interviews
Kansas coach Turner Gill talks to reporters following the Jayhawks' 70-28 loss to Oklahoma State on Oct. 8, 2011.
Video
Video by Jesse Newell
Video
Video by Jesse Newell
Stillwater, Okla. — At this point, it almost has become a carnival-like atmosphere around the Kansas University football team. Come one, come all, schedule the Jayhawks and set a school record. Find the magic combination and you may be able to rewrite your entire record book.
That's basically what Oklahoma State did Saturday in front of 58,030 at Boone Pickens Stadium, where the Cowboys drubbed the Jayhawks, 70-28, and, in doing so, tied or set multiple school records on offense.
OSU's 70 points, 10 touchdowns, most points in a half (56) and most points in a quarter (35 in the first) all were modern-era records. The Cowboys' 494 yards through the air established a Kansas record for passing yards allowed. And the total came from two different guys, marking the first time in OSU history that two quarterbacks had passed for 200 or more yards in the same game. Oklahoma State starter Brandon Weeden was 24-of-28 for 288 yards and five TDs before being relieved late in the second quarter. His replacement Clint Chelf closed out the victory with marks of 14-of-21 passing for 206 yards and two TDs.
"When you lose, you lose," KU coach Turner Gill said. "Numbers, records and all those things, that's part of it, and I understand that. But I'm trying to make sure we do some things better, defensively, offensively, special teams, in all those areas."
Saturday, that did not occur, and the double-dose of humiliation made a bad day worse for the Jayhawks, who fell to 2-3 overall and 0-2 in Big 12 play.
"It's just an extra blow knowing that a team's going out there and setting records on us," junior cornerback Greg Brown said. "They played a good game, but a record-setting performance against us doesn't sit too well."
Each week, the KU coaching staff claims improvement is taking place. Yet, each week, the Jayhawks' performance on the field fails to show it. Sure, Kansas played hard to the end and even outscored OSU, 21-14, in the second half. But the 56-7 halftime score made that fact irrelevant.
Consider these crippling numbers from Saturday's game.
• Oklahoma State scored touchdowns on all eight of its first-half possessions, with each of its first five drives taking less than 1:50 off the clock. That included three drives that took less than a minute, and one that took 30 seconds.
• Weeden's stellar passing numbers, which included a school record for completion percentage (85.7), came in just 11 minutes. After his fast start, Weeden was given the rest of the day off with less than three minutes to play in the first half. Two plays after Weeden replaced his helmet with a baseball cap, Chelf hit Isaiah Anderson with a 24-yard touchdown pass that gave OSU its highest-scoring first half since 1973.
"That's not a good feeling at all, knowing that he played basically just one quarter and he can go hang it up like that," Brown said.
• KU turned the ball over a season-high four times, giving the potent OSU offense short field after short field.
"We're not at that point in our program where we can turn the ball over like that and still be competitive in the ballgame," Gill said.
• The Cowboys totaled 600 yards of offense, making them the third straight KU opponent to go over 530 yards and the second this year to break 600. They did so in 11 fewer minutes and five fewer plays than the Jayhawks, who finished with 478 yards, 316 of which came through the air from QB Jordan Webb.
"We're not at a point where we're able to compete in all phases against that kind of an offense," defensive coordinator Vic Shealy said. "All we can do is go back to work. That may be cliche, but I do believe that the only way you do get better is by going back to work."
Perhaps that's been the most frustrating part of the awful stretch that has landed KU's defense at the bottom of the NCAA's statistical rankings. It's not so much a lack of effort that's plaguing the Jayhawks as it is a lack of preparation, instinct and execution. Asked why he thought the KU defense again struggled so mightily on Saturday, Gill provided two answers.
"We have to give credit to the opponents, No. 1," he said. "No. 2, we have to make sure our guys are able to make the plays they need to make."
Why aren't they?
"I think we're still thinking and reacting instead of, when you see something, just reacting to it," Gill added.
Part of that, at least this week, was due to the performance by Oklahoma State.
"They have a prolific quarterback," KU offensive coordinator Chuck Long said. "The guy's going to the NFL. They're very mature, they have a mature offense and you know going into the game that they're going to move the ball and score. Our issue was we didn't want to compound that by turning the ball over, and that's something we need to get cleaned up."
Despite just about everything going Oklahoma State's way, more than half the stadium cleared out by the middle of the third quarter because of a driving rain that came down as fast as the Cowboys lit up the scoreboard. It must have felt like a home game for KU.
So now the focus shifts to next week, when No. 3 Oklahoma comes to Lawrence. Your move, OU. If Oklahoma State can do this to the Jayhawks, what are the Sooners going to do? It's a fair question — one that will be answered in front of a national television audience courtesy of ESPN2.
At this rate, one has to wonder if even the complimentary tickets the KU athletic department is planning to give away for students can help fill Memorial Stadium. Full stadium or not, Shealy said the coaching staff would use the loss to OSU as motivation to get ready for the Sooners.
"That will be reiterated to them throughout different conversations throughout the week," Shealy said. "Our players need to be psychologically strong, and we'll find out what we're made out of."