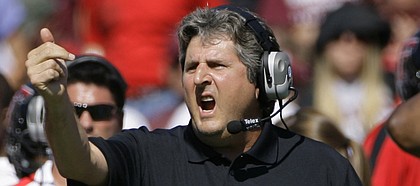 The last time the Kansas University football program pushed a nice-guy head coach out the door after just two seasons, the university followed it up by hiring a hard-nosed disciplinarian to take his place.
That was the story when Bob Valesente — 4-17 overall, 0-13-1 in the Big Eight from 1986-87 — was given his walking papers following the 1987 season and Glen Mason was brought in to replace him.
With history repeating itself on the front end of that equation — Turner Gill was fired on Sunday after going 5-19 overall and 1-16 in Big 12 play during his two seasons in Lawrence — the question on everybody's mind now is what direction the Jayhawks will take in finding Gill's replacement.
There are plenty of options, from coast to coast, and the list figures to be full of both nice guys and intense leaders. The following is how KUSports.com sees the search unfolding:
THE FAVORITE
Mike Leach, 50, former head coach at Texas Tech University
Record at school: 84-43 in 10 seasons. (10 bowl appearances)
Current salary: Not available. Made $2.7 million at Texas Tech.
Why it makes sense: The biggest name on the block would bring instant on-the-field credibility to the program, restore faith and return excitement to a fan base that has checked out. Offensive guru would inherit a handful of young athletes and, no doubt, bring more with him, perhaps even a big-time quarterback. As for his interest in KU, it seems like the guy would love a shot to stick it to Tech and the rest of the Big 12.
Why it might not happen: Leach would be a great catch for any program, but questions about his character, the way he conducted himself at Texas Tech and whether he learned anything from his uncerimonious fall from grace likely would linger for years no matter how well he did in the win column. In addition, he's tied up with lawsuits against Tech and ESPN.
THE STRONG CONTENDERS
Jim Leavitt, 54, former head coach at the University of South Florida
Record at school: 94-57 in 13 seasons (5 bowl appearances)
Current salary: Not available. Made $1.6 million at USF.
Why it makes sense: A defensive minded coach with Midwest ties who built USF from the ground up and elevated the program to a No. 2 national ranking at one point during the 2007 season. Currently coaching linebackers for the San Francisco 49ers, Leavitt went to five bowl games in 13 seasons at USF and won fewer than six games just twice. Hired KU athletic director Sheahon Zenger to work as his recruiting coordinator at South Florida (1996) and also worked with former KU coach Mark Mangino at K-State (1991-95)
Why it might not happen: Leavitt, like Mangino, was forced to leave South Florida because of allegations about improper treatment of players. Leavitt denied any wrong-doing — which allegedly included physical contact — but still was forced to leave the program he helped build. Is it too soon for Jayhawk Nation to bring in a coach from the Mangino mold?
Larry Fedora, 49, University of Southern Miss head coach
Record at school: 31-19 in 4 seasons (4 bowl appearances)
Current salary: $704,500 per year
Why it makes sense: He's known as an excellent recruiter — especially in Texas, where he was a high school coach — and has Big 12 ties from his days as an offensive coordinator at Oklahoma State. Also served as offensive coordinator at Florida from 2002-04.
Why it might not happen: Is his name sexy enough to please the big-time donors who helped facilitate the firing of Gill by coming up with private bucks? Even if it is, Fedora looks like a candidate at Ole Miss, which would probably be an easier transition.
Mark Stoops, 44, Florida State defensive coordinator
Record at school: N/A
Current salary: Not Available. Made $283,914 in final year as Arizona DC (2008).
Why it makes sense: Obviously has the right last name to get your attention, but also has the right connections. Zenger and Stoops worked together on Leavitt's staff at South Florida in 1996 and again from 1997-99 at Wyoming, where Stoops coached defensive backs and Zenger served as recruiting coordinator and assistant head coach. Has served as defensive coordinator at three schools (Houston, Arizona and Florida State).
Why it might not happen: A lack of head coaching experience could hurt Stoops in this case, as the Jayhawks need a proven leader to replace Gill.
THE UP-AND-COMERS
Chris Petersen, 47, Boise State University head coach
Record at school: 70-6 in 6 seasons (6 bowl appearances, 2 BCS)
Current salary: $1.525 million per year.
Why it makes sense: When you throw in his time as an assistant coach, Petersen boasts an unbelievable track record of success. The program did not miss a beat when he took over and it's a lot easier to envision Petersen knocking down the BCS door at a Big 12 school than at Boise, where anything short of perfection doesn't get it done.
Why it might not happen: After the way former Boise State coach Dan Hawkins fell on his face at Colorado, it's easy to see why other schools could be gun-shy about taking another hot name from Idaho.
Kevin Sumlin, 47, University of Houston head coach
Record at school: 34-16 in 4 seasons (3 bowl appearances)
Current salary: $1.2 million per year
Why it makes sense: Has made a huge national splash in just his fourth season at Houston. After going 8-5 in 2008 and 10-4 in 2009, Sumlin has the eighth-ranked Cougars at 12-0 this season. Is an even-tempered disciplinarian who draws praise for getting players to do exactly what he wants of them. Sumlin is another coach who already has experience in the Big 12 Conference and obviously has huge Texas connections. Sumlin coached under Bob Stoops at Oklahoma from 2003-07. He also coached under R.C. Slocum at Texas A&M; in 2001 and 2002. Although his name popped up for several openings the last time the Jayhawks were looking, Houston paid to keep him and he had one big reason to return to UH. With record-setting QB Case Keenun set to graduate after this season, could Sumlin be looking to move on, too?
Why it might not happen: He's very happy at Houston, which will do everything it can to keep him, but could be battling several big-time BCS schools along the way. Maybe Sumlin wants his jump from Houston to be a bigger one?
Troy Calhoun, 45, Air Force Academy head coach
Record at school: 39-23 in 5 seasons (4 bowl appearances)
Current salary: $889,095 per year
Why it makes sense: Experience all over the board from Ohio and Air Force to Wake Forest and the NFL. Offensive-minded coach who knows how to utilize multiple running backs, a position that should be a strength at Kansas for at least the next few years. Named the Mountain West coach of the year in 2007 and known for creative offensive gameplans.
Why it might not happen: His is not the biggest name of the bunch and he seems to be pretty happy at Air Force, where he starred as a quarterback during his playing days and began his coaching career under the legendary Fisher DeBerry.
Dave Doeren, 39, Northern Illinois University head coach
Record at school: 8-3 in 1 seasons (1 bowl appearances)
Current salary: $371,000 per year
Why it makes sense: Doeren spent time at KU under Mangino and grew up in Kansas City. He knows what it takes to win at Kansas and he understands the culture. Was a huge player in recruiting a good chunk of KU's 2007 Orange Bowl team and also has been praised by many as one of the bright, young defensive minds in the game based on his highly successful stint as Wisconsin's co-defensive coordinator.
Why it might not happen: For starters, Gill beat Doeren earlier this season (45-42 in Lawrence) and that probably won't sit well with KU fans. In addition, he's still in his first year at NIU and might not be ready to move again.
THE ASSISTANTS
Brent Venables, 40, Oklahoma defensive coordinator
Record at school: N/A
Current salary: $440,000 per year
Why it makes sense: Long considered one of the top assistant coaches in the college game, the Salina native who played at Kansas State and later coached under Bill Snyder at his alma mater has deep roots in the Midwest. His intelligent, energetic and charismatic qualities make him a master recruiter and the kind of coach players go the extra mile for. Venables has a great eye for talent and has been instrumental in Bob Stoops' success at OU since 1999. Before that, the two worked together at K-State, as well.

Why it might not happen: Talking him into a rebuilding project at KU could be tough considering some think he's waiting to take over at either Oklahoma or Kansas State one day.
Kirby Smart, 35, Alabama defensive coordinator
Record at school: N/A
Current salary: $750,000 per year
Why it makes sense: Smart is the architect behind one of the most dominant defenses of the last decade. For a program like KU, which is in desperate need of a defensive upgrade, adding the one of the best in the business makes perfect sense.
Why it might not happen: For starters, Smart is just 35, which seems a little young to take over this type of situation. In addition, if Smart's going to leave his cushy spot alongside Nick Saban and the national-title contending Crimson Tide, it's probably going to be for a bigger job, and is more likely to be one closer to the areas of the south that he's comfortable recruiting.
THE FORMER HEAD COACHES
Phillip Fulmer, 61, former University of Tennessee head coach
Record at school: 152-52 in 17 seasons at Tennessee (15 bowl appearances)
Current salary: Not Available.
Why it makes sense: Fulmer, 61, was forced out at Tennessee after an uncharacteristic 5-7 record in 2008. All he did before that was win 10 games in '07, nine games in '06 and 10 in 2002 and 2003, as well. Oh, he also guided the Vols to the 1998 national championship. Although the Tennessee native has spent all but four years of his coaching life in his home state, the four years away were in Kansas at Wichita State. Even though he's been away from the sidelines for a while, he expressed interest in and interviewed for vacancies at Louisville and UConn in late 2009.
Why it might not happen: Fulmer's been out of the game for three seasons now and could have trouble adapting to the spread offenses — both offensively and defensively — currently in favor in the Big 12.
Mike Stoops, 49, former Arizona head coach
Record at school: 41-50 in 7-plus seasons (3 bowl appearances)
Current salary: $1.465 million in final season at Arizona.
Why it makes sense: Look at the last name and consider the area he would be recruiting. Stoops, though decent at Arizona, did his best job while working for brother Bob at Oklahoma. Getting back into the Big 12 and having the chance to prove himself against his brother could be appealing. Stoops' defensive pedigree would be welcomed at KU, which finished the 2011 season ranked near the bottom of the FBS in total defense.
Why it might not happen: Although a head coaching job in the Big 12 might be appealing, Stoops could be more interested in a less stressful role back on Bob's staff at OU or somewhere else. Don't count out the idea of him becoming KU's next defensive coordinator.
Source for salary information: USA Today