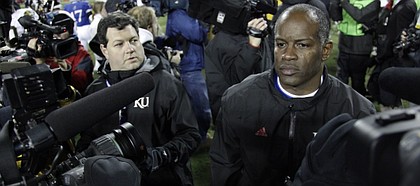 Podcast
Press Conferences & Post-Game Interviews
Kansas coach Turner Gill talks to reporters following the Jayhawks' 24-10 loss to Missouri on Nov. 26, 2011.
Video
Video by Tom Keegan
KU vs. Missouri
Kansas City, Mo. — Two years ago, after Mark Mangino had just coached his final game for Kansas University with a loss to Missouri and a seven-game losing streak, he spoke into a microphone on the table in front of him. His last words after eight years on the job: "I will tell you that I may be one of the more pleasant people to deal with in college football. Trust me."
Turner Gill sat in the same seat Saturday in Arrowhead Stadium after his team battled the same opponent and extended its losing streak to nine games. His final words, like his two-year reign, weren't as interesting as Mangino's.
"I think we can be competitive next year," Gill said after Saturday's fall-from-ahead 24-10 loss to Missouri. "I think we have some players in here. We've got to put together good things and continue to recruit, and we'll be ready to roll next year."
Surely, he had to know that it's over, but what's he supposed to say? "It's not my problem anymore. I'm out of here, and within 90 days I'll be $6 million richer." No way he would even think that, much less say it. Gill will learn officially, possibly as soon as Sunday, that he's not coming back. And it won't be the end of the world for him.
It cost Kansas $3 million to buy out Mangino, and Gill has $6 million coming to him. Those figures don't include the assistant coaches' guarantees. The temptation is to stand atop the mountain and scream, "This must stop. Settle on a coach, and leave it at that."
Ideally, of course, the next coach will not do anything to inspire anyone to make an issue of his treatment of the players, will win and won't want to coach anywhere but in Lawrence. Ideally.
Now let's talk reality. This can't be a defensive hire, a safe hire. This situation calls for an aggressive, bold if necessary, move, one that awakens a fan base lulled into apathy. After two years of going 1-16 in Big 12 play, getting blown out by the upper-division schools, leading at halftime only to get owned in the second half against some others, this won't be an easy fix.
Mike Leach has multiple lawsuits in play, including one against Texas Tech, a Big 12 member and his former employer. He's also suing ESPN, which some believe is the reason Maryland didn't hire him. Maryland's failure or unwillingness to work through those issues doesn't have to apply to Kansas. Clearly, Leach has an uncanny knack for identifying quarterback prospects and developing them. He's a proven winner. His name alone would energize ticket sales.
Even so, if things can't be worked out with Leach, Kansas athletic director Sheahon Zenger can't cave to the pressure of having to name a big name and shouldn't necessarily restrict himself to someone with experience as a head coach. Mark Stoops, the youngest of four brothers from Youngstown, Ohio, is Florida State's defensive coordinator. No. 1 LSU and No. 2 Alabama are the only BCS schools with defenses that have given up fewer points per game than Florida State's 15.2. Stoops didn't make the transition from coordinator to boss at Arizona, you say? Bob Stoops did, I say. Each brother deserves to be judged individually.
Either hire gives Kansas a better football coach than it had the past two seasons.