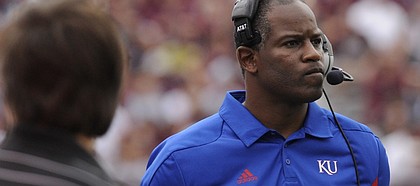 As his future with the program treads in uncertain waters and his team prepares for what could be the final game in the 120-year history of the Border War series with Missouri — 2:30 p.m. Saturday at Arrowhead Stadium in Kansas City, Mo. — Kansas University football coach Turner Gill continues to lean on the priorities that have defined his time at KU.
"We are focusing on our team getting better," said Gill on Monday morning's Big 12 coaches teleconference. "We could get caught up on those other things, but that would be a distraction from making sure we execute on the football field. What we need to focus on is (having) great preparation going into this game and executing better than Missouri."
Asked more specifically about his own future with the Jayhawks, Gill stuck with what he said after last Saturday's 61-7 loss at Texas A&M.;
"I don't get caught up in that," Gill said. "I am here to coach them in the Missouri game, and that's what I am going to focus on ... moving forward, and continue to build a program that is going to be competing for championships in the future."
Pinkel to return Thursday
After missing Saturday's victory against Texas Tech as part of a one-week suspension following his DWI arrest, Missouri coach Gary Pinkel will continue to observe from afar for the first few days this week.
Although Pinkel is expected to wear a headset and be on the sideline Saturday, when the Tigers (6-5 overall, 4-4 Big 12) try to make it three straight victories against the Jayhawks (2-9, 0-8), he will not be involved with the team's preparation until Thursday.
Missouri defensive coordinator Dave Steckel, who filled in for Pinkel on Monday's conference call, said the Tigers' preparation would not suffer.
"We're just business as usual," Steckel said. "(Offensive coordinator) David (Yost is) running the offense, and I'm running the defense. We are keeping coach abreast of everything that's going on, game-plan-wise."
Asked what it felt like to lead the Tigers into rivalry week, Steckel played down both the opportunity and the intensity of the game.

"We've got great respect for their players and their team," he said. "Turner Gill's a great human being, and I, personally, know some of those offensive coaches, and they're really good football coaches. (KU assistants) J.B. Grimes, Dave Beaty and Chuck Long are really, really good football coaches, and we've got our hands full."
Border War future?
With Missouri announcing its intentions to join the SEC, but not yet immersed in its new conference as a full member, there remains some uncertainty regarding the future of the Border War.
KU coaches and officials have said in the past they won't schedule MU outside of conference play.
"I think it always needs to be played in a Big 12 conference," Gill said of the KU-MU rivalry. "Those are my thoughts on it, and we will go from there."
Later, asked about the same topic, Steckel spoke with much more optimism.
"Well, first of all, you're using the word 'probably,' so I don't know if we are or if we're not," he said of playing KU again in the future. "This is Kansas. Kansas has been a great rivalry for the University of Missouri for many, many years, and that's what important, and that's what's on our plate now. We're not worried about the future. We're worried about right here, right now."