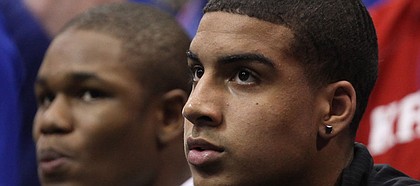 Portland, Ore., basketball big man Landen Lucas — who attended Kansas University's Elite Camp last spring — had the Jayhawks high on his original list of schools.
"A lot of people don't know they were in my top seven. This isn't something new. KU was an option for more than this last week," said Lucas, who, following the Oct. 31 commitment of Kaleb Tarczewski to Arizona, became pivot priority No. 1 for the Jayhawks.
Flattered at the interest — and eager to not let an opportunity go by — Lucas visited KU on Friday and Saturday, and after returning home Sunday, orally committed to play hoops at KU.
The son of former Oregon standout Richard Lucas, who also visited Washington, Cal, Stanford and Tennessee, will sign his national letter Tuesday at his high school, a day before the conclusion of the early signing period.
"It actually was hard," Lucas said of choosing a school that had him on the back burner for a while, "but Kansas was the only school I would have picked that late. They jumped in. They jumped in strong. I really feel that even though they came in late, for some weird reason I feel I've known them for a long time."
Lucas, who is not in Rivals.com's current list of top 150 players, started his high school career at Sunset High in Portland, moved to Findlay Prep in Henderson, Nev., last year and is now back in Portland at Westview High.
Lucas, whose mom, Shelley, is a teacher, has a near-perfect grade-point average and is not expected to have any eligibility issues.
"It was everything," Lucas said of his choosing KU. "The opportunity to develop there under coach Manning (Danny, big man coach) and coach (Bill) Self in that system was really appealing to me. They want me as an anchor for the team, and that's what I'm going to do for them. I'm definitely excited to get out there and hopefully help them out."
Lucas said he had a great time on his KU visit, which included a seat behind the bench at Friday's KU-Towson game.
"I went in there seeing if I could fit in," he said. "Coach Self made it clear what they needed help with and how I could fit in the KU system. What appealed to him (Self) was the inside/out part of my game. I can guard a five. I can play a four, though. That offense is appealing to me. My dad likes the fact the big men make a lot of decisions in the offense."
Also ... "KU has a great history. They develop big men, and that's important," Lucas said.
Lucas — who averaged 6.0 points, 6.0 rebounds and 2.0 blocks his junior year at Findlay — said Sunday turned out to be one of the happiest days of his young life.
"Everyone knows it is one of the biggest decisions you can make," he said of choosing a college. "It's a decision that makes me want to go in the gym and work hard for next year. I want something to motivate me. That's exactly what I'm getting from this commitment. I wish I could get on campus and start working out right now, but obviously I have to wait until the end of this year."
Westview coach Pat Coons is looking forward to working with the Lucas this season.
"Landen's got a good body on him," Coons said. "He's a good, strong kid that is only going to get a lot stronger. He carries his frame in a large way, so he's got the type of body that he's going to keep putting on muscle and he's going to keep putting on bulk, which is going to make him a heck of a post-up kid. One of his assets is that he can step away and shoot. He's got a really nice touch for a big kid, but he's not going to run outside and shoot all of the time. At the same time, he's a kid, with his body that can rebound. He's a natural shot blocker and rebounder."
He's not yet ranked, thus may not excite the masses as did No. 20 Tarczewski. Yet it's possible he'll make KU fans someday forget about not landing the Arizona player.
"I will make sure you guys do (forget)," the easy-going Lucas said with a laugh.
KU's Class of 2012 consists of Lucas, Perry Ellis and Zach Peters. KU will have one scholarship left to award if Thomas Robinson, as expected, turns pro after the season. KU would have two to give if Justin Wesley returned to walk-on status. He is on scholarship this year after transferring from Lamar as a walk-on. The Jayhawks are awaiting word from Andrew White, 6-6, 210 from Miller School in Chester, Va. He has visited KU, West Virginia, Louisville and Texas with Georgetown trying to get involved late.
Peters, 6-9 from Prestonwood Christian Academy in Plano, Texas, will sign his KU letter at a banquet tonight.
ESPN says ...
Here's ESPN.com's scouting report on Landen Lucas: "He has a solid frame with ideal length and he is becoming much stronger as well. His body has really matured over the past year and as a result he is becoming much more physical. He has excellent fundamentals (footwork) in the paint area and he understands the nuances of scoring in the paint area. He utilizes the pump fake very well and he always appears to be on balance while operating in the paint area.
"With this added bulk, he has lost some of his bounce and he is generally regarded as a rim-level player. In addition, while posting up, he is almost too patient as he has a tendency to react slowly to what the defense is giving him. With is lack of high-level lift, he needs to attack quicker and utilize his well-schooled fundamentals (pump fakes and pivot moves) to score more effectively. In addition, he needs to keep the ball higher while operating in the post so the guards can't get to him.
"Lucas is considered one of the better power forward/center-types on the west coast. Due to his physical nature and advanced skill set he should be a viable recruit for the high-major level. He doesn't have great bounce, but he does have good hands, excellent foot work and a high basketball IQ to compete at that level."