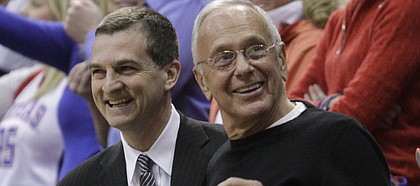 KU vs. Texas A&M
Video List
Podcast
Press Conferences & Post-Game Interviews
Kansas coach Bill Self talks to reporters after the Jayhawks' 64-51 victory over Texas A&M on March 2, 2011.
Winless against Kansas University since taking over at Texas A&M; four years ago, and 0-2 during that time at Allen Fieldhouse, Aggies coach Mark Turgeon had nothing but warm and fuzzy things to say about his alma mater despite falling to 0-6 against the Jayhawks after a 64-51 loss Wednesday.
"Ah, this place makes me feel great," Turgeon said. "Walking down the halls, walking through the city, this place makes me feel great. It's home. I have great memories about this place, and I love coming here. I was just hoping that our players would embrace it. They didn't the last time we were here."
They did Wednesday, as evidenced by the way they watched the intro video and soaked up the atmosphere. And that was almost good enough to put a serious scare into the second-ranked team in the country.
"I thought we were pretty good for about 30 minutes, especially defensively," Turgeon said. "And then our turnovers did us in."
Of course, the Jayhawks (28-2 overall, 13-2 in Big 12) had something to do with it. Especially considering the team — and, really, the entire building — was rocking for the final home game in the careers of seniors Mario Little, Brady Morningstar and Tyrel Reed.
Having been in Allen Fieldhouse for a Senior Night before, Turgeon was aware of what to expect Wednesday, and he tried to prepare his team for it.
"When you're playing KU on Senior Night in this building, with the way they score, it worries you," Turgeon said. "You hope the game plan works, and you hope you're able to execute. I told our guys to embrace the crowd. Just embrace it. I said, 'If it's gonna intimidate you, we're gonna get our tails kicked. Embrace it and love being out there in that environment.'"
It didn't take long for A&M;'s players to understand what their coach was talking about. Just prior to tipoff, the Allen Fieldhouse crowd was as charged up as it had been all season.
"I thought we were gonna get a K-State or Missouri crowd, and we did," Turgeon said. "The start of the game was electric."
During his playing career at Kansas, Turgeon was a two-time captain, earned Big Eight all-freshman honors in 1984 and was named to the Big Eight's all-academic team in 1986.
Though he coaches for one of KU's opponents, Turgeon clearly is still loved around Lawrence. And the fans made sure he knew that during his latest trip home.
"I signed more autographs today than I've signed all year," Turgeon said.