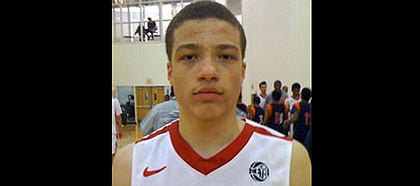 Kansas University landed an oral commitment Tuesday from one of the prize basketball prospects in the Class of 2013 — Brannen Greene, a 6-foot-8, 200-pound junior small forward from Mary Persons High in Forsyth, Ga.
Greene, who is ranked No. 35 nationally by Rivals.com, chose Bill Self's Jayhawks over UConn, Louisville and Harvard. Memphis, Ohio State, Florida State and many others were in the mix.
"I just feel Kansas is a place I could excel not only athletically, but academically, socially. It's a perfect environment," Greene said in a phone interview. "I am excited and relieved to consider myself a Jayhawk. I take a sense of pride in that. I will represent the university well. I look forward to it," Greene added.
He chose KU a day before his 17th birthday and five days prior to Christmas, which begged the question: Was this an early Christmas gift for KU, Brannen or Brannen's parents?
"I would say (a gift) to all," Brannen's dad, Jeffrey, said with a laugh. "We really respected the time and the energy that the KU staff put into the Greene family and the time and energy and work Brannen put in toward skill work and conditioning work the past many years. He's been recruited since eighth grade. At some point, as a family we said, 'We need to decide because we have tremendous programs here that have offered scholarships. We need to be respectful of their time.' It humbled us," Jeffrey added of recruiting. "We saw no need to drag it out. It behooved us to come to a decision at this time."
Greene and his parents — dad played college ball at Pittsburg State and mom, Lori, at Missouri Southern — attended the 2011 Late Night in the Phog. Dad by the way is 6-foot-5 1/2; mom 6-2 1/2.
"We felt like Kansas offered the perfect environment for Brannen. He is a young, energetic, very talented, very smart kid with a 4.0 GPA, a very disciplined kid. We felt that environment fosters integrity and family and all the things we pride ourselves on," Jeffrey Greene said. "Coach (Bill) Self and his spirit and enthusiasm and excitement for my son was unquestioned. He believes in Brannen and is going to continue to enhance Brannen's life toward success. I believe it to my core."
Brannen, who is considered an outstanding outside shooter with the ability to slash, is averaging 24.5 points and 14.0 rebounds a game this season for 6-4 Mary Persons High. As a soph, he averaged 17.1 ppg.
Brannen describes himself as "a long, versatile wing who can score the ball and handle the ball, who can handle the 1 through 3," he said of point guard, shooting guard and small forward.
Dad notes: "He is a very heady, high-IQ wing guard that is able to score when called on in any given time, but also a playmaker who involves his teammates well. He's an exceptional shooter. He was born with natural ability to stroke the ball. We've enhanced it (shot) since he was 2, 3 years old. His range is easily 24, 26 feet."
A proud future Jayhawk, Brannen said he plans on trying to attract some of his peers to his college.
"I will go to recruit starting now. I might even be like coach Self," Greene said with a laugh. "Just kidding."
He certainly respects Self, as well as his parents.
"My dad and I have been talking it out. He has pads and pads of information on schools. We've been weighing the options," Brannen said. "The feeling came to us and we made the decision. In talking to coach Self in the recruiting process, I feel KU is the right place for me. This is a very big day for me. To all the Kansas fans, I just look forward to all the time I'm in the gym playing and Rock Chalk."
KU has landed two early commitments in the Class of 2013. No. 65-rated Conner Frankamp, 6-1, 180 from Wichita North, committed on July 16, his 16th birthday. Players in the Class of 2012 who have signed with KU: Perry Ellis (6-8, Wichita Heights), Zach Peters (6-9, Plano, Texas), Landen Lucas (6-8, Portland). KU has received commitments from Andrew White, 6-6, Chester, Va.; and Anrio Adams, 6-3, Seattle. Also, Ben McLemore, 6-5, St. Louis, and Jamari Traylor, 6-8, Chicago, will be eligible next season.