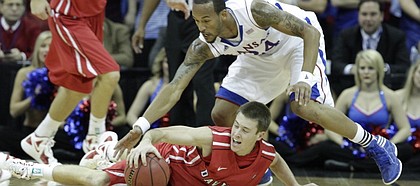 The day after a men's basketball defeat tends to be a bit somber at Kansas University — a school that has suffered just nine losses over the last three seasons.
And so Tuesday's charter flight to Los Angeles for Thursday's 10 p.m. game against USC at Galen Center was not exactly all fun and games. The memory of Monday's 80-74 loss to Davidson remained fresh on the Jayhawks' minds as they headed west.
"I think this has been a very peaceful first two hours of the flight," KU coach Bill Self said on his Tuesday night Hawk Talk radio show. He spoke during a refueling stop in Arizona.
"There's not a lot of communicating going on, besides everybody trying to get caught up (on rest). We'll have a nice dinner tonight, somewhere on the marina. Tomorrow we'll get busy. We've got to get better starting tomorrow."
Self said the Jayhawks, who traveled to L.A. a day early with the players out of class on semester break, will not have much free time on this pre-Christmas trip.
"I don't think so. I was more in a festive mood prior to last night," Self said on a Tuesday teleconference. "We might spend more time in film sessions or whatever while we are out there. I don't think we'll have much time for anything else."
His Jayhawks take a 7-3 record into the USC game. The Trojans enter 5-7, but filled with momentum after blasting TCU, 83-59, on Monday.
"I'd like to see a lot of things," Self said of improvement for Thursday. "To see us actually attempt to guard, to get in (defensive) stance, to win 70 percent of the 50/50 balls, to not give up layups, to have enough discipline to guard the entire clock and not break down. For us to not play tired, to have more energy and passion, to run our stuff and try to execute what we do instead of being out there on our own."
He didn't enjoy watching film of the Davidson game.
"I think we played a lot worse than what I initially thought," he said. "That was meant to be somewhat of a joke. Our attention to detail is horrific. To think we could not do anything defensively to create anything and let them totally control tempo the second half ..."
He said he would not consider KU favorites to win the Big 12. "Not at all. I watched a team play last night that anybody in the league could have us. I do think we'll have a good team, and I think we'll have a good conference run. To think we'd be a favorite now ... we have a long ways to go to consider ourselves one of the best teams. I do think we have potential to get there."