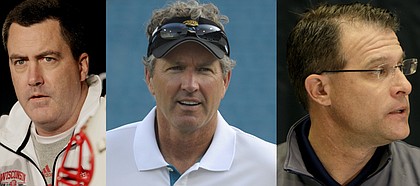 The Kansas University football program's search to hire a new head coach, now entering Day 11, seems to be mirroring the path of the program during the past few decades.
Names come and go, expectations rise and fall, and fans, alums and other members of the KU community are left scratching their heads and wondering what it's all about.
Wednesday proved to be another wild day in KU's quest to replace Turner Gill, who was fired on Nov. 27 after going 5-19 in two seasons. Like so many days before it, the craziness didn't come from anything KU did.
Radio reports Wednesday afternoon indicated that Kansas had reached an agreement with Auburn offensive coordinator Gus Malzahn. Message board posts containing all kinds of reactions followed, and the search was sent into a momentary frenzy. A call to a KU official around 2:30 p.m. revealed that, at that time, no hire had been made and that the reports were not accurate. Calls made again, late Wednesday night, produced the same answer.
Back to the drawing board. Back to the search.
What began 10 days ago with former Texas Tech coach Mike Leach as the top target now has taken a wild turn. Although sources and information from people who may be involved in discussions with KU athletic director Sheahon Zenger have helped narrow things down — mostly through eliminating unlikely candidates — Zenger himself has not said a word about the search publicly. Signs exist that point to the new coach being in attendance at Saturday's men's basketball game against No. 2 Ohio State in Allen Fieldhouse. Such an introduction would figure to be a great way for the coach and fan base to become acquainted. Of course, with the way coaching searches have gone during the past 10 days, little can be counted on until the hire is officially announced.
After Leach came off the board by announcing he was headed to Washington State, the attention turned to Southern Miss coach Larry Fedora, who reportedly has agreed to a deal to become the next coach at North Carolina. Although nothing was confirmed by KU, it seemed logical to conclude that Leach and Fedora were among KU's top candidates, if not the school's top two choices.
With those two out of the running, the search has turned into a wild goose chase of sorts. With no one at KU sharing any information about candidates, Zenger's whereabouts or the school's progress, speculation has run wild and all kinds of names have been thrown around.
New names continue to pop up all the time. Old ones are eliminated and then tossed back into the mix. There now are but a few logical options and a whole bunch of unknowns. One candidate, whose name gained some credibility on Wednesday, is Wisconsin offensive coordinator Paul Chryst. Chryst, who helped put UW running back Montee Ball into the Heisman Trophy race and had UW quarterback Russell Wilson a few votes shy of joining him, reportedly has interviewed with Kansas about the job. That's according to a source close to Chryst, who told the Wisconsin State Journal that an interview took place. Whether Chryst is a strong candidate remains to be seen, but his connections to Wisconsin coach Bret Bielema, who has ties to Kansas State and, therefore, Zenger, at least make that a possibility.
Former KU offensive lineman Brad Thorson spent two years (2006-07) with Chryst as a member of the Badgers before transferring to KU. Thorson said Wednesday that Chryst was a brutally honest man who was well liked by all of the Wisconsin players.
"He comes off as very laid back," Thorson said. "But when you start to spend time around the football program, you quickly learn that he was putting in a lot more time than the rest of the coaching staff. Not to prove anything, that's just what he loved to do."
Thorson said Chryst's offenses always emphasized time of possession and ball security and focused mostly on a potent ground attack.
"He was never really tempted by running the spread," Thorson said. "His concept of playing football is he's still fine with three yards and a cloud of dust. And he believes that that's going to turn into the 10-, 20- and 30-yard runs."
Though Chryst appears to be an up-and-comer, he never has run his own program and is not known as a strong recruiter. The newspaper report also indicated that Chryst interviewed recently with Illinois.
Those facts, along with continued uncertainty about the specifics of KU's search, keep coaches such as Malzahn, Jacksonville Jaguars offensive coordinator, Dirk Koetter, and several others in the running to be hired.
Hatch earns All-Big 12 spot
The Big 12 Conference released its postseason honors on Wednesday, and KU, which finished the season 2-10 and 0-9 in conference play, saw six players land on the list, which was selected by the coaches.
Senior center Jeremiah Hatch was KU's top honoree, earning a second-team nod for his solid season. Joining Hatch on the list as honorable mention selections were: senior tight end Tim Biere, sophomore punter/place-kicker Ron Doherty, senior linebacker Steven Johnson, junior safety Bradley McDougald, junior defensive end Toben Opurum, and junior offensive lineman Duane Zlatnik.
Hatch became the first Jayhawk to earn first- or second-team honors from the league's coaches since WR Dezmon Briscoe was named to the first team and WR Kerry Meier was tabbed second team following the 2009 season.
All six Jayhawks received the honor for the first time in their careers.