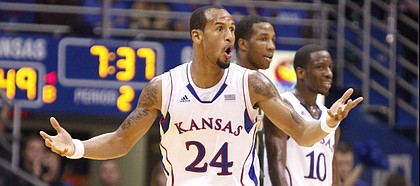 Podcast
Press Conferences & Post-Game Interviews
Kansas coach Bill Self talks to reporters following his team's 70-42 victory over South Florida on Dec. 3, 2011.
Video List
KU vs. SFU
Nationally ranked, playing in front of a sellout crowd every game and for a coach with total job security, the Kansas University basketball team doesn't have much in common with the school's football team. That's a good thing.
But there is one similarity, and it's a bad thing. Like the football team, the basketball team doesn't pass the ball very skillfully.
The focus on the lack of backcourt depth, frontcourt depth and killer outside shooting detracts from another weakness. No player in KU's starting lineup can boast passing as his greatest skill, or even his second-best talent.
Three of the four starters gone from last season — Marcus and Markieff Morris, Brady Morningstar and Tyrel Reed — all had exceptional passing skills. Plus, they played together longer.
For years, Kansas has been at its best when it moves the ball too rapidly for the shifting defense to keep up, resulting in open three-pointers and wide-open slams, two of the biggest crowd-jacking plays in the game. This team hasn't shown that ability yet, so it's going to have to win games by grinding it out with nasty defense.
"When you lose Brady and Tyrel and Markieff, you lost the three best passers on our team last year, and we're replacing them with guys who don't pass the ball well naturally, so I don't think this will ever be a great passing team," Kansas coach Bill Self said. "We ran a little play today where we had two wide-open lob dunks. Two! And our big guy under-throws it and we come away with nothing. Last year, that would have been two game-changing plays."
And those weren't the only buzz-killing passes in KU's 70-42 rout of South Florida on a day Kansas had 17 assists and 14 turnovers.
"Tyshawn (Taylor) had two guys wide-open for lobs early, and he under-threw both of them, and they intercepted them," Self said. "Those are plays in the past, those would be game-changing plays. It's not like we can't get the ball in a position where we can make a play. We're just not finishing those plays, but I don't know if we'll ever become a great passing team. We can become a good passing team. To me, the last couple of years we've been pretty spoiled. And even in (2005-2006, 2006-2007), when your four man is Julian (Wright), that's a pretty special deal, when your four man can be your best passer on the team. Kind of like Marcus and Markieff last year."
Unlike the KU football team, the basketball team does bring the heat defensively.
"Yeah, but I still think we can do a little better," junior power forward Thomas Robinson said.
South Florida, which shot .326 overall and .235 from behind the three-point semicircle, doesn't need to play Kansas when it's playing better defense.
On the topic of passing and defense, Larry Fedora's Southern Miss football team put on quite a show in both areas Saturday in defeating Houston in the Conference USA title game, 49-28. Is that good news for Kansas, which would do well to land Fedora, or does that mean Fedora just played his way to a more prestigious job?
Like nearly all questions in a college football landscape that has so many open jobs, that's an extremely difficult one to answer.