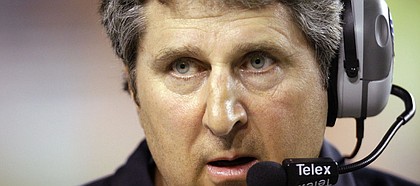 With news breaking Wednesday that former Texas Tech coach Mike Leach had agreed to a five-year deal to become the next head football coach at Washington State, the search at Kansas University took an abrupt turn.
Leach, believed by many to be the Jayhawks' top target in their quest to replace Turner Gill, seemed to be the slam-dunk hire in an offseason overflowing with BCS openings.
While losing out on Leach changed the look of KU's search, there are plenty of reasons that point to why Leach may have picked WSU over the other jobs out there. Sources have indicated that money, location and the school's Pac-12 ties played a big role in the decision made by the man dubbed "The Mad Genius."
After firing coach Paul Wulff on Tuesday, WSU made it clear that it would be willing to pay big bucks for its next coach. Originally, it was believed that meant the Cougars would double Wulff's salary of around $600,000 for the next guy. Turns out they quadrupled it. Leach reportedly will make $2.4 million per year over the length of his five-year deal at WSU. A news conference announcing Leach as the Cougars' next coach is scheduled for this afternoon.
With the zany fan favorite locked up in Washington, Florida State defensive coordinator Mark Stoops, Southern Miss head coach Larry Fedora and Oklahoma defensive coordinator Brent Venables continue to look like strong options for KU. Of course, there also exists the likelihood that KU's official list includes a name or two not being talked about by the masses.
KU athletic director Sheahon Zenger, who left Lawrence on Wednesday with the idea of staying on the road until he finds KU's next football coach, told the Journal-World he had identified six to 10 viable candidates and would spend the next several days attempting to trim his list and home in on the right fit for a program coming off two of its worst seasons in school history under Gill.
Zenger, still in his first year at KU, won't be acting alone. He said Wednesday a private donor had offered to cover the cost of hiring a consultant to help with the search and added that he would use the consultant on a limited basis.
"I'm running the search," Zenger said. "But, obviously, a little help like that doesn't hurt."
When talking about the role the consultant may play, Zenger described that of a wing man.
"To make sure we do a thorough background check and search on everyone, and also so we can reach out to people on a national basis that otherwise wouldn't have contacted us," Zenger said.
Tim Caboni, KU's vice chancellor for public affairs, said KU Chancellor Bernadette Gray-Little has been involved in the search but has put her faith in Zenger to deliver the right guy.
"Sheahon has obviously taken the lead on this for us," Caboni said. "It's what he was hired to do, it's why he's here, and it's what the chancellor trusts him to do."
Asked if Zenger and Gray-Little discuss the football job on a daily basis, Caboni referenced some ground rules set forth by the university when the search began.
"One of the things that we've said from the beginning is we're not going to talk about the day-to-day or the process in detail or even speculate about with whom we might or might not be talking," Caboni said. "It's just not helpful."
Caboni added that Gray-Little believed in Zenger's plan of attack.
"They're on the same page," he said. "The chancellor also understands the time pressure around this."