Feature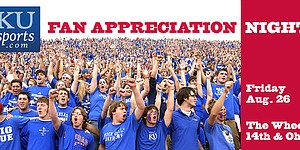 You are invited to our KUSports.com fan appreciation BBQ!
For nearly half his life, sophomore James Sims, Kansas University's leading rusher a year ago, has known KU receivers coach David Beaty.
Here's how the pattern has gone: Beaty sells Sims on coming to play football for his team. Sims buys what he's selling, attends the school, and by the time he gets there, Beaty is working for Rice University.
It happened when Sims told Beaty he had nothing to worry about, he would attend MacArthur High in Irving, Texas, and resist the overtures of a football factory known for churning out running backs. That coincided with Beaty's departure from high school coaching to college coaching.
Beaty left Rice to work for Mark Mangino at Kansas. In Mangino's last year, Beaty convinced Sims to say yes to him one more time, but Mangino was forced into resigning, and his replacement, Turner Gill didn't retain any of his assistant coaches. Beaty returned to Rice, and Sims honored his commitment to KU.
When receivers coach Darryl Wyatt left KU for Texas, it didn't take long to make the right call for a replacement. Gill brought Beaty back to Kansas.
"I feel like all I've done with James is recruit him," Beaty said. "I recruited that dude since he was in sixth grade. I recruited his mom. I made sure he came to the school he was supposed to come to. When I was here (the first time), I was on the road trying to get him to come to Kansas. I got him committed before we left, and Turner and those guys did a good job of keeping him."
Gill did a good job of bringing Beaty back to Kansas, where he has a knack for convincing Texas talent to take the same path he has traveled twice. Having been one of them, Beaty knows what it takes to connect to high school coaches from the Dallas Metroplex. They know he's a coach first, a salesmen second, because guys who can't coach can't win in big-time Texas high school football.
He knows how to connect to the top athletes from the highly competitive high schools because connecting with them was what he did for a living and did it so well he parlayed it into a college career. Beaty has that engaging quality that makes it difficult for recruits to say no to him.
He said he finds it easy to sell Kansas because all he has to do is share what it is that made him fall in love with the place.
"The thing that I really try to make them understand is when you grow up in the state of Texas, right, wrong or indifferent, all eyes are on the University of Texas. Period," Beaty said. "So everybody and everything is compared to that. So for me to draw an analogy to a kid, one of the easiest ways for me to do that very quickly is just to tell them, 'Fellas, for me to make you understand what Kansas is, it is the University of Texas in Kansas. It is their Texas. It is just like that.' And it is. This is exactly what it's like here, so when they come here they're like, 'Man, I didn't know it was like this.' How unbelievable the facilities are, the commitment level, the fan following, the town, the location, how it's close to Kansas City, and it's got its own college-town feel to it. It's got the best of both worlds."
In Beaty, Gill has an assistant who brings the best of both worlds. He can recruit the talent to KU and he can coach it up.