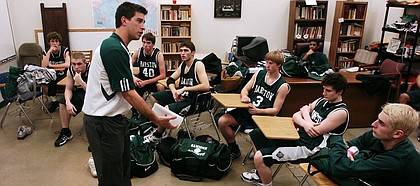 To the members of the Barstow School's varsity boys basketball team, he isn't former Kansas University basketball player Jeff Boschee.
He's simply Coach Boschee.
Those attending Wednesday night's game between visiting Barstow and Seabury Academy would have seen exactly that: a coach standing quietly in a green and white polo shirt watching his team on the floor.
Boschee made the trip to Lawrence as a coach for the first time Wednesday and watched his 9-1 Knights - from Kansas City, Mo., - defeat Seabury, 64-33.
Oddly enough, the Knights' game plan had little to do with the long-range bombs that personified the man who once hit a record seven straight three-pointers against Kansas State. Instead, the team used quickness and defense to subdue the hometown Seahawks.
In those elements of his team's game, it was just like old times.
"We play exactly the same way that we played in college," Boschee said. "The way I was taught at KU was to try to play an up-tempo style and use pressure defense to get fast breaks."
A year ago at this time, Boschee was an assistant coach (and head coach of the JV squad) at Blue Valley Northwest under Ed Fritz, but last April an opportunity to establish himself in the coaching ranks presented itself at Barstow.
"It was something I've been working for since I left KU," Boschee said. "It's the path I chose to go down, I guess you could say."
Barstow is a small school, which made Boschee initially skeptical about the offer. But after meeting with the students and seeing the potential they had to succeed, he thought differently. The opportunity to build a program and put his own stamp on it was appealing.
Although it has been five years since Boschee wore crimson and blue, the initial impact on some of his players was still pretty strong.
"I was stunned," said Barstow junior Corey Wacknov of hearing the news of Boschee's hiring. "I grew up idolizing Jeff Boschee, and now he's our coach. It was unbelievable."
Although Seabury coach Matthew Downing Jr. joked that his players may not remember Boschee, he recognized a few of the traits from Boschee's KU days on the court.
"I told the kids that any good coach will take a little of everything they've learned and make it their own." said Downing, whose team hung with the Knights early. "We saw a lot of the things tonight that Kansas used to do, with the trapping and aggressive defense on the ball. So it's no surprise that he's successful with them."
On the sideline, Boschee yells, points and holds his hands out in disbelief at what his players have done. Yet there is a cool, measured undertone to everything he says and all the gestures he uses.
Behind closed doors at halftime, his motivational methods were varied, but effective. On this night with his team up by 18, there weren't any speeches or paint-peeling tirades - both of which, according to his players, he is capable of. Instead there was only a taughtly delivered ultimatum to his team.
"He was quiet and he said there was nothing he could do and it was up to us," Wacknov said. "It was just as motivating today as when he screams at us."
The approach on the sidelines and in the locker room signified something the Valley Falls, N.D., native has learned early in his tenure as a head coach.
"The biggest thing for me is to instill in my kids what I want done on the court," Boschee said. "If they don't buy in to what you're saying then you aren't going to be very successful. And I think I've done a good job of getting them to buy into the system and my coaching philosophy."
Boschee hopes to someday add his philosophy to the ranks of college coaches and every step - even taking his teams to small venues like Seabury - are a part of the journey.
"It's a start and you have to start somewhere," Boschee said. "I don't care if I have to go out and play in a barn as long as I'm coaching."
Barstow girls 63, Seabury 9
Visting Barstow jumped out to a 14-point lead over the Seahawks and never looked back Wednesday night at Seabury Academy.
"They had too many transition baskets," coach Nick Taylor said. "We're just not getting back."
Junior Bria Phipps scored seven of the Seahawks' nine points, while Arielle Spridigliozzi added a basket and six rebounds.