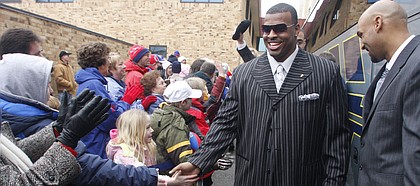 A few hundred fans braved the cold to give Kansas University's football team a warm sendoff Thursday.
A mixed crowd of young and old gathered at Allen Fieldhouse to cheer as a small KU traveling party set out on the first leg of its trip to face Virginia Tech in the Orange Bowl on Jan. 3 in Miami.
Fans gave the Rock Chalk Chant as the Jayhawk players and coaches boarded buses bound for Forbes Field in Topeka. The enthusiasm of Thursday morning's crowd - aided by the Kansas fight song played by KU band members - seemed to reflect the spirit felt by the entire Jayhawk nation throughout KU's magical 2007 run.
"It was really great when the committee picked Kansas to go to a BCS bowl," said KU senior Sam Stepp, who braved the cold armed with a homemade Orange Bowl sign. "In fact, me and some friends are flying down to Miami on Jan. 1 for the game, and I think they're going to pull it out."
For Stepp, the sendoff was a chance to show his support for the Jayhawks as well as take one last swipe at KU's hated rival.
"KU minus Missouri equals Orange Bowl" was painted on Stepp's sign, something he'd saved for the sendoff ever since the loss to the Tigers at Arrowhead Stadium.
"We had to sit through that long, cold game," Stepp said. "And now it's great that KU's going to the Orange Bowl and Missouri's picking cotton in Dallas."
Others in the crowd made a special trip to Lawrence to help celebrate the Jayhawks' remarkable season. Berryton resident Doug Desch brought his 10 -year-old son, Nicholas. The early-morning trip from the town just south of Topeka gave the younger Desch a chance to show his support.
"He's a true-blue Jayhawk fan," Desch said of his son. "He's loved them for a long time, and he's pretty excited to be here."
Nicholas showed his support for the team with a tall plastic cup full of oranges clenched firmly in his hand.
Others in the crowd Thursday were around when the Jayhawks last went to the Orange Bowl in 1969 and were there to show support again.
Lawrence resident Don Raybern and his wife, Shari - a 1970 KU graduate - have followed the football team through many of its ups and downs. Thursday's sendoff, for them, definitely qualified as an up.
"Even though they lost to Missouri, it was a fantastic season," Don Raybern said. "We've watched them go up and down and up and down, and it's great to see them going up again, and I think they're going to keep going up."
Asked if they would have braved the cold for a Jayhawks trip to the a lesser bowl, like the Poinsettia, the Rayberns didn't miss a beat.
"Absolutely," they said.