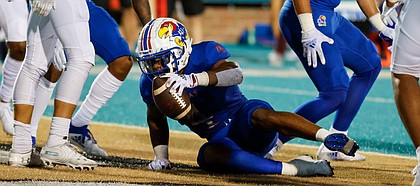 — Kansas (1-4 overall, 0-2 Big 12) vs. Texas Tech (4-2, 1-2) • 3 p.m. kickoff, David Booth Kansas Memorial Stadium • Game-time forecast: 65 degrees, sunny, 0% chance of rain • Streaming: ESPN+ • Radio: KLWN, FM 101.7 / AM 1320
Keys for Kansas
1. More pushing the pile
Still in the early stages of new head coach Lance Leipold's rebuilding project, the Kansas football team's offense hasn't produced much in the Jayhawks' first two Big 12 games. The Jayhawks scored 14 points combined during the eight quarters that accounted for two blowout losses to Baylor and Iowa State.
So how do the coaches gauge the offense's progress?
Offensive coordinator Andy Kotelnicki said he told the players in their first meeting following a 59-7 loss at Iowa State: "You can measure progress in a lot of ways other that results. When you look around our building here and we talk about culture, winning's not one of those things. Winning's going to be a byproduct of how we do stuff."
There was one moment in particular in Ames, Iowa, during the Jayhawks' most recent game on Oct. 2 that caught Kotelnicki's attention. To him, it was a reminder that the offense actually had made real headway over the course of the first five games.
KU was in a short yardage situation against the Cyclones' solid defensive front, and the run play for the Jayhawks got clogged up.
"And our players actually pushed the pile forward," Kotelnicki said. "That seems so subtle and so small. But that wasn't happening in Game 1. Do you know what I mean? Something simple like that, physical strain. I know it's a small moment. Probably nobody even noticed it other than myself and some of the other coaches. But it was a moment where I said, 'This is progress.'"
The KU offense, which is averaging only 17.2 points per game on the season, will need many more such surges in the trenches to help running backs Devin Neal, Torry Locklin and Amauri Pesek-Hickson find success against a Tech rushing defense that is allowing 4.49 yards per carry (95th out of 130 FBS teams).
2. Take away Tech's deep shots
Texas Tech saw starting quarterback Tyler Shough sidelined with a broken collarbone a few weeks back, but the Red Raiders have continued to air it out with Henry Colombi taking over at QB.
Tech comes to Lawrence averaging a Big 12-leading 302.3 passing yards per game, and KU defensive coordinator Brian Borland said the Red Raiders look deep more often than most teams.
"They chuck the ball down the field a lot," Borland said. "They've hit one or two every game that we've seen. And they try it. They're not afraid to put it up there. It's been successful. Guys have got to those balls and caught them and kept running."
Six different Red Raiders have at least one catch of 40 or more yards already this season, so top targets Erik Ezukanma (26 catches, 429 yards, long of 75) and Kaylon Geiger (25 receptions, 396 yards, long of 75) aren't the only ones burning opposing defensive backs. Even Loic Fouonji, who has six catches on the season, has a 69-yard touchdown versus Texas and a 46-yarder at West Virginia on his résumé.
Borland described Tech's offense as "relentless" when it comes to looking deep, and said the Red Raiders' "highly skilled" receivers and backs always are opportunistic.
"When they get the ball in their hands, they're looking to make big plays. they're not just hoping to get the ball. They're going to get it and do something with it," KU's D.C. said.
So it will be up to the Jayhawks' secondary — between cornerbacks Ra'Mello Dotson, Jacobee Bryant, Jeremy Webb and Duece Mayberry, as well as safeties Kenny Logan Jr., Ricky Thomas, O.J. Burroughs and Jayson Gilliom — to contain that deep threat element and stay on top of Tech's receivers in the back end, Borland said.
"And then part of that also is to drop back and heave it that far, you typically need time to throw. So that's something that obviously we need to get to the quarterback a little bit faster," Borland added.
The KU defense has just three sacks on the season, and its average of 0.6 sacks per game is tied for 128th in the country. Super-senior defensive end Kyron Johnson has 2.5 sacks, and senior D-end Malcolm Lee has 0.5.
3. Catch up with Big 12 offenses
The top five scoring teams in the Big 12 entering this weekend all are averaging at least 33 points per outing against their league opponents. The Jayhawks — way down in 10th place in that category — are nowhere near that upper echelon, with an insufficient 7.0 points a game average in conference action. Texas Tech is averaging 29.7 points in Big 12 play, and that ranks sixth.
"We need to be explosive," Kotelnicki said, when asked what led to KU's scoring issues in lopsided defeats against Baylor and ISU. "We've got to find a way to be more explosive."
One reason the offense hit so many snags in its first two Big 12 games, KU's O.C. said, was that the Jayhawks weren't efficient enough on first and second downs, leading to predictable situations.
"If you're making a bunch of third-and-10 calls, it's tough sledding," he said. "That's just the way it's going to be."
Even so, Kotelnicki has more in mind for the offense than third-and-short situations.

"We need some chunk yards to help us score sooner. It's going to be hard to go on 12-play drives in the league consistently, so we've got to be able to try to get some (explosive plays)," he said.
To be clear, Kotelnicki said, he wasn't talking about 50-yard touchdowns. He said in college football the likelihood of scoring a TD spikes when the offense gets a play for 20 or more yards on a drive, and ending a series with a TD is a near certainty when there are two plays of 20-plus yards on the same possession.
"Those are the things that we need to be able to do in our conference games to finish those drives and get points," Kotelnicki said.
On KU's lone TD drive at ISU, a 22-yard pass from Jason Bean to Luke Grimm keyed a possession that ended with a 12-yard scoring run for Locklin. KU had just one other passing play of 20-plus yards at ISU — a 26-yard reception by Trevor Wilson.
Neal, with a 21-yard run in the first quarter, had the only other gain in that range on a night that the Jayhawks ran 66 plays for 302 yards.
In KU's 45-7 loss to Baylor, the offense produced just one play of at least 20 yards: a 25-yard Bean run in the second quarter. The Jayhawks posted just 166 yards of offense on 51 plays in the home loss.
Prediction
Tech 43, KU 24