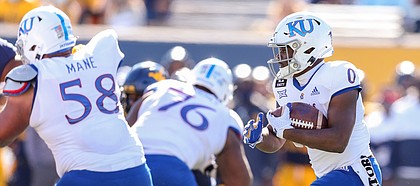 Still in the early stages of taking over the Kansas football rebuilding project, new head coach Lance Leipold hasn't been in any hurry to make proclamations or predictions about what the Jayhawks' offense will look like in the fall.
What Leipold has said publicly, however, indicated he's heading into his first year in charge with an open mind.
While the program's long-suffering fans may be eager to know about the former Buffalo and Wisconsin-Whitewater head coach's scheme and style, Leipold said during his recent appearance on KU's "Hawk Talk" radio show that his offensive philosophy has more to do with flexibility than anything else.
"We're going to be multiple enough to use our personnel to our best, to go out and win football games," Leipold said.
KU's offensive formations could go any number of directions. Leipold threw out some examples of personnel groupings while sharing some of his thoughts:
• three or four receivers
• two or three tight ends
• two running backs
"We played last season a lot with two tailback type players in the backfield quite a bit," Leipold pointed out.
In his final season at Buffalo, Leipold and his staff took advantage of the Bulls' talent at running back, averaging 43.1 rushing attempts a game, compared to 22.4 passing attempts.
Buffalo went 6-1 in the pandemic shortened 2020 season, and running backs Jaret Patterson (1,072 rushing yards, 7.6 yards per carry) and Kevin Marks (741 rushing yards, 6.6 yards per carry) both thrived.
Considering KU's question marks at quarterback this offseason, it seems likely Leipold's first year will include heavy doses of the run game. The Jayhawks are arguably deeper at running back than any other position, with junior Velton Gardner, sophomore Daniel Hishaw Jr., redshirt freshman Amauri Pesek-Hickson and freshman Devin Neal all possible contributors.
The Bulls led the MAC in rushing in 2020 (287.4 yards per game) and 2019 (250.5 yards).
"Which really shows the great job that our offensive line was doing," Leipold said.
That run-game production was a significant shift from 2018, when UB averaged 187.1 yards a game on the ground and finished second in the MAC in passing yardage (244.3 yards per game). The change, of course, came about as Leipold and his staff adjusted to the team's strengths. In 2018, Buffalo still had Tyree Jackson, a veteran quarterback who threw for 3,066 yards and 30 touchdowns as UB finished 10-4.
Another critical component of the Bulls' success as Leipold turned the program around, he noted, was how well the O-line protected the quarterback. In 2020, UB led all FBS teams in surrendering just 0.14 sacks per game. The Bulls ranked second in the category in 2019 (0.62), 11th in 2018 (1.07) and 21st in 2017 (1.42).
For comparison, here's where KU ranked in sacks allowed per game the past four years: 127th — or dead last — in 2020 (5.22), 55th in 2019 (1.92), 88th in 2018 (2.5) and 91st in 2017 (2.42).
"We've done a really good job stressing fundamentals, and the fundamentals of ball security," Leipold said of his offenses in recent years.