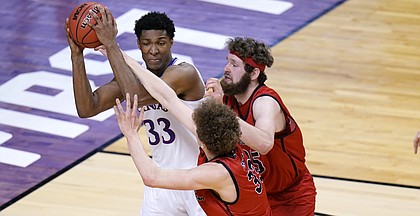 Indianapolis — After coming off the floor for the final time during Saturday's 93-84 first-round victory by third-seeded Kansas over No. 14 seed Eastern Washington, KU junior David McCormack climbed every step of the risers near the Kansas bench to hand out high-fives to each teammate, coach and manager.
The KU big man followed a similar routine whenever he checked out during his 25 monster minutes off the bench in Saturday's win that sent Kansas (21-8) to Monday's second round.
And on each occasion, he made sure to spend a little extra time with KU trainer Bill Cowgill, who had the words "Monitor McCormack" written at the top of his proverbial to-do list for the better part of the past week.
After the victory, Kansas coach Bill Self said he had not planned on playing McCormack as much as he did, given the fact that the 6-foot-10 junior had just rejoined the team a day earlier after battling COVID-19 for the past two weeks.
But it was evident early on that Kansas needed him, both as an option on offense and to provide some resistance down low against EWU big man Tanner Groves, who scored a game-high 35 points and had his way with the five or six other Kansas players who tried to stop him.
So McCormack gutted it out, did as much as he could and proved to be the difference between KU moving on and going home early.
"Getting our big man back was huge for us," KU senior Marcus Garrett said of McCormack after the victory. "His presence means a lot to us. He definitely brought us energy. From the time he arrived (Friday), we felt his energy, we felt his presence. He was just happy to be with us and he was happy to be back on the court."
There were times when McCormack labored. His lift, both as a rim protector and in the post, appeared to be affected by fatigue. But a lot of that went away in the second half, when the junior from Norfolk, Va., scored 20 of his 22 points, calling for the ball on every possession and attacking the rim like the season was on the line.
"After the way he started the game, I didn't think that he was going to give us much offensively or defensively," Self said. "But he kind of got his legs under him, and he was really, really good the second half. I mean really good."
Although he participated in just 70% of KU's Friday practice in Indianapolis — his first with the team in nearly two weeks — all of the signs pointed to McCormack being OK to play.
"We hooked him up to a heart monitor, we evaluated him during our practice. He looked good," Self said. "We took him out, we sat him, all these things. We had a pretty good gauge of his fatigue."
After going through warm-ups with his usual gusto, McCormack started Saturday's game on the bench. It was there that he watched Eastern Washington (16-8) race out to a 9-0 lead as the Jayhawks missed their first four shots and looked a little flat-footed defensively.
Two minutes into the game, he checked in for starting forward Mitch Lightfoot.
The move did not immediately pay dividends, but it did change the way Kansas played and helped Kansas claim control midway through the first half.
The Jayhawks' first lead came on a Garrett tip at the 14:08 mark and KU went up by as many as seven — on a Garrett 3-pointer — before EWU revisited what worked early.
From there, the Eagles ripped off 27-12 run to close the half and led 46-38 at the break.
Despite the deficit, Garrett said the Jayhawks remained calm.
"We know what type of team we are," he said. "We know if we lock in and defend that we can cut the lead and come back, and I feel like when we locked in defensively we were able to do that."
McCormack and Harris both started the second half for Kansas, and their defensive presence and offensive production helped Kansas overcome a 10-point deficit (52-42) in the game's final 18 minutes.
"That's when panic could set in and it didn't," Self said.
Related document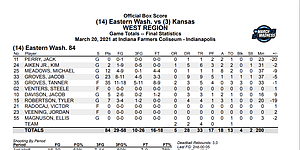 Box score: Kansas 93, EWU 84 ( .PDF )
KU did not get all the way over the hump until Harris drilled a wide-open 3-pointer with 9:48 to play that put the Jayhawks ahead 64-63.
The teams then traded buckets and entered the final 9 minutes tied at 66. That's when McCormack took over, scoring 12 of his 22 points to make sure Kansas was the last team standing.
He scored back-to-back buckets in the paint on KU's next two possessions and then added a pair of free throws to extend the Jayhawks' lead to 75-68 with 6:06 to play.
Moments later, after a pair of Garrett 3-pointers, McCormack delivered the knockout blow, hitting a jump hook just below the free throw line that put Kansas up 85-73 with 3:26 remaining.
After saving his energy for the glass (9 rebounds, 5 offensive) and the defensive end for most of the day, McCormack let loose with a wild celebration as the whistle blew on the jumper.
He missed the free throw that followed, but the damage had been done and the message sent. The Eagles never came closer than seven points after that, which provided Self with a dual-sense of relief and pride.
"We're just thrilled that we won," he said. "It was a great game to win in the tournament. It's great to advance. But we got outplayed for the majority of the game today. They were better than us. And somehow we just kind of hung in there and made some plays at the right time."
Garrett, who said everyone in the Kansas locker room remained calm and focused during the halftime break, tossed some of the credit for that to his head coach.
"It's coach Self. He was telling us every time out, 'It's a long game, just stay with it, keep chipping away at the lead and we'll get it where what we want it.'"
Even though it wasn't their best outing, that was exactly the way it played out, and the Jayhawks advance to Monday's second round, where they'll meet the winner of today's 6-11 matchup between USC and Drake at a time and place that have yet to be determined.