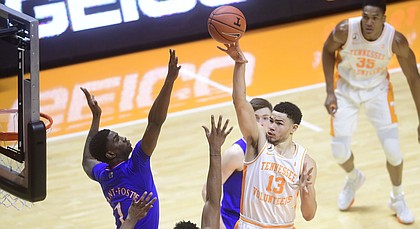 The 15th-ranked Kansas basketball team dropped its fourth consecutive road game on Saturday in Knoxville, Tenn., falling to No. 18 Tennessee, 80-61, in the SEC/Big 12 Challenge.
The Jayhawks (11-6 overall, 5-4 Big 12) trailed by 14 points at halftime, fell behind by 26 in the second half (66-41) and were never really in the game.
The Kansas offense opened with yet another slow start, missing five of its first six shots, while Tennessee hit three of its first four to build an early 7-2 lead.
Things only got worse from there for the Jayhawks, who missed their first eight shots from 3-point range. Leading scorer Ochai Agbaji missed four triples in the game's first nine minutes and was 1-of-9 from the outside on the night, and KU hit just three of its first 15 shots overall, with all three makes coming from junior forward David McCormack, who finished with 17 points on 8-of-12 shooting.
"The last two games, it's been hard to watch, offensively," discouraged Kansas coach Bill Self said after the loss. "Against TCU we had 18 and tonight we (had) 26 at halftime. That's not a way to start a basketball game."
Despite his struggles, Agbaji kept shooting and finally got one to fall at the 6:02 mark of the first half. Agbaji's 3-pointer actually pulled the Jayhawks within six (23-17) at the time, but Tennessee quickly pushed the lead back to 10 with back-to-back buckets and never looked back.
The Volunteers (12-3 overall, 5-3 SEC) shot 53% for the game, including 62% (8-of-13) from 3-point range. Kansas, meanwhile, shot 38% and made just six of 24 3-pointers, most coming after a 2-of-17 start from behind the arc.
"I think there's definitely frustration," KU big man David McCormack said of the mindset of the team after its latest loss, their fourth in five games.
McCormack pointed to KU's need to start faster, execute intangibles better and bring more energy to the court as the biggest areas the Jayhawks needed to improve right now.
When asked if he knew why those elements were missing, McCormack said simply, "We're in the process of figuring that out, honestly."
Even KU's best plays went awry on Saturday. There was no better example of that than midway through the second half when senior forward Mitch Lightfoot grabbed an offensive rebound and tried to throw the ball off the man guarding him before falling out of bounds.
The heady play worked, but the ball brushed off of Lightfoot, who was standing out of bounds, before falling to the floor.
There were far more moments where Tennessee made the Jayhawks look bad in this one, though.
Sure, the Volunteers were red hot from 3-point range throughout the game, and, yeah, Tennessee, had better flow and a stronger presence in the paint. But Rick Barnes' team also clearly won the hustle game, as well.
Late in the first half, after McCormack sprinted across the lane to join Agbaji in a double team of Tennessee's Jaden Springer, Springer simply flipped the ball up toward the rim to Tennessee big man John Fulkerson (11 points, 6 rebounds, 3 assists) for an easy alley-oop that left McCormack standing flat-footed with his palms facing upward.
Early in the second half, it was Springer (13 points, 4 rebounds) who was on the giving end of an alley-oop, chasing down a long rebound between three Jayhawks and immediately flipping the ball to Yves Pons (17, 5) for the easy alley-oop lay-in that put the Vols up 45-28.
"I'm not going to get hung up on the shooting stuff," Self said after the loss. "I'm more hung up on the plays that impact us winning as a group than if a guy just makes shots."
Despite its dreadful shooting, Kansas scored the first bucket of the second half and cut the Tennessee lead down to 12 with plenty of time remaining. Less than five minutes later, however, the Vols led 56-35 and had squashed any hope Kansas had of climbing back into the game.
Self said the ice cold start completely changed his team's approach because the Jayhawks started pressing and feeling the frustration of every miss more than he hoped they would.
The plan, Self said, was for KU to head south after Thursday's win over TCU, play hard and with free minds and let it fly.
"I guess when I said let it fly, I (should've said) to let it fly and make a few of them," Self said. "But that certainly wasn't the case."
Related document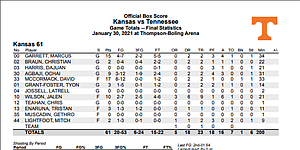 Box score: Tennessee 80, Kansas 61 ( .PDF )
KU's lineup featured a couple of tweaks. Redshirt freshman point guard Dajuan Harris joined KU's regular starters in place of Jalen Wilson, who came off the bench. And Harris and junior Tyon Grant-Foster started the second half for the second game in a row.
Neither player did much to impact the game or reverse KU's fortunes. And Self was just as happy to give credit to Tennessee for that as he was to crush his own kids.
"I think the biggest takeaway that I'll have is that we were bad and Tennessee was great," Self said. "I don't think we did anything to make them play poorly, and I think they did a lot of things to make us play poorly."
So much so that it took Self less than 30 minutes to express that he was ready for his team to get back to Big 12 Conference play on Tuesday night at home against Kansas State. That one is slated for 7 p.m. at Allen Fieldhouse on ESPN+.
The hope, Self said, was that his guys will regroup during the next couple of days "and be our best then."
"I may not even watch this (game)," Self added.