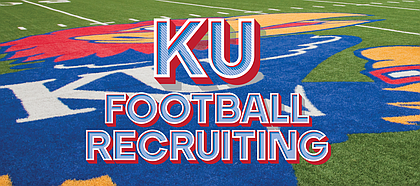 Under a week out from National Signing Day, a one-time Kansas football recruit is officially out of the mix for the Jayhawks.
Garfield Lawrence, a three-star defensive end in the Class of 2021 who had committed to KU this past November, announced Thursday his decision to play for Houston.
Listed at 6-foot-4 and 240 pounds, Lawrence recently had picked up scholarship offers from Texas and Boston College, as well.
KU head coach Les Miles and his staff were able to sign most of their 2021 recruits during the December early signing period. Lawrence was one of only three KU targets who had yet to sign before he decommitted and pledged to play for the Cougars.
The Jayhawks signed 20 players in December. Eight members of the 2021 class already are on campus this spring as early enrollees, including quarterback Conrad Hawley, who wasn't among the early signees because he didn't commit to KU until January.
Unsigned KU football Class of 2021 recruits
(Rivals rankings)
• Quaydarius Davis — 4-star Texas prep WR
• Kameron Grays — 3-star Alabama prep DB
2021 prospects who decommitted from KU
• Keon Coleman — 3-star Louisiana prep WR
• Edgar Amaya — 3-star Alabama prep OL (signed with Colorado)
• Jaddai Henry — 3-star Texas prep WR
• Christien Hawks — 3-star Norton prep OT (committed to Air Force)
• Garfield Lawrence — 3-star Texas prep DE (committed to Houston)
Class of 2022 O-lineman backs out
It didn't take long for KU football to experience some recruiting consequences with Brent Dearmon departing for Middle Tennessee State.
Late Wednesday evening, not long after news of Dearmon's exit became public, Brock Burns announced he was decommitting from the program's 2022 recruiting class.
A 6-4, 285-pound high school junior from Arkansas, Burns is rated as a three-star offensive tackle. He was recruited by Dearmon and former offensive line coach Luke Meadows, who was fired late during the 2020 season.
KU now has four prospects in its 2022 recruiting class. One of them, three-star Arkansas prep quarterback Austin Myers, also was recruited by Dearmon.
In the 2021 class, Kameron Grays, a three-star cornerback who hasn't yet signed with KU, was recruited by both Dearmon and KU defensive backs coach Chevis Jackson.
KU football Class of 2022 commitments
(Rivals rankings)
• Austin Myers — 3-star Arkansas prep QB
• Dewuan Mack — 3-star Missouri DB
• Caldra Williford — 3-star Missouri DB
• Xavion Brice — Texas WR
2022 prospects who decommitted from KU
• Brock Burns — 3-star Arkansas OL