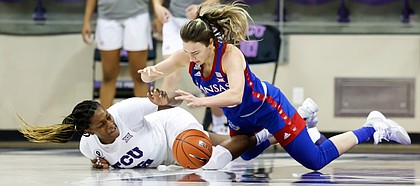 Immediately following his team's overtime loss at TCU Sunday afternoon, Kansas women's basketball coach Brandon Schneider almost couldn't believe the Jayhawks had a chance to win, considering how many of their field goal attempts were off the mark in Fort Worth, Texas.
"I just thought we didn't make shots," Schneider said of the difference, especially in OT, after the 81-78 defeat. "We didn't make shots (all game)."
KU only hit 38% of its 77 field goal attempts on the day, and went just 7-for-29 (24%) from 3-point range. The Jayhawks (5-4 overall, 1-2 Big 12) shot 3-for-9 in overtime while the Horned Frogs went 4-for-6.
KU sophomore guard Zakiyah Franklin, meanwhile couldn't get over the Jayhawks missing free throws in overtime, either, pointing to those misfires at the foul line and some KU fatigue as the difference late in the game.
Both Franklin and Julie Brosseau went 1-for-2 at the charity stripe in the final seconds of OT. Improbably, Brousseau stole a TCU inbounds pass and drew a foul with 2.1 seconds to play and KU down just two points.
However, Brosseau missed her second try after hitting the first. The Frogs' Yummy Morris grabbed the decisive defensive rebound off the missed free throw, allowing the Frogs to escape with their first Big 12 victory of the season.
Back in the lineup for KU after sitting out the Jayhawks' Thursday loss at Texas, Tina Stephens drove in for a layup to cut TCU's edge to 78-76 with a minute left in overtime. Then the Frogs' Lauren Heard missed two free throws with 34 seconds to go, leaving KU with an opportunity to tie it up or even take the lead.
After Brousseau missed a tough leaning jumper, Emma Merriweather brought down an offensive rebound, prompting Schneider to call timeout with 13.4 seconds left in the extra period.
However, TCU's Aahhilyah Jackson stole the ball from Holly Kersgieter in the left corner with 5.5 seconds left.
KU opened OT with Merriweather scoring in the post. Next, Franklin put in a layup on a fast break, quickly extending the KU lead to 72-68.
But Jackson buried back-to-back 3-pointers for TCU, giving the Frogs a 74-72 advantage by the 3:41 mark of the five minute extra period.
"We were in foul trouble," Schneider said of another issue for KU late. "So we started out overtime playing zone. I think the Jackson kid, give her credit, stepped up and made two big threes and forced us to go back man."
The Jayhawks had a chance to win the game in the final seconds of regulation. Coming out of a KU timeout with 7.6 seconds left in the fourth quarter, Kersgieter (16 points, 7-for-17 shooting, 1-for-6 on 3-pointers) missed a 3-pointer from the left wing.
Although KU led by as many as seven points early in the fourth quarter, after a basket inside by sophomore center Chisom Ajekwu (10 points, eight rebounds), TCU (6-5, 1-5) battled back in the following minutes.
Tavy Diggs drove in for a layup to tie it at 68 with 7.6 seconds to go in regulation.
Schneider said the Frogs just made plays in the fourth and said Heard (19 points, six rebounds, seven assists) was "terrific."
"She got a lot of help from their supporting cast today," Schneider added after five Horned Frogs finished with double figures in scoring, "and that's really what they've been lacking."
After trailing through most of the first half, as well as the first eight minutes of the third, KU regained the lead just a couple minutes before the start of the fourth quarter. Kersgieter, who scored 12 points for the Jayhawks during the third quarter surge, finished a layup and drew a foul for a three-point play that gave KU a 52-49 advantage.
Kansas finished the quarter on a 10-0 run once Stephens scored a layup with less than 20 seconds to play in the period.
"I think the third quarter," Franklin said, "we just wanted to come out with that same defensive intensity we had in that second quarter. So we just tried to replicate that. And that pretty much helped us offensively."
TCU shot 26.7% in the second quarter and 33.3% in the third.
Franklin (13 points, four assists), Brosseau (11 points) and Stephens (10 points, five rebounds) joined Kersgieter and Ajekwu in reaching double digits in scoring for KU.
Merriweather pulled in a KU-best 10 boards, as the Jayhawks outrebounded TCU, 51-41.
KU is scheduled to play host to Texas Tech on Wednesday at Allen Fieldhouse, at 7 p.m.