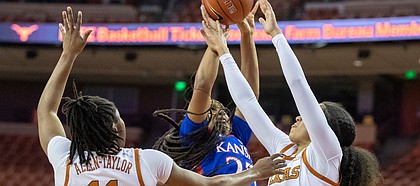 Kansas women's basketball coach Brandon Schneider, as well as his players, are doing their best to navigate through a strange season.
The pandemic, COVID protocols and injuries, too, have wreaked havoc with the Jayhawks' calendar.
"I've had teams where we were short on numbers but we still got to practice," Schneider said, referencing how this year is much different and KU had only practiced twice in January, before falling at No. 21 Texas on Thursday.
"I think all of us as coaches and as (players), during the pandemic we're all having some experiences and some challenges, and some adversity that people in sports just haven't ever had to deal with," Schneider said.
KU had to play without starting forwards Tina Stephens and Ioanna Chatzileonti in the loss at UT, and that could end up being the case again Sunday afternoon when the Jayhawks play at TCU.
Sophomore guard Holly Kersgieter said after the Jayhawks played with four guards against a big UT front line that using a smaller lineup than usual was the biggest difference in the game.
"Especially on their offensive boards," Kersgieter said. "There were many times that we were battling, battling and like second chances. It's not like we weren't there. Just something we had to deal with."
Texas had 17 offensive rebounds and 12 second-chance points in a 79-72 win.
What: Kansas (5-3 overall, 1-1 Big 12) at TCU (5-5, 0-5)
When: 1 p.m. Sunday, ESPN+
Where: Schollmaier Arena, in Fort Worth, Texas
Quick Note: With KU shorthanded the other night at Texas, KU redshirt freshman Chandler Prater came through with a career-best 14 points off the bench.
"First off," Schneider said of Prater's contribution, "she had to learn an entirely new position in two days. And she's been very limited with her ability to participate. So just proud of all the extra work she put in mentally to try to contribute."
KU's coach noted both Parter (a 5-foot-11 guard) and Mia Vuksic (a 5-10 freshman guard) had to become fill-in fours for KU at Texas.
"And I thought Chandler," Schneider said after the young player shot 6-for-8, "did a great job and was very aggressive."
Streaking: Emerging this season as one of the most reliable scorers in the Big 12, KU's Kersgieter has produced double-digit points in every one of her seven starts.
Up to this point, Kersgieter is averaging 17.3 points per game on 50% shooting from the floor, while connecting on 42.9% of her 3-pointers and going a perfect 18-for-18 at the foul line.
The only games in which Kersgieter has scored fewer than 17 points came in easy KU wins, when the Jayhawks didn't need her typical minutes or scoring output. She had 12 in a 100-59 rout of Oral Roberts and 14 in an easy 78-59 win over New Mexico State.
Kersgieter's 20 points at Texas on Thursday marked the third time this season she scored at least that many.
Slumping: The Horned Frogs, who haven't played in a week after having a Thursday matchup with Kansas State postponed, have lost three in a row. What's more, TCU has yet to win a Big 12 game in five tries this season.
To date, the Frogs' most competitive conference game came at Texas Tech, in a six-point road loss, back on Dec. 19.
But every other Big 12 game TCU has lost in lopsided fashion: by 23 to Iowa State, 24 to Baylor, 25 to Oklahoma State and 19 at Oklahoma State.
Fort Worth appears to be as good a place as any for KU to pick up its first road win of the season.
Last game's starters
Kansas
G — Julie Brosseau, 5-9, gr.
G — Holly Kersgieter, 5-10, so.
G — Brooklyn Mitchell, 5-6, jr.
G — Mia Vuksic, 5-10, fr.
C — Chisom Ajekwu, 6-3, so.
TCU
G — Lauren Heard, 5-9, sr.
G — Aahliyah Jackson, 5-10, gr.
G — Caroline Germond, 5-7, jr.
F — Michelle Berry, 6-2, gr.
C — Kayla Mokwuah, 6-4, jr.