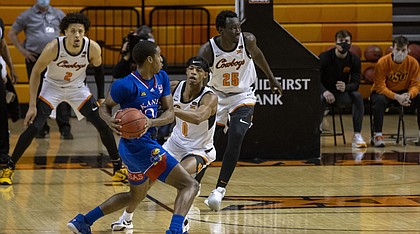 Kansas freshman Bryce Thompson returned to action during Tuesday's 75-70 loss at Oklahoma State after missing three games with a back injury.
During his pregame radio interview with Brian Hanni, KU coach Bill Self said that Thompson was available but that he did not know whether Kansas would use him.
The answer came midway through the first half, when Thompson checked into the game around the 8:30 mark after junior guard Ochai Agbaji picked up his second foul.
In addition to his regular role on the wing, Thompson even played some point guard for the Jayhawks on Tuesday night, finding himself constantly hounded by the OSU defenders, who heard their head coach encouraging them to pressure Thompson every time he handled the ball.
Thompson played five minutes in the first half and 13 for the game.
He scored two points, missed all three shots he attempted from the floor and often looked off balance and out of rhythm.
But he was on the floor for much of the Jayhawks' second-half surge and exited with 2:12 to play after diving on the floor for a loose ball and coming up holding his right wrist after the scrum.
Thompson was examined by trainers on the sideline and appeared to be in a significant amount of pain before being taken back to the locker room.
Self said after the loss that Thompson broke a finger on his right hand.
"I don't know the exact details of that," he said. "All I know is that we're sure he broke his finger. So we'll go back and get it examined. We don't know what it will require; if it's surgery, if it's not. But he'll be out for a while."
Climbing the NET
A pair of victories last week against teams ranked in the top 100 of the KenPom.com rankings moved the Jayhawks up 14 spots in the NCAA Tournament Evaluation Tool rankings.
Kansas, which opened at No. 27 in the NET rankings on Jan. 4, checked in at No. 13 in this week's NET rankings, which were created three years ago as a replacement for the RPI system to help determine a team's postseason resume.
With last week's wins over Oklahoma and TCU and Tuesday's loss at OSU, KU is now 6-3 against Quadrant 1 competition this season.
Perhaps more important than the six wins against top-tier teams is the fact that all three of KU's losses are of the Quadrant 1 variety, with KU also losing to top-ranked Gonzaga in the season opener and Texas, which currently sits at No. 9 in the NET rankings.
In addition to Quadrant 1 wins helping a team's resume, losses to those same types of teams do not hurt as much.
Cunningham impact
Even with its status as a college basketball blue blood, Kansas men's basketball has seen firsthand the impact that landing a No. 1 overall recruit can have on a program.
Oklahoma State currently is experiencing that with talented freshman Cade Cunningham — even if Gallagher-Iba Arena can't be packed to the gills as a result — and Self said this week that regardless of how the Cowboys finish the season, Cunningham's time in their program could help for years to come.
"I think that getting a player like Cade, and him going high in the (NBA) draft, will encourage other top prospects to say, 'You know, I can go to Oklahoma State and this can happen.'"
Cunningham helped lead the Cowboys' upset of Kansas on Tuesday night, scoring 18 points, grabbing seven rebounds and dishing three assists in 39 minutes.
While the Jayhawks have experienced that with several five-star and one-and-done recruits throughout Self's 18 seasons in Lawrence, the KU coach said even some of the best Kansas players during that time have been questioned by people who put extreme value on their professional prospects.
Related document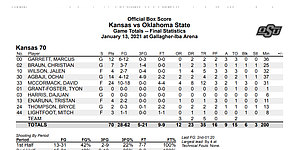 "It's one thing for Frank (Mason) to spend four years here and be national player of the year and improve each and every year to the point where he could play in the NBA. Or Devonte' (Graham) in the same way," Self said. "But there's people out there saying, 'Well, if he's that good, why'd he have to stay four years?'"
Self noted that KU's recent teams have not had those types of prospects — KU's most recent lottery pick was Josh Jackson in 2017 — but he believes that getting them makes recruiting easier for any program.
"I think that's helped us in the past," Self said. "And when that happens (again), that kind of opens the floodgates a little bit to others."
This and that...
Tuesday's loss dropped Kansas to 10-3 overall, its worst mark through 13 games since starting 9-4 during the 2013-14 season... The loss snapped KU's 11-game conference road winning streak, which was tied for the best in Big 12 history, and ended a five-game winning streak against the Cowboys... KU now leads the all-time series with OSU, 118-60, including a 38-36 all-time record in games played in Stillwater and a .500 mark of 36-36 at Gallagher-Iba Arena... KU falls to 2-1 in true road games this season and is 4-2 in games played outside of Allen Fieldhouse... Self is now 22-14 all-time against his alma mater, 21-11 at Kansas. The KU coach is now 718-217 all-time, including a mark of 511-112 at Kansas. As a program, owns 2,312 victories, second all-time in NCAA history to Kentucky, which entered Tuesday with 2,322 victories.