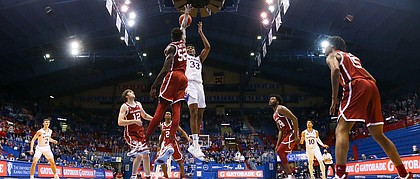 Consider Kansas forward David McCormack having been in the right spot, both on the court and on the roster, to deliver one of the biggest shots of Saturday's 63-59 Kansas victory over Oklahoma.
Shortly after the sixth-ranked Jayhawks survived a scare from the Sooners at Allen Fieldhouse, KU coach Bill Self said McCormack's bucket in the paint that put Kansas up four with 10 seconds to play was one of those that should always be available.
Of course, McCormack still has to execute when the opportunity arrives. And he did on Saturday. But the fact that he was a secondary option on that set out of a KU timeout only underscores Self's point.
"If you play right and play the way we'd want to play, I really believe that there's a great chance that whoever's in there playing in the big spot is always an option," Self said. "You should always be able to throw the ball to your big."
The Jayhawks did that repeatedly on Saturday and McCormack delivered with a team-high 17 points on 8-of-14 shooting from the floor.
It marked the second game in a row that the 6-foot-10 junior led the Jayhawks in scoring. And it was the second game in a row that he credited his approach for his success.
"I'm playing with a free heart, free mind, just doing what I can to help help the team win and playing with energy," McCormack said. "That's all I can say."
Photo Gallery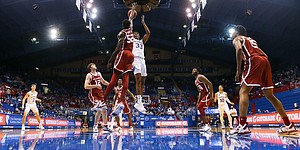 Kansas basketball v. Oklahoma
View a gallery from Saturday's game between the Jayhawks and Sooners at Allen Fieldhouse.
Twice in the game's final 2:30, McCormack caught the ball in the post and went to work to get a crucial basket. The first put Kansas up 58-57 with 2:19 to play. And the second was the one that put it out of reach for OU.
The fact that McCormack delivered validates what so many of his teammates and coaches said he was capable of before the season began. The fact that both baskets came just a few minutes after he airballed a hook shot from a similar spot on the floor speaks to McCormack's ability to move on from a mistake and stay ready to deliver.
"He made two of the biggest plays of the game without question," Self said.
After the second, McCormack pumped his fist near the free throw line and let out a roar of approval. His teammates were hardly surprised.
"I know he's always going to have some kind of reaction after after a big bucket," junior guard Ochai Agbaji said after Saturday's victory. "But that's good. That's just great energy for us."
When asked after the game what McCormack did for the Jayhawks (10-2 overall, 4-1 Big 12) on Saturday, Agbaji needed just a single word to answer.
"Everything," he said.
It wasn't all praise for McCormack on Saturday. Despite his key contribution to KU's latest victory, he and reserve forward Mitch Lightfoot combined for just one rebound in the 40 minutes they played.
It's hard to get too excited when your two bigs play 40 minutes and combine for one rebound," Self said. "So we've got to do a better job of that. But I thought (McCormack) played well. I'm happy for him."
Proving that this is a team full of players who are happy to have each other's backs, Jalen Wilson stepped up with 11 rebounds, Christian Braun grabbed nine and Agbaji recorded six, as well.
"Coach always says that real teams grow as the season goes on," McCormack said. "And that's definitely what we're doing. We know how each other plays, now we just have to play to our strengths and play how coach wants us to play and get into a groove."
That last part took a while in this one. For the second consecutive Saturday, the Jayhawks came out flat. OU (6-4, 2-3) opened up a 9-2 run and led 15-9 before the Jayhawks found a pick-me-up in the form of their halfcourt defense.
KU's ability to get stops on one end led directly to smoother offense on the other.
Related document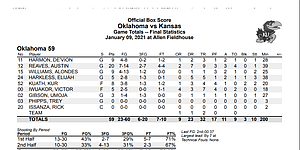 Box score: Kansas 63, Oklahoma 59 ( .PDF )
Lightfoot (7 points on 3-of-3 shooting) scored twice in the post. Agbaji (14 points), Braun (5 points) and senior point guard Marcus Garrett (7 points, 5 rebounds, 4 assists) all got to the rim off the dribble.
And Lightfoot's tough bucket down low with 10:56 to play in the first half, along with two Tristan Enaruna free throws, pushed KU's first first-half run to 9-0 and gave Kansas a 20-15 lead.
OU quickly responded with a 7-0 run of its own to go back in front. And the two teams went back and forth with the lead the rest of the half.
Oklahoma took a 33-31 lead into the locker room after Austin Reaves' late racing layup just beat the buzzer.
"I thought we absolutely stunk the first half," Self said.
A 10-3 run by Kansas to open the second half put the Jayhawks back in front and in control. And a pair of Agbaji 3-pointers and another tough bucket by Lightfoot in the paint, pushed the run to 15-6 and gave the Jayhawks their largest lead of the day to that point, 46-39 with 14:02 to play.
The Jayhawks never could pull away from there. OU tied the game at 49 with 7:03 to play, setting the stage for the nip-and-tuck finish.
The Sooners, who shot 38% for the game, missed five shots to take the lead late in the game before Umoja Gibson's 3-pointer from the corner finally put OU ahead, 55-54 with 3:43 to play.
That set the table for McCormack, Garrett and Wilson to deliver four clutch baskets in the final 200 seconds, with Garrett's left-handed driving reverse layup with 3:13 to play carrying the highest degree of difficulty.
Wilson's 3-pointer with 1:28 to play put Kansas up four, keeping OU just far enough away at a crucial point in the game.
All of those baskets required high-level individual and team execution. And Self said the fact that the Jayhawks delivered left him feeling good about their overall performance, considering KU gifted OU with so many easy baskets, many coming off of Oklahoma's 10 steals or KU's distracted half-court defense.
"It's a pretty good win, considering they got (some) easy stuff and we didn't," Self said.
Next up, Kansas travels to Stillwater, Okla., to face Oklahoma State at 7 p.m. Tuesday on Big 12 Now/ESPN+.