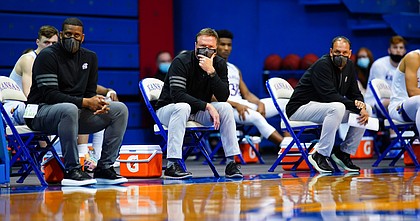 What third-ranked Kansas lacked in the way of energy and emotion during its first game of 2021, No. 8 Texas more than made up for in rolling over the Jayhawks with style and a smile, 84-59 at Allen Fieldhouse.
Saturday's loss to the Longhorns snapped KU's eight-game winning streak and ended a streak of 17 consecutive Big 12 victories for KU and 13 consecutive home victories.
It also was just the 15th loss in the Jayhawks' home building for KU coach Bill Self and the worst home loss of the Self era.
In fact, the only real drama of the day came on KU's final possession, when the Jayhawks had two cracks at cutting the Texas lead under 25, which would have prevented the Jayhawks from tying for the worst Allen Fieldhouse loss in school history. Kansas also lost to Missouri by 25 points at Allen Fieldhouse back in 1989.
Instead of avoiding the same fate, Tristan Enaruna and Tyon Grant-Foster both missed, putting Saturday's setback in the record books for good.
Not that Self needed that distinction to remember it.
"Lose by three or you lose by 25, I told myself it didn't make any difference this game," Self said. "How do we learn a lesson that's going to help us move forward?"
Photo Gallery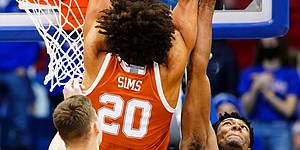 Kansas basketball v. Texas
View a gallery of images from Saturday's game between the Jayhawks and Longhorns at Allen Fieldhouse.
That approach, and not some kind of tongue-lashing, was the focus of the Jayhawks' postgame chat in the locker room, which lasted a little longer than normal and featured Self asking his guys what kind of team they wanted to be.
"We already got our ass kicked once today," Self said after the loss. "We didn't need to have it kicked again in the locker room. But we've got to regroup. We've got to decide if we want to be a team that makes other people play bad and if that's what we take the most pride in. Because it certainly didn't look like that today."
Texas jumped on the Jayhawks (8-2 overall, 2-1 Big 12) from the start, ripping off a 10-2 run to open the game and leading by eight at halftime.
Kansas missed its first eight shots of the game and was flat with its outside jumpers all afternoon. Ochai Agbaji scored 11 first-half points to keep Kansas close, but the Jayhawks got little else from their offense en route to shooting 32.4% during the first 20 minutes.
That changed in the second half, when Jalen Wilson got on an early roll. The powerful guard scored 14 of his game-high 20 points in the Jayhawks' first 16 points of the second half, including a 3-pointer that cut the Texas lead that had ballooned to 10 down to four with 17:23 to play.
Texas responded with 3-pointers on its next three possessions — from three different players — to push the lead back to double digits. The surge sparked a 29-10 UT run that buried the Jayhawks and sent some of the 2,500 fans inside Allen Fieldhouse for the exits as early as the 8-minute mark of the second half.
Texas' turning a four-point lead into 12 with those triples, also marked the moment that Self thought his guys unofficially surrendered.
"We shouldn't have been, but we were basically done after that I think, emotionally," Self said.
How did he know?
"There was a blank stare in the huddles after (UT) started that second-half barrage with about 15 (minutes) left," Self said. "We've got to become much tougher mentally and we've got to be able to grind through bad things. And today we didn't do that. But give them credit. They weren't going to let us do that."
The Longhorns (8-1, 2-0) controlled this one from the start and they did it on both ends of the floor. Five UT players reached double figures. Seven Longhorns made at least one 3-pointer. And Texas outscored Kansas in the paint, in transition and off the bench.
In delivering the program's second ever win inside Allen Fieldhouse, including the first for head coach Shaka Smart, who improved to 2-10 against Kansas at Texas, UT out-rebounded KU 46-37, out-shot KU 49% to 31% and dominated the 3-point element of this one, knocking in 12 of 26 3-pointers compared to just three of 23 for Kansas.
With their outside shots not falling, the Jayhawks looked to drive more in the second half. It worked initially, especially for Wilson.
"But at that point it was too late," Agbaji noted.
Saturday's game was the first in 11 days for the Jayhawks, many of whom took some time off to be with their families over the holidays. But no one in the home locker room was using that or the early start as the reason for KU's lack of energy and sluggish play.
"We just weren't ready to play today," Agbaji said. "Plain and simple."
Even one of KU's few bright spots on Saturday surfaced because of disappointment elsewhere.
The Jayhawks got a nice lift from senior forward Mitch Lightfoot midway through the first half, when junior forward McCormack was on the bench after a rough start.
Related document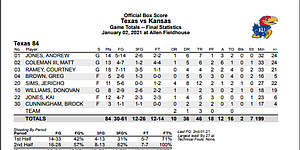 Box score: Texas 84, KU 59 ( .PDF )
In 5:19, Lightfoot blocked two shots and helped KU's offense with his spacing and ball screens.
Lightfoot's effectiveness did not go unnoticed and he was rewarded with a starting nod to open the second half. In the first couple of minutes of the half, Lightfoot was involved in a trap that forced a Texas turnover.
"I just wanted some energy," Self said of the reason for going with Lightfoot in the second half. "Mitch obviously has more energy than just about anybody on our team, and I didn't think David really produced at all the first half. So I just wanted to give Mitch a chance. He certainly deserves a chance."
Neither player was much of a factor in the second half, when Lightfoot played a little more than nine minutes compared to just under three minutes for McCormack.
Self even elected to go with his five-guard lineup for portions of the second half, with Tyon Grant-Foster playing in that spot. But that failed to produce the desired result against a bigger, faster, more athletic and more experienced Texas team that played like it could smell blood and seemed to relish the look of shock on the faces of the Jayhawks.
"In order for us to be a good team that competes against athletes and skilled people like that, we've got to be turned all the way up," Self said. "And we weren't turned up. I think our energy level was poor. I think we looked slow."
Added Wilson: "This doesn't happen in the fieldhouse. This (type of loss) hasn't happened in 18 years (of the Self era). This is very embarrassing. Just take this game and move on. We can't hold our heads (down) on this. We've got a road game coming up on Tuesday."
That's when Kansas will hook up with TCU for a 9 p.m. tipoff on ESPN from Fort Worth, Texas.