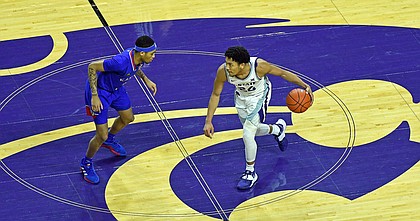 The defense was good, the offense was good enough and the result was more or less what No. 23 Kansas wanted — a 59-41 victory over Sunflower State rival Kansas State in Manhattan on Wednesday night.
The win — KU's fourth in a row and the 13th straight loss by K-State — was the result of the Jayhawks continuing to keep their emphasis on the defensive end above everything else.
"I think what our team is understanding is we need to guard like all games will be these types of games because we can labor to score so much," Kansas coach Bill Self said after the Jayahwks' victory at Bramlage Coliseum. "Even though it doesn't maybe look as as pleasing (when you're) watching it, (winning that way is) something our team has to buy into. And if we do that then we can be in the game the last five minutes against the best teams."
That was the position the Wildcats hoped to be in on Wednesday night. But it was evident early on that Bruce Weber's team would have no such luck.
Although K-State hung around for a while in the first half because of KU's inability to find its own flow on offense, Weber's team did nothing to show that it was ready to score enough to win the game, a struggle that has plagued the Wildcats all season.
The 41 points allowed by Kansas marked the second lowest by a Big 12 opponent against a Self team, second only to KU's 39-point suffocation of Nebraska in 2007.
And the Wildcats shot 31% from the floor while making just three of 24 shots from 3-point range.
K-State's first 3-point make did not come until the 11:30 mark of the second half. The Wildcats were 0-for-15 up to that point. And the home team's final two triples came in the game's final minute, after both teams had emptied their benches.
"I think it (was) probably one of the best games of us guarding the 3," said KU guard Jalen Wilson, who finished with 11 points and nine rebounds, one board shy of his fifth consecutive double-double. "I think our defense (played) real well. We definitely can always improve, but we've been playing for each other a lot on defense lately."
For much of the first half, when the Jayhawks (16-7 overall, 10-5 Big 12) built a 26-17 lead heading into halftime, that defensive performance played out right in front of the Kansas bench. That allowed KU's coaches to put their intensity into helping the Jayhawks deliver the kind of effort and energy they wanted to see.
That set the tone in the first 20 minutes and it carried over into the second half on the other end of the gym, where the Jayhawks used their defense to create offense that helped them turn the final 10 minutes into a track meet.
"I thought we guarded well," Self said. "You know, they missed some open looks. Let's not get too carried away. But they had 35 with one minute left, and we didn't guard them the last minute. But I was pleased."
Kansas forced 18 K-State turnovers and scored nearly half of their points (29) off of those KSU gaffes.
"That's what I try to tell them, 'Let's get out and run and try to get steals and deflections,'" senior guard Marcus Garrett said after the victory. "That makes easy offense."
Despite the lopsided outcome — KU's largest lead was 24 points with 1:50 to play — K-State (5-18, 1-13) had the deficit at just four points (30-26) with 14 minutes to play after a block of a dunk attempt by Mitch Lightfoot by Kaosi Ezeagu turned into a quick K-State jumper on the other end.
But Lightfoot (four points and three rebounds in 14 minutes) atoned for the miss on the next possession, posting Ezeagu up and hitting a soft hook over him to put Kansas back up six.
One possession later — after yet another K-State miss — Kansas freshman Bryce Thompson scored his second of three second-half buckets, knifing his way to the rim for a silky smooth layup that put KU ahead 34-26 with 12:49 to play.
Soon thereafter, the Jayahwks' lead grew to 10 after a transition layup by Ochai Agbaji that came from a Dajuan Harris steal.
That stretch proved to be the one Kansas needed to pull away. The unofficial knockout blow came when the Jayhawks got an alley-oop from Thompson to McCormack and a steal and layup in transition from Christian Braun to go up 44-29 with 9:25 to play.
"(They were) great," Wilson said of the KU bench. "'Juan and Bryce definitely stepped up for us. They hit some tough shots and made some tough plays on defense and those are the little things that we definitely need from them to win games."
Added Garrett of the KU bench: "They came in and gave us the spark we needed."
Lightfoot drew two charges and nearly earned a third.
Related document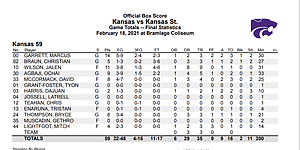 Thompson's offensive skills, both as a scorer and as a key part of KU's ball and body movement, played a big role in KU finding better offensive flow in the second half.
And Harris, who Self said still needs to look to score more, did his thing defensively and also put pressure on the defense with his vision every time he had the ball.
Self stopped short of saying he had reached the point where he expected that kind of production night in night out from the KU reserves. But he noted that the Jayhawks are "a different team when we can rest those starters a little."
KU's starting five averaged just 29 minutes per player on Wednesday, with Agbaji topping out at 33 minutes and Wilson playing just 25.
Although it might not have been as pretty as some of KU's victories this season, Wednesday's victory, and the defensive effort that accompanied it, added another layer to the Jayhawks' growing confidence.
KU now has more conference wins than any other Big 12 team — the pandemic has created some uneven scheduling — and the Jayhawks are playing with as much confidence as they've had at any point this season.
"When we were 6-5 (in Big 12 play), I thought it'd be really good to be 10-5," Self said. "So we'll take it."
Next up, Kansas will play host to No. 15 Texas Tech at 1 p.m. Saturday at Allen Fieldhouse.