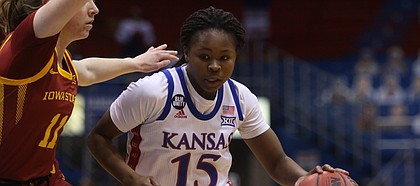 Despite a career-high 26 points from sophomore guard Zakiyah Franklin, the Kansas women's basketball team couldn't quite pull off the upset against Iowa State Wednesday night at Allen Fieldhouse.
The Cyclones' Ashley Joens (24 points) rebounded her own missed layup late in the fourth quarter and scored on her second chance to give ISU a four-point cushion at the time, and just enough wiggle room to get out of Lawrence with an 84-82 victory.
The Jayhawks would answer Joens' score with a layup by Ioanna Chatzileonti in the final seconds, but couldn't come up with the steal and desperation heave they would need at that point to win.
Iowa State put together an 8-0 run early in the fourth quarter to retake the lead from KU (7-12 overall, 3-10 Big 12), and the Jayhawks couldn't get any closer than within two points in the final six-plus minutes that followed.
The Jayhawks entered the fourth quarter with a 66-64 lead, a welcome change after scoring 66 or fewer in both of their previous two games, each a loss. They posted 32 of those in the third quarter, when Franklin scored 15 of her 26 points and the Jayhawks shot 11-for-15 from the floor. Franklin couldn't miss from deep in the period, going 3-for-3 from 3-point range.
After falling behind by as many as 12 early in the second quarter, the Jayhawks steadily climbed back and kept the game competitive. ISU's lead dipped to 38-34 by halftime. And the Jayhawks' strong start to the third quarter, keyed by seven straight KU points from freshman forward Chatzileonti (11 points), allowed the home team to take its first lead of the night at the 8:06 mark of the third quarter.
A strong finish to the first half allowed Kansas to challenge the Cyclones (14-8, 10-5). That began with 7:20 left in the second quarter, when Chandler Prater hit a 3-pointer. The basket ignited an 11-0 KU surge that had the Jayhawks within a point of ISU with 2:50 left until halftime. Aniya Thomas (eight points) was responsible for the final six points of the run.
Holly Kersgieter (18 points) converted a pair of layups inside in the final minutes of the half, and gave the Jayhawks a 3-pointer with 34 seconds to play in the second.
KU got into some trouble with fouls in the first quarter, when the Cyclones outscored the home team 20-14. The Cyclones scored their final eight points of the opening period at the free throw line.
The Jayhawks are scheduled to be on the road this weekend, traveling to face Texas Tech on Saturday.