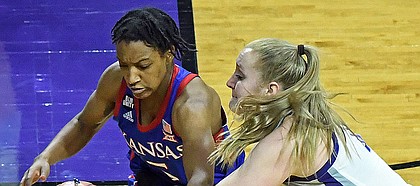 As his Kansas women's basketball team aims to bounce back from consecutive losses, head coach Brandon Schneider would like to see the Jayhawks take a more assertive approach early in their home matchup with Iowa State on Wednesday night.
KU set a season-low for first half points this past weekend at Kansas State, producing only 18 in a road loss. It marked the sixth consecutive game in which KU scored 30 or fewer first half points.
Schneider said the poor start was compounded by the Jayhawks not attacking and getting to the foul line. They didn't attempt a single free throw in either of the first two quarters, before finishing 5-for-7 at the line. The Jayhawks average 21.2 free throw attempts a game and shoot 75.3% as a team.
"I thought in the second half we just played a little bit more aggressive on both ends of the floor," Schneider said, "and I thought it made a huge difference."
The Jayhawks scored 48 of their 66 points in the second half at K-State on Saturday.
What: Kansas (7-11 overall, 3-9 Big 12) vs. Iowa State (13-8, 9-5)
When: 7 p.m. Wednesday, ESPN+
Where: Allen Fieldhouse
Quick Note: Although the Jayhawks only have six games left on their regular season calendar, this will be their first meeting of the season with Iowa State.
A Jan. 6 date with the Cyclones had to be postponed (it was eventually rescheduled for March 3), due to KU's inability to meet Big 12 roster thresholds as it dealt with injuries and COVID-19 protocols.
The Jayhawks haven't defeated ISU once in the past 11 matchups in the series, a span that covers all of Schneider's time as KU's head coach.
Streaking: Dating back to 1995, Iowa State owns the nation's longest streak for consecutive games with a made 3-pointer: 820.
So far this season, the Cyclones are shooting 34.6% from behind the arc, and averaging 9.9 made 3-pointers an outing.
Lexi Donarski, a freshman guard, enters the matchup with KU coming off one of her best shooting games of the year, as she went 6-for-9 from deep and scored a career-best 32 points in ISU's win over TCU. Donarski leads the Cyclones in 3-pointers made (40) and shoots 42.6%.
Slumping: A senior forward averaging 10.9 points per game, Tina Stephens was held scoreless for the first time this season in KU's defeat at K-State.
Stephens played just 14 minutes and went 0-for-5 from the floor.
Schneider said Stephens' production is important for the Jayhawks.
"I think she got really frustrated," the coach said of Stephens going without a point, "got some shots blocked and let it get in her head a little bit. And wasn't able to provide the energy on both ends that she would've liked."
Last game's starters
Kansas
G — Zakiyah Franklin, 5-7, so.
G — Holly Kersgieter, 5-10, so.
G — Brooklyn Mitchell, 5-6, jr.
F — Ioanna Chatzileonti, 6-3, fr.
F — Tina Stephens, 6-2, sr.
Iowa State
G — Emily Ryan, 5-10, fr.
G — Aubrey Joens, 5-11, fr.
G — Lexi Donarski, 5-10, fr.
G — Ashley Joens, 6-0, jr.
C — Kirstin Scott, 6-3, sr.