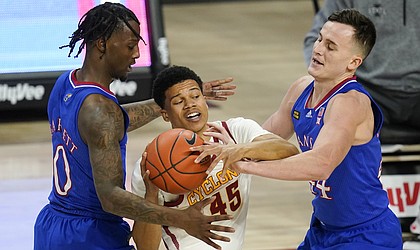 It was nowhere near as clean and comfortable as the 33-point victory that occurred two nights earlier, but it was a victory nonetheless.
The Kansas men's basketball team completed its weekly sweep of Iowa State on Saturday with a 64-50 victory at Hilton Coliseum in Ames, Iowa, where they scored the exact same number of points as Iowa State did in Allen Fieldhouse in a 97-64 Kansas victory on Thursday.
The Jayhawks (15-7 overall, 9-5 Big 12) now have won three in a row after falling out of the Associated Press Top 25 for the first time in 12 years on Monday.
"That was not a very artistic game by any stretch," Kansas coach Bill Self said after the victory. "But we would have taken winning by 14 or five or seven or one before the game started up here, so we're certainly happy we got the win."
Saturday's game was far different from the first meeting between these two.
Instead of Kansas jumping out to an early lead and a fast start, it was the Cyclones who got up early while the Jayhawks struggled.
But that was only on offense.
KU's defense, which has been trending in the right direction during the past couple of weeks, showed up from the start. And even though the Cyclones got off to 70% shooting — compared to just 22% for KU — Kansas forced 12 ISU turnovers in the game's first 10 minutes to keep things close.
"We got off to another terrible start, but you look up and we're down four," Self said. "Three weeks ago that would've been 14."
By halftime, it was zero.
Kansas closed the first half on a 4-0 run to enter the locker room tied at 24. And the Jayhawks opened the second half with a 6-0 run to claim control of the game.
The 10-0 spurt that spanned parts of both halves was a perfect representation of the way the entire game went. Nothing was pretty. Very little came easy. But the Kansas defense dictated almost every part of it.
"(I was) definitely proud of how we defended," Self said.
KU won by double digits despite shooting just 36% from the floor and 30% from behind the 3-point line. The big reason for that was the fact that KU's defense led to Kansas attempting 22 more shots than the Cyclones, who finished 17-of-45 for the game.
"We've been just really focused on coming into the game not thinking about scoring or offense, but worried about making teams play bad, as coach says, and worried about our defensive principles," KU guard Jalen Wilson, who recorded a double-double and led all scorers with 22 points and 10 rebounds. "Once we do that, the offense will come to us naturally and I think we've been doing that at a great rate lately and we've just been so focused on that end."
Never was that more evident than late in the first half, when the Jayhawks got a bucket from Christian Braun (11 points in 28 minutes) with less than a minute to play and then forced a shot clock violation on Iowa State's next possession.
KU big man David McCormack (13 points, 8 rebounds) and junior guard Ochai Agbaji (9 points in 39 minutes) teamed up at the top of the key to be sure the Cyclones did not get a shot off in time. And that led to a game-tying bucket from McCormack in the paint on KU's next possession.
Not content to just be tied at halftime, senior guard Marcus Garrett slipped in to steal the inbounds pass after McCormack's bucket, but his layup at the buzzer left his hand a fraction of a second too late to count. Still, that play, along with KU's run, helped changed the entire tone of the game.
"I thought that they were going to count it," Wilson said of Garrett's swift steal and shot attempt. "But those little plays like that got us back into the game and gave us energy."
From there, after the 6-0 run that featured a Braun dunk in transition and two more McCormack buckets in the paint, Kansas delivered the knockout blow from the outside.
Braun's first 3-pointer of the game came with just over 12 minutes to play and put the Jayhawks up by seven.
A few possessions later, Agbaji's only 3-point make of the game — on the wing off of a pass out of the post by McCormack — put the Jayhawks up 47-37 and all but ended Iowa State's hopes of earning the split. The Cyclones (2-14, 0-11) never cut KU's lead to less than eight points after that.
Related document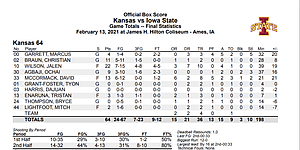 Box score: Kansas 64, Iowa State 50 ( .PDF )
That margin represented a sizable lead in the low-scoring game that featured as many mistakes and miscues as quality possessions.
"Winning by 14 in a low-scoring game is like winning by 20 in a high-scoring game," Self said. "So the guys have to understand that."
Self said his message at halftime was to emphasize that the Jayhawks could not play much worse offensively. He also pointed out, however, that Iowa State probably couldn't either, so defense would be the key to coming out on top in the second half.
McCormack said that message was received loud and clear and that the Jayhawks have enjoyed the feeling associated with three consecutive victories by double digits after struggling in so many games, both wins and losses, since the start of 2021.
"It gives us a sense that we can create separation," McCormack said of stacking double-digit wins on top of each other of late. "And (we) don't have to come down to the wire with each game."
The Jayhawks will look to extend their current winning streak to four straight on Wednesday night, when they travel to Manhattan to take on Kansas State.
After that, it's three games against three ranked teams to close out the regular season. And Self said Saturday that he hopes what his team got accomplished this week has prepared them to be better in the final four games.
"We went through our rut," he said. "And hopefully the rut's over and now we can play our best ball. But I think keeping momentum moving in the right direction (is the next step)."