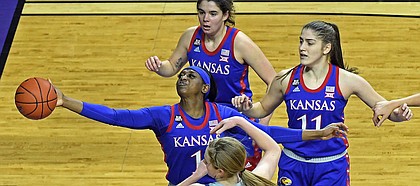 The Jayhawks couldn't pull off a season sweep in the Sunflower Showdown this year, as the Kansas women's basketball team fell, 77-66, at Kansas State on Saturday.
A couple of brutal offensive quarters to open the afternoon rivalry road game proved costly for KU, which produced just nine points in both the first and second quarters, enabling the Wildcats to put an end to their 10-game losing streak and pick up their first Big 12 victory of the season.
KU (7-11 overall, 3-9 Big 12) trailed by 21 at halftime, after the Jayhawks shot 3-for-14 from the field in the first quarter and 4-for-19 in the second. The Jayhawks also turned the ball over 13 times before intermission.
"We didn't execute as well as we would've liked," KU coach Brandon Schneider said during his postgame video press conference. "We obviously missed a lot of shots and were unable to set our defense the way that we wanted."
Freshman KU guard Mia Vuksic tied a program record with eight made 3-pointers in the loss, scoring a new career-high 24 points off the bench. Every one of her 14 field goal attempts came from behind the arc against K-State's zone defense.
"I couldn't be prouder of her," Schneider said. "It says a lot about her to go from games where it might not be the right decision for her to play in that game, but then when an opportunity comes up like today she stayed ready."
K-State center Ayoka Lee (28 points, 16 rebounds) gave KU issues all afternoon, and the Wildcats (6-12, 1-10) maintained a double-digit advantage throughout the second half.
KU sophomore guard Holly Kersgieter, like Vuksic, topped 20 points in defeat. Kersgieter went 9-for-19 from the floor and scored 22.
KU plays host to Iowa State on Wednesday.