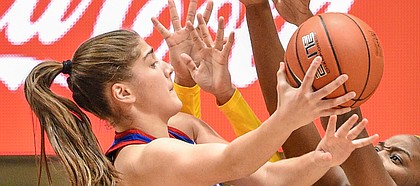 With only seven games left in the regular season, the Kansas women's basketball team may need to rely on its defense down the stretch, beginning with a Saturday trip to Manhattan to take on rival Kansas State.
KU earlier this week held an opponent under 70 for the first time in six games, and the Jayhawks did that on the road at No. 19 West Virginia, albeit in defeat.
"I think we just stayed with it, stuck to the plan," KU coach Brandon Schneider said of a tough road game that came down to the final minute of play. "Our defense definitely turned up in the second half."
The Jayhawks, following that 69-61 loss at WVU, are now averaging 67.2 points in Big 12 games, and shooting 38.2% from the field and 29.4% on 3-pointers in conference play.
In the fourth quarter at WVU on Wednesday, they limited the Mountaineers to 31.3% shooting. The Mountaineers, who only had eight fourth-quarter points heading into the final minute, went 12-for-29 in the second half after shooting 55.6% in the first half. KU also made nine steals at WVU, with Holly Kersgieter contributing a career-high four, and both Tina Stephens and Aniya Thomas chipping in two apiece.
What: Kansas (7-10 overall, 3-8 Big 12) at K-State (5-12, 0-10)
When: 1 p.m. Saturday, ESPN+
Where: Bramlage Coliseum, in Manhattan
Quick Note: Saturday's Sunflower Showdown will mark the 125th all-time meeting between the women's basketball programs at KU and K-State.
The Jayhawks trail the Wildcats, 48-76, in the series. K-State has put some distance between itself and KU in recent years, going 35-8 against the Jayhawks in the last 43 meetings.
Since arriving in Manhattan, K-State coach Jeff Mittie is 13-2 against KU. Schneider is 2-11 versus the Wildcats, after the Jayhawks beat their rivals in their first meeting this season.
Streaking: Many times, KU's best offense involves getting to the free throw line. And the Jayhawks have three strong options at the charity stripe.
Kersgieter, who averages 4.4 free throw attempts a game, is hitting 87.3% of her tries on the year. She went 6-for-7 while scoring a career-high 25 points at WVU.
Zakiyah Franklin is making 86.8% of her free throws. She went 10-for-10 at the line in KU's home win over K-State in late January.
Julie Brosseau doesn't get to the charity stripe as often as Kersgieter or Franklin, but she rarely misfires when she gets the chance. Brosseau enters the weekend connecting on 90.9% of her free throw attempts.
As a team, the Jayhawks are hitting 75.4% of their free throws, which ranks 36th in the country.
Slumping: K-State, the only Big 12 team winless in conference play at this latter stage of the season, has dropped eight games in a row since returning to action in late January from a pause in activities due to COVID protocols.
The Wildcats also lost their final two games of December, putting them on a 10-game skid entering the rivalry rematch of a game KU won, 70-63, in Lawrence on Jan. 23.
Last game's starters
Kansas
G — Zakiyah Franklin, 5-7, so.
G — Holly Kersgieter, 5-10, so.
G — Brooklyn Mitchell, 5-6, jr.
F — Ioanna Chatzileonti, 6-3, fr.
F — Tina Stephens, 6-2, sr.
K-State
G — Sydney Goodson, 5-9, gr.
G — Rachel Ranke, 6-1, jr.
G — Emilee Ebert, 6-0, so.
G — Christina Carr, 6-1, jr.
C — Ayoka Lee, 6-6, so.