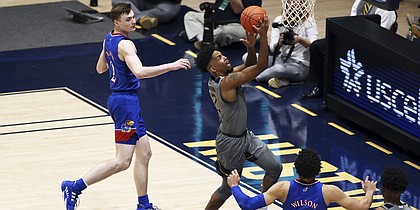 Non-existent defense and another poor start on Saturday led to another loss for No. 23 Kansas, which fell to No. 17 West Virginia, 91-79 at WVU Coliseum in Morgantown.
Despite starting with good energy and playing what Kansas coach Bill Self called "about perfect" on offense to open the game, the Jayhawks fell in a 12-2 hole because of their lack of defensive pressure and their inability to hit shots at close range.
Kansas (12-7 overall, 6-5 Big 12) made just one of its first eight shots in Saturday's game while the Mountaineers (13-5, 6-3) came out gunning and looking to avenge a loss to KU in Lawrence on Dec. 22.
"The game was not lost in the first four minutes," Self said. "But we had to expend so much energy (to get back into it) and play starters a long time and it put extra pressure on them. It put us in a position where we had to be more perfect than what we were."
KU's offense eventually did get going. The Jayhawks followed up that 1-of-8 start by hitting 12 of their next 20 shots heading into halftime.
The problem was, they did nothing to keep West Virginia from doing the same. The Mountaineers scored 44 points in the first half and followed that up with a 47-point second-half, which KU made interesting for a while until running out of gas.
"Defense should travel," Self said after the loss. "And it hasn't been."
Several of KU's early misses were from point-blank range, with David McCormack (17 points and nine rebounds) missing a couple of put-backs in the paint and Marcus Garrett missing a breakout layup after getting tied up on whether to lay it in or dunk it.
Christian Braun and Dajuan Harris also missed baskets right at the rim in the first half, keeping KU from gaining any kind of offensive rhythm or momentum.
"Even though we probably deserved to be behind at halftime, that should have been a two- or four-point game," Self said of the 44-34 deficit at the break. "And we just didn't convert. I don't know if I've ever seen a team, in one half, have two uncontested layups with nobody around them and come away empty."
Added Jalen Wilson (16 points, 14 rebounds in 40 minutes) of the close misses: "Those buckets, we have to execute them. We had a lot of good looks, easy looks, and they just bounced out. That's a part of the game and its bound to happen, but if we're not going to hit those we have to make sure we play better on the defensive end."
After trailing by 10 at the break, the Jayhawks unleashed an entirely new brand of basketball on the Mountaineers to open the second half. Kansas jumped into passing lanes and pressured the ball all over the floor. And the Jayhawks followed that up by hitting their first six field goal attempts of the second half, many of them coming in transition as the result of that increased defensive intensity.
KU had the game tied at 47 just 2:07 into the second half and again at 51-all a few minutes later. But West Virginia's Miles McBride's 3-pointer with 14:18 to play put the Mountaineers up 54-51 and KU never tied the game again after that.
McBride led all scorers with 29 points on Saturday and teammate Taz Sherman chipped in with 25. The two combined to hit eight of 12 shots from 3-point range while shooting 17-of-32 from the floor overall.
"I'm sure it's happened, where other players had big games," Self said. "But usually it's a Michael Beasley (of Kansas State) or an Arthur Johnson (of Missouri) and they're throwing it inside and whipping our (butt) that way. But we usually don't have guards go whip us, and that's what happened with those two tonight."
After surrendering 16 3-point makes to KU in the first meeting between the two teams in December, the Mountaineers held KU to seven 3-point makes (on 20 attempts) on Saturday while draining 11 of 21 of their own.
WVU shot 50% for the game, 52% from 3-point range and turned 18 Kansas turnovers into 26 points.
Related document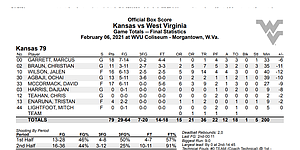 KU's defensive struggles on Saturday seemed to weigh heaviest on Self's mind after the game, and that issue far outweighed any positives that came on the offensive end.
"Nobody guarded," Self said. "And that includes Jalen, Marcus, Ochai (Agbaji), David, Christian, Tristan (Enaruna). It doesn't make any difference. Nobody guarded."
Saturday's loss was KU's fifth consecutive away from home. You have to go back to the 1982-83 season to find a stat like that.
All five of those road defeats have come at the hands of Quadrant 1 teams in the NCAA's NET rankings. And all seven of KU's total losses this season have been of the Quadrant 1 variety, with five of them coming to ranked teams.
While that paints the picture of KU not having suffered any bad losses, Self said that consolation did not mean much because the Jayhawks were so rarely competitive down the stretch in most of their setbacks.
"I would look at it that way more so if we put ourselves in a position to win the game we just didn't get it done," Self said. "(But) we didn't even put ourselves in a position (to win) so there won't be much taken out of this."
Added Braun, when asked after the game about the team's mindset moving forward: "I think everyone's head is in a good spot, but we just have to do it on the court. We have to stop talking about it and actually be about it."
The Jayhawks face a quick turnaround for their next game, which comes at 8 p.m. Monday night against Oklahoma State at Allen Fieldhouse.
And, in many ways, they appeared to have moved on to that one shortly after Saturday's loss went final.
"In basketball, you sometimes have to focus on what's in front of you and not think about the past and what you could've done," Wilson said. "Another day, another game. We just have to focus on competing."