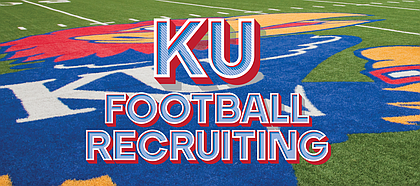 At previous points during his recruitment, Dallas Skyline High receiver Quaydarius Davis was committed to nationally prominent college football programs USC and Texas. When National Signing Day for the Class of 2021 finally arrived on Wednesday, though, the four-star prospect became the highest-rated player to ever sign with Kansas.
Graded as a four-star talent by Rivals, with his' 6.0 rating Davis became the highest ranked recruit to become a Jayhawk since Rivals started gauging players' abilities in 1999.
"Y'all are getting a ball player, a playmaker, man," Davis shared with the program's fans in a video posted by KU football. "Coming to take over, man, change the culture, man. Let's get it."
Davis, listed at 6 feet and 198 pounds, was recruited by KU receivers coach and passing game coordinator Emmett Jones. A Dallas native who has routinely brought talented Texas players to KU since joining Les Miles' staff, Jones actually worked at Skyline as a receivers coach and offensive coordinator years back, from 2006-11,. Jones first recruited Davis when Jones was an assistant at Texas Tech.
Rivals rates Davis as the No. 8 receiver in his recruiting class, the No. 12 prospect in the state of Texas and the No. 59 Class of 2021 recruit in the country.
Miles' thoughts on the significance of Davis' signing will have to wait. Although KU's third-year head coach appeared briefly on a video press conference with reporters Wednesday afternoon, Miles only shared his opinions on new offensive coordinator Mike DeBord and O-line coach Lee Grimes. Miles spoke for approximately three and a half minutes and didn't field any questions.
Over the span of his recruitment, Davis picked up 19 total scholarship offers, including offers from Alabama, LSU, Oregon and several other Power Five programs. Davis was committed to USC from May to December of 2020. Prior to that, he was committed to Texas in 2019, and made his first commitment in December of 2018 to SMU.
While the Jayhawks landed their remaining committed offensive recruit, they weren't able to keep their defensive target. Three-star Alabama prep Kameron Grays, who committed to KU this past August, flipped on National Signing Day. Grays who was recruited by both former KU offensive coordinator Brent Dearmon and KU defensive backs coach Chevis Jackson, followed Dearmon to Middle Tennessee State and signed there instead.
KU signed 20 players during the early December period. The Jayhawks also announced Wednesday the signing of quarterback Conrad Hawley, who already had enrolled at KU for the spring semester.
Additionally, the Jayhawks promoted the signing of former Notre Dame reserve center Colin Grunhard. A walk-on with the Irish, Grunhard moved on to KU as a graduate transfer with two years of eligibility left. Grunhard, like Hawley, already had enrolled at KU.
Class of 2021 recruits already enrolled at KU
(Rivals rankings)
√ O.J. Burroughs — 3-star Florida prep S; 5-10, 167
√ Ben Easters — 3-star Indiana prep QB; 6-3, 195
√ Conrad Hawley — 3-star Missouri prep QB
√ De'Kedrick Sterns — 3-star Texas prep OL; 6-4, 272;
√ Larson Workman — 2-star Texas prep OL; 6-5, 265
√ Devonte Wilson — 3-star Florida prep CB, 6-3, 192
√ Jayson Gilliom — 2-star Georgia prep S, 6-2, 190
KU football Class of 2021 signees
√ Quaydarius Davis — 4-star Texas prep WR; 6-0, 198
√ Cam'Ron Dabney — 3-star Georgia prep CB; 5-10, 175
√ Corey Robinson II — 3-star Georgia prep OL; 6-5, 270
√ Majik Rector — 3-star Texas prep WR; 5-9, 152
√ Kelan Robinson — 3-star Texas prep WR; 6-2, 183
√ Tommy Dunn Jr. — 3-star Texas prep DL; 6-3, 277
√ Deldrick "D.J." Withers — 2-star Arkansas prep DL; 6-4, 245
√ James Wright — 3-star South Carolina prep S; 6-1, 195
√ D'Marion Alexander — 3-star Texas prep LB; 6-5, 215
√ Trey Staley — 3-star Georgia prep LB; 6-2, 200
√ Mason Brotherton — 3-star Arkansas prep TE; 6-4, 242
√ Devin Neal — 3-star Lawrence prep RB; 5-11, 208
√ Andrew Simpson — 3-star California prep LB; 6-1, 220
√ Tanaka Scott Jr. — 3-star Alabama prep WR; 6-4, 192
√ Edwin White — 3-star Alabama prep S; 6-0, 196