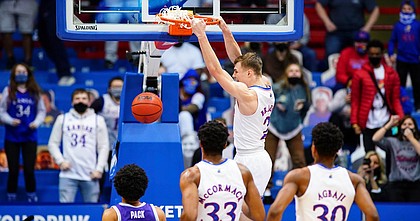 It was back to the usual starting five and back to business for the Kansas men's basketball team on Tuesday night.
The 23rd-ranked Jayhawks rolled past visiting Kansas State, 74-51, to pick up just their second win since Jan. 10 while handing Kansas State its ninth consecutive loss.
"It always feels good to beat K-State," sophomore guard Christian Braun said after dropping 18 points on KU's in-state rival. "But this was a little different this year, with us trying to get back on track."
Throughout the night, you could see evidence of the Jayhawks deliberately working on the things Kansas coach Bill Self has said he wants to see.
Better effort on the glass here. Encouragement for a teammate there. Energy and defensive intensity everywhere.
"At this point, we've got no choice," Braun said. "We've got to buy in. We've got to listen to Coach, and he's just telling us to play hard, play free. We all want to win, and we all want to be on the right track."
Photo Gallery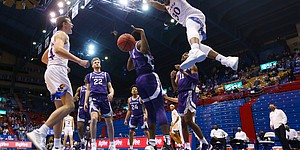 Kansas basketball v. Kansas State
View a gallery from Tuesday night's game between the Jayhawks and Wildcats at Allen Fieldhouse.
Never was that more evident — nor more important to the outcome of the game — than in the opening five minutes of each half.
Kansas raced out to leads of 9-0 and 13-4 in the opening minutes. And the Jayhawks (12-6 overall, 6-4 Big 12) used a strong spurt to start the second half to turn an eight-point edge into one that reached double digits and stayed there for most of the final 20 minutes.
Asked after the game if he saw the type of joy and play-for-each-other mentality he had been looking for, Self said it was there early.
"I thought we were pretty turned up," he said. "It was better. But the best way to get turned up and have some fun is throw some lobs and catch lobs and dunk in transition, and we're just not creating near enough of those opportunities — although we got a couple of nice ones tonight."
Ochai Agbaji and David McCormack combined to score 16 of KU's first 20 points on 7-of-11 shooting from the floor, while the rest of their teammates shot just 2-of-12 during the game's first 13 minutes.
Braun proved to be a willing third scorer and made it known early.
Two of his points came early in the first half, after he picked off a pass near mid-court and raced home for a powerful, two-handed jam that he cocked way back over his head before throwing it down.
Related document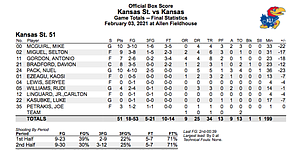 "It felt good to get an easy basket for my first one," said Braun, who finished the night 6 for 11 overall and 4 of 9 from 3-point range. "And it feels good against them, too."
One possession later, Braun drew the K-State defense with a hard drive down the left side of the paint and then flipped a lob pass over his head to McCormack, who easily finished the possession to put Kansas up 13-4.
"That was one of those, 'No, no, no, no, yes. Don't ever do it again,'" Self said after the game. "It was a great pass. That was a great play."
Braun said he had heard words like those from Self about plays just like that since he first arrived on campus.
"I knew he was there," Braun said of McCormack. "But that's something that Coach has been getting on me for since I got here because it's not always a great pass. It was great today because it worked. But I won't make a habit of doing it."
Redshirt freshman Jalen Wilson (10 points in 23 minutes) opened the second half with increased activity and this time had the production to show for it. In a 2:58 stint to open the second, Wilson scored five quick points, including a rhythm 3-pointer from the wing, and helped grow the Kansas lead to 13 before taking a seat.
Wilson nearly had two or three more baskets in that 3-minute stretch, but he elected to pass up a couple of shots and missed short another time.
The knockout blow in this one came midway through the second half, when Braun, who had gotten hot with his outside shot, dished a dime to Agbaji for an alley-oop that shook the rim and put Kansas ahead by 17.
That was part of a 13-1 run that put the Jayhawks up 24 (56-32) and Kansas never looked back from there.
Balance returned to the Jayhawks' lineup on Tuesday night, and Kansas got enough of a contribution from its bench — particularly from Tristan Enaruna, who Self said might have graded out higher than anyone — to be able to keep that starting five on the bench almost as much as they were on the floor.
While Kansas played well and, more importantly, competed hard in most areas, this one was not without its ugly moments.
Despite that hot start, K-State (5-14, 1-9) cut the KU lead to as few as five late in the first half before the Jayhawks righted the ship and took an eight-point lead into halftime.
"We've got to put our foot down earlier," Braun said. "But it felt good to get back in the win column."
With KU leading by 22 with just over six minutes to play, K-State's Antonio Gordon stole the ball from two flat-footed Jayhawks after a missed K-State free throw and laid it in for an easy deuce.
Moments like those, however, were rare. And in the Kansas possessions that followed, McCormack — one of those flat-footed Jayhawks — showed his own displeasure with the lapse by dominating the glass and aggressively attacking the basket for three quick buckets before checking out for good.
McCormack finished with a double-double of 18 points and 10 rebounds in 23 minutes, giving him his fourth double-double this season and the fifth of his career.
The capper of the night came when the Allen Fieldhouse crowd, which featured a strong surge of support after the return of students to campus, let loose with a wild roar after walk-on Chris Teahan — another Kansas native — buried a 3-pointer with 1:20 to play that put the Jayhawks ahead 74-48.
The cheer that followed may have been the loudest of the season thus far.
But while the end of this one packed its own punch, it was still the start that brought the Jayhawks the most pride.
"For us to start off that way is really crucial for us," McCormack said. "Better energy, being back at home and, of course, it was a game that really meant something to all of the Kansas fans and to ourselves. All of that contributed to our energy."
Next up, Kansas heads to West Virginia on Saturday for a 1 p.m. clash with the 17th-ranked Mountaineers.