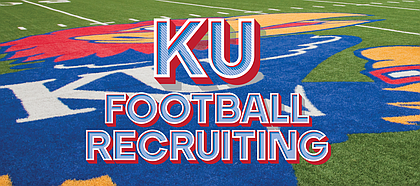 Kansas head football coach Les Miles and his staff shouldn't have much to fret about during National Signing Day on Wednesday.
The KU coaches got the majority of their Class of 2021 recruiting finalized during the early signing period in December, when the Jayhawks added 20 new high school recruits. Since then, they also enrolled one new recruit, Missouri prep quarterback Conrad Hawley, for the spring semester before he could even officially sign.
KU heads into February's signing day with 23 recruits in its class, the highest total in the Big 12 on the eve of signing day. And only two of those players remain a signature away from finalizing their status as Jayhawks: Alabama prep cornerback Kameron Grays and Dallas prep receiver Quaydarius Davis.
Rated a four-star prospect by Rivals, Davis would not only become the highest-rated player in KU's newest batch of recruits upon signing, he would be the top-rated recruit to join the Jayhawks since Rivals began ranking players in 1999. As of Tuesday, Rivals had the 6-foot Davis ranked as the No. 59 high school senior in the country and the No. 8 receiver in the nation.
Over the span of his recruitment, he picked up 19 total scholarship offers, including offers from Alabama, LSU, Texas, Oregon and several other Power Five programs. Davis was committed to USC from May to December of 2020. Prior to that, he was committed to Texas in 2019, and made his first commitment in December of 2018 to SMU.
Grays, a three-star corner listed at 6-2 and 190 pounds, would become one of the more highly regarded players in KU's incoming freshman class upon signing. He previously picked up offers from the likes of Auburn, Florida State, Tennessee and Missouri.
With 20 players already officially signed before the February period, KU was tied with Oklahoma State for the most December signees in the Big 12.
According to Rivals, the Jayhawks' average player grade in the 2021 class is 2.91 stars, which ranked seventh in the Big 12 as of Tuesday, with the recruiting classes throughout the league not yet complete.
KU was able to add seven Class of 2021 recruits to the spring roster as early enrollees: quarterbacks Ben Easters and Hawley, safeties O.J. Burroughs and Jayson Gilliom, offensive tackles De'Kedrick Sterns and Larson Workman, and cornerback DeVonte Wilson.
Additionally, KU has grad transfer and former Notre Dame walk-on Colin Grunhard, a center, joining the team for the spring.
Unsigned KU football Class of 2021 recruits
(Rivals rankings)
• Quaydarius Davis — 4-star Texas prep WR
• Kameron Grays — 3-star Alabama prep DB
Class of 2021 recruits already enrolled at KU
√ O.J. Burroughs — 3-star Florida prep S; 5-10, 167
√ Ben Easters — 3-star Indiana prep QB; 6-3, 195
√ Conrad Hawley — 3-star Missouri prep QB
√ De'Kedrick Sterns — OL, 6-4, 272; Austin, Texas
√ Larson Workman — OL, 6-5, 265, Ganado, Texas
√ Devonte Wilson — CB, 6-3, 192, Quincy, Fla.
√ Jayson Gilliom — S, 6-2, 190; Suwanee, Ga.
KU football Class of 2021 December signees
√ Cam'Ron Dabney — 3-star Georgia prep CB; 5-10, 175
√ Corey Robinson II — 3-star Georgia prep OL; 6-5, 270
√ Majik Rector — 3-star Texas prep WR; 5-9, 152
√ Kelan Robinson — 3-star Texas prep WR; 6-2, 183
√ Tommy Dunn Jr. — 3-star Texas prep DL; 6-3, 277
√ Deldrick "D.J." Withers — 2-star Arkansas prep DL; 6-4, 245
√ James Wright — 3-star South Carolina prep S; 6-1, 195
√ D'Marion Alexander — 3-star Texas prep LB; 6-5, 215
√ Trey Staley — 3-star Georgia prep LB; 6-2, 200
√ Mason Brotherton — 3-star Arkansas prep TE; 6-4, 242
√ Devin Neal — 3-star Lawrence prep RB; 5-11, 208
√ Andrew Simpson — 3-star California prep LB; 6-1, 220
√ Tanaka Scott Jr. — 3-star Alabama prep WR; 6-4, 192
√ Edwin White — 3-star Alabama prep S; 6-0, 196