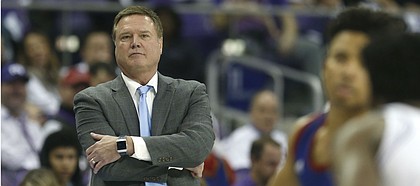 Set to enter his 19th season at the helm of Kansas basketball, KU coach Bill Self said Wednesday that he was appreciative of his recently signed lifetime contract and not at all worried about the optics of that contract as the Jayhawks remain embroiled in an NCAA infractions case.
The reason?
Because university officials communicated with the NCAA about the contract before its existence was made public.
"The chancellor (Douglas Girod) explained it to the NCAA," Self told a small group of reporters on Wednesday. "The chancellor talked with them before he did it. That wasn't my call to determine how it looked. It was more the chancellor just having confidence in the way we've done things. (I) can't go into any details, but the media doesn't know what's going on with our NCAA investigation. Who really does know? I'm not saying we know either."
While the NCAA's infractions case against KU remains in the hands of the newly formed Independent Accountability Resolution Process panel that will make the ultimate ruling, Self and his program have remained in limbo since first receiving a notice of allegations from NCAA headquarters more than 18 months ago.
The notice levied five Level 1 allegations against the program — the most severe — including a tag of lack of institutional control and the charge of head coach responsibility stemming from an FBI investigation into corruption in college basketball recruiting that first came to light in late 2017.
While Self, Girod and the university have strongly disputed the allegations, the KU coach has said that the case hanging over the program has impacted recruiting.
And many at the university, including Self, are to the point where they would like to see a resolution, whatever it may bring, so they can move on with the business of basketball.
In many ways, Self's new contract was exactly that. And while it was negotiated and signed with the help of interim AD Kurt Watson, Self said Wednesday that getting an extension finalized before newly hired AD Travis Goff took over was important to Girod.
"I think it was the decision that the chancellor wanted to make," Self said. "There's a lot of things going to be on Travis' plate moving forward. And, regardless of whether you like the timing or not, there has to be some decisions that are made on the basketball (program) moving forward. You can't stop living because we've got this other thing above our head. You still have to address certain situations that are coming up, and the chancellor felt like this was the best way to do it."
Asked Wednesday how much he knew about Goff's understanding of the NCAA's case against Kansas, Self said the two briefly discussed it before Goff was hired and he was confident that KU's attorneys, along with Girod, had brought Goff up to speed.
"I think it's more an administrator's position to do that," Self said.
Self also noted that while national headlines have embraced the words "lifetime contract" in reporting his new deal, that specific language did not appear anywhere in the actual contract. Rather, it was the way Kansas Athletics chose to refer to the contract when announcing the news.
"The lifetime deal was a statement that was made in connection with the contract," he said. "I think it was what everyone is believing will happen, but, contractually, it really wasn't done the exact way as the headline. … Is it guaranteed for (a) lifetime? The answer is no. It's guaranteed for a year."
The contract states that KU "will not terminate (Self) for cause due to any current infractions matter" that occurred prior to the new agreement.
If he were to be fired without cause, Self would be owed a buyout of somewhere between $5 million and $8 million, depending on the timing. Termination for cause — not relating to the current infractions case — would result in Self receiving his annual salary, a prorated portion of his retention bonus and nothing more.
Those facts are the basis for Self's statement that the contract, in literal terms, is only guaranteed for a year at a time and not the rest of his life.
But Self said that the agreement essentially could wind up being a lifetime deal if certain things happen.
"As long as we do what we're supposed to do, we've got a chance to stay here for a while," he said. "But if we don't, there can obviously be decisions that can be easily made (to part ways)."
Self's old contract was set to expire next March, and he said Wednesday that he was sure other coaches had used the expiration date of his contract against him on the recruiting trail.
The new contract eliminates that option for opponents, and its potential impact on KU's future recruiting is just one of many reasons Self is happy the deal is done.
"I think it'll help us recruit," he said. "I don't think it can hurt."
More than that, though, Self said he appreciated the latest gesture of confidence in him by Girod and the university.
"It's great, I'm proud, all those things, but I feel like the university has a pretty good feel on all the things that have transpired so far," he said. "That doesn't mean anything as far as sanctions or anything like that, but regardless of what we go through, the chancellor made it clear that he wanted me to be the one to navigate us through it. And I hope it's less (penalties) rather than more, but I know I'm not going to run from anything."