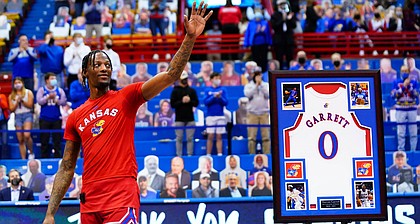 Kansas senior Marcus Garrett picked up another individual honor on Friday, earning a spot on the Senior CLASS Award's All-American first team for the 2020-21 season.
Garrett, a combo guard from Dallas, who has won a number of individual awards during his time as a Jayhawk, was joined on the first team by this year's Senior CLASS Award recipient Luka Garza, of Iowa.
Manny Camper (Siena), Ross Cummings (Mercer) and Corey Kispert (Gonzaga) rounded out the first team.
The 2020-21 Senior CLASS Award second Team All-Americans are: Cam Davis (Navy), Collin Gillespie (Villanova), Cameron Krutwig (Loyola Chicago), Justin Turner (Bowling Green State) and Oscar da Silva (Stanford).
An acronym for Celebrating Loyalty and Achievement for Staying in School, the Senior CLASS Award celebrates the total student-athlete and encourages students to use their platform in athletics to make a positive impact as leaders in their communities.
To be eligible for the honor, a student-athlete must be classified as an NCAA Division I senior and have notable achievements in four areas of excellence: community, classroom, character and competition.
In addition to excelling on the court, Garrett was a 2021 Academic all-Big 12 first team selection and is a three-time member of the Athletic Director's and Big 12 honor rolls. Last fall, Garrett recorded a 3.74 grade-point average.
This season, Garrett was named to the 2020-21 All-Big 12 Second Team for the second consecutive year and also was selected to the Big 12 all-Defensive Team for the third consecutive season. Last season, he was the 2020 Naismith, ESPN and Big 12 Defensive Player of the Year.
Past Kansas Senior CLASS Award All-Americans include Udoka Azubuike (2020), Frank Mason III (2017), Perry Ellis (2016, second team), Tyrel Reed (2011), Nick Collison (2003) and Kirk Hinrich (2003). The award started in 2001 and its All-American teams began in 2003.
No official announcement has been made about Garrett's future. Should he desire to return to Kansas for another season, he would be eligible to do so thanks to the NCAA's decision to grant all athletes from last spring through this winter an extra year of eligibility due to the COVID-19 pandemic.
After KU's season-ending loss to USC in the second round of the NCAA Tournament, Garrett, who is scheduled to graduate in May, spoke about what Kansas coach Bill Self had meant to him during these past four or five years and sounded a lot like a player who had made up his mind to move on to the next chapter in his basketball career.