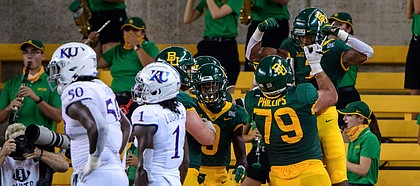 College football's most unenviable streak kept plummeting, clunking into a new low of a milestone this past weekend, as the Big 12's often clobbered travelers, the Kansas Jayhawks, lost the program's 50th true conference road game in a row.
Often more inadequate than competitive when venturing into another Big 12 city, KU football hasn't won a league game in an opponent's stadium since its 2008 trip to Iowa State.
That now distant — yet most recent — conference road victory was four head coaches (five if you count one interim) and nearly a dozen years ago, so the bulk of the seemingly never-ending skid has little to do with the current Jayhawks, who lost at Baylor, 47-14, on Saturday night.
Even so, second-year KU head coach Les Miles said afterward he thought the Jayhawks were better positioned to compete on the road in 2020.
"And we still do," Miles clarified, despite the 33-point defeat. "I think if you give a good look at what we're playing with, we're playing with really some capable guys. And they needed to grow and they need to experience college football. But they're going to be good players. So we're excited about it."
The Jayhawks at least put an overall true road game losing streak of 46 games to rest in 2018, with a win at Central Michigan. They also won on the road in another nonconference game at Boston College in 2019, Miles' first season in charge.
But the Big 12 keeps chewing up the road Jayhawks and spitting them out.
The freefall began in what was actually KU's most recent winning season, 2008. After Mark Mangino coached Todd Reesing and the Jayhawks to an October road win in Ames, Iowa, 35-33, KU lost its only other true Big 12 road games on the calendar, at Oklahoma and Nebraska (KU beat Missouri on a neutral field in Kansas City, Mo., to close the regular season). Kansas ultimately went 8-5 and won the Insight Bowl, making it impossible to fathom at the time that those back to back road losses would evolve into a perpetual nosedive.
KU went 0-4 in Big 12 road games in 2009, Mangino's final season. And the successors rarely came close to helping the Jayhawks put an end to the skid. Turner Gill was 0-7 leading KU into opposing Big 12 venues, Charlie Weis went 0-9, Weis' interim replacement Clint Bowen finished 0-5 and David Beaty left the job 0-18 in road conference games.
Following the loss at Baylor, Miles finds himself 0-5 so far at KU against Big 12 competition on the road. The Jayhawks nearly killed the streak in Austin, Texas, in Miles' first year on the job before losing a shootout, 50-48, at Texas.
This season, they still have four more chances to bury what is, per sports-reference.com, college football's all-time worst conference road losing streak — currently six games longer than a 44-game skid Sewanee suffered through from 1931 to 1939.
KU's remaining 2020 road dates are Oct. 17 at West Virginia, Oct. 24 at Kansas State, Nov. 7 at No. 18 Oklahoma and Dec. 5 in the regular season finale at Texas Tech.
Shortly after the program's 50th consecutive Big 12 road loss, star running back Pooka Williams gave his assessment of what the Jayhawks have to do to be more competitive in Big 12 games outside of Lawrence.
"The first thing we've got to do is just put this 'L' behind us," Williams said. "It happened already. And honestly go to the film and lock in the rest of this week, and don't let a loss break us."
KU's Big 12 road losing streak (2008-??)
Mark Mangino era
2008
at No. 4 Oklahoma, 45-31
at Nebraska, 45-35
2009
at Colorado, 34-30
at Texas Tech, 42-21
at Kansas State, 17-10
at No. 3 Texas, 51-20
Turner Gill era
2010
at Baylor, 55-7
at Iowa State, 28-16
at No. 9 Nebraska, 20-2
2011
at No. 6 Oklahoma State, 70-28
at No. 24 Texas, 43-0
at Iowa State, 13-10
at Texas A & M, 61-7
Charlie Weis era
2012
at No. 7 Kansas State, 56-16
at No. 10 Oklahoma, 52-7
at Baylor, 41-14
at No. 25 Texas Tech, 41-34 (2OT)
at West Virginia, 59-10
2013
at TCU, 27-17
at Texas, 35-13
at No. 15 Oklahoma State, 42-6
at Iowa State, 34-0
Clint Bowen (interim)
2014
at West Virginia, 33-14
at Texas Tech, 34-21
at No. 12 Baylor, 60-14
at No. 23 Oklahoma, 44-7
at No. 11 Kansas State, 51-13
David Beaty era
2015
at Iowa State, 38-13
at No. 14 Oklahoma State, 58-10
at Texas, 59-20
at No. 15 TCU, 23-17
2016
at Texas Tech, 55-19
at No. 11 Baylor, 49-7
at No. 16 Oklahoma, 56-3
at No. 14 West Virginia, 48-21
at Kansas State, 34-19
2017
at Iowa State, 49-7
at No. 4 TCU, 44-20
at Texas, 31-24
at No. 18 Oklahoma State, 34-19
2018
at Baylor, 26-7
at No. 8 West Virginia, 38-22
at Texas Tech, 48-16
at Kansas State, 21-17
at No. 6 Oklahoma, 55-40
Les Miles era
2019
at TCU, 51-14
at No. 15 Texas, 50-48
at No. 25 Oklahoma State, 31-13
at Iowa State, 41-31
2020
at Baylor, 47-14
at West Virginia
at Kansas State
at Oklahoma
at Texas Tech