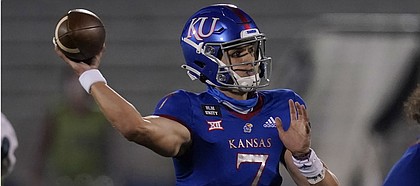 Depending on how the next few days of practices play out — and the health of one of the Jayhawks' offensive veterans — the Kansas football team might go back to rotating quarterbacks when it takes on No. 17 Oklahoma State this week.
Head coach Les Miles still wasn't ready to name a permanent starter, even after true freshman Jalon Daniels played throughout KU's 47-14 loss at Baylor on Saturday.
"I would be hard pressed to not let the competition continue, considering you've got an injured quarterback," Miles said Monday, referring to senior Thomas MacVittie, who started (and subbed in and out) during KU's season opening loss to Coastal Carolina, but wasn't healthy enough to be available two weeks later at BU.
Miles said he expects MacVittie to be able to practice this week. When asked whether MacVittie hurt his right shoulder on his throwing arm on Sept. 12, Miles jokingly played coy.
"I do not know," he began. "I do know — I'm being deceptive. But I'm being honest: I believe that his shoulder will be fine."
If MacVittie indeed has recovered enough to practice and has what Miles characterized as a "good" week, KU's coach said he "absolutely" would plan on playing both MacVittie and Daniels.
Through two games, KU (0-2 overall, 0-1 Big 12) already has played three quarterbacks for significant stretches.
Having the benefit of not rotating out for a possession or two, the way MacVittie and junior Miles Kendrick had to in the opener, Daniels currently has completed and attempted the most throws (20-for-35) and leads the trio with 172 passing yards.
Kendrick is the only KU quarterback with a touchdown pass so far, providing two versus Coastal.
Kendrick and MacVittie both have an interception on their stat lines — though MacVittie's came after a pass went off a receiver's hands — while Daniels, who got lucky to avoid getting picked a couple times at Baylor, has yet to throw an interception.
Kendrick (15-for-24, 126 yards) has the highest completion percentage at 62.5%. Daniels is second at 57.1%, but MacVittie didn't get the chance to throw as much (5-for-9, 20 yards) after exiting the opener in the third quarter due to injury.
KU's published depth chart this week, which is compiled by the communications staff and not necessarily the same one the coaches use, listed all three quarterbacks as potential starters for Saturday's game versus Oklahoma State.
Miles said during practices the KU coaches would get them all repetitions by first prioritizing one QB to go with the first team and "maybe" even giving that QB more snaps than the other two.
Much like the previous week, when Daniels' play at KU's closed practices elevated him to a starting role, the No. 1 spot on the depth chart remains up for grabs — at least as far as Miles is willing to say publicly.
New statues coming to football complex
Two of the most impactful players in the KU football program's history, John Hadl and Gale Sayers, will soon be honored permanently outside of the team's facility.
KU announced Monday its plans to unveil bronze statues of the two all-time greats at halftime of the Oklahoma State game. The Sayers statue was announced previously, when Sayers died earlier this month at 77.
The event won't be open to the public, due to the COVID-19 pandemic, but will be shown live on the video board inside David Booth Kansas Memorial Stadium for the fans who attend (about 10,000 at most) and posted online at KU's website.
No other former KU football players have ever been immortalized on campus with statues.
Hadl starred at KU from 1959-61 and was a two-time All-American, playing quarterback, halfback and even punter. Hadl produced 1,281 passing yards and 1,016 rushing yards for the Jayhawks.
Sayers' legendary run with the program (1962-64) began a year after Hadl's, as the "Kansas Comet," also became a two-time All-American. A star running back, Sayers left KU with 2,675 rushing yards and 3,917 all-purpose yards.
Robinson OK
A top target of any KU quarterback, senior receiver Stephon Robinson Jr. is holding up well, after going down on the turf in some pain on a couple of occasions at Baylor this past Saturday.
"I think he got a little nick," Miles reported. "Nothing serious, thank goodness."
Robinson caught one pass for 23 yards in his season debut, after sitting out the opener for undisclosed reasons.