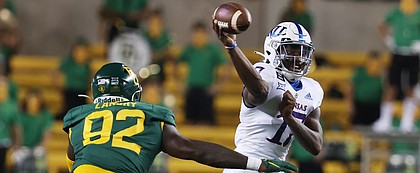 Kansas football coach Les Miles started and stuck with true freshman quarterback Jalon Daniels in the Jayhawks' 47-14 loss at Baylor.
Nevertheless, KU's quarterback situation going forward remained more murky than transparent late Saturday night.
If an injury to senior QB Thomas MacVittie, who started and subbed in and out during the Jayhawks' loss to Coastal Carolina, opened the door for Daniels, Miles wouldn't say.
The head coach instead pointed to the talents the young QB displayed during practices when asked why Daniels got the starting job.
"You probably saw his arm. You didn't see the highlights of his arm," Miles said. "We know the highlights he is capable of producing."
A 6-foot, 200-pound freshman from Lawndale, Calif., Daniels finished 19-for-33 passing in his first career start, throwing for 159 yards, without any touchdowns or interceptions — though some good fortune kept a couple of errant throws out of the possession of BU defenders, who were credited with six pass breakups.
The Bears also sacked the young QB four times on the night.
While Miles stated during his postgame video press conference he wasn't "displeased" with Daniels "in any way," KU's head coach didn't commit to starting the freshman again next week, when the Jayhawks face Oklahoma State in Lawrence.
Miles at least said Daniels "could" start the next game.
"I'm going to meet with the staff (Sunday)," Miles said. "We're going to look at this film and we're going to go through it and kind of rethink some of the decisions that we made."
Unlike MacVittie and junior Miles Kendrick, who were subbed in and out of the lineup for a series or two at a time during much of KU's home loss to Coastal in the opener, Daniels played every snap at Baylor.
Miles said MacVittie wasn't actually available for the Big 12 opener in Waco, Texas, even though KU didn't put him on its published "did not dress" list of inactive players.
"Thomas wasn't healthy at this point," Miles admitted afterward, though the coach had said during the week leading up to the game he expected KU's senior QB to be available and see the field.
Related document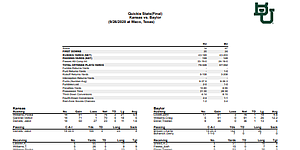 Box score: Baylor 47, Kansas 14 ( .PDF )
Kendrick, who threw two TD passes and an interception among his 15-for-24 night vs. Coastal two weeks ago, was in the mix to play at BU, Miles said, but the head coach and his staff decided to ride with Daniels.
According to what Miles said after the loss at Baylor, the Jayhawks haven't necessarily moved on from Kendrick at QB, though.
"We might give Miles Kendrick an opportunity," he said. "We might rethink that."
Daniels' showings in KU's closed practices, teammates said, gave them confidence he was up for taking over as the No. 1 QB.
Junior running back Pooka Williams said Daniels showed "a lot" of energy and focus leading up to his starting debut.
"He's doing everything right," Williams said. "Keeping the offense up when we're down. He's just doing everything a veteran would do."
Although KU scored on its opening drive as Daniels likely surprised the Bears as the starting QB, and the freshman connected on four of his first five throws, with a 23-yarder to Stephon Robinson Jr. and a 13-yard pass to Williams helping him off to a solid start, KU would only have three more pass plays of at least 10 yards the remainder of the night.
Williams declined to say what sort of issues Daniels may have run into as the Bears got more used to defending him.
"I just would say we've got to look at the film and really make the corrections from the film," Williams said.
KU doesn't make freshmen available for interviews.